I had a call with my team yesterday and they were all having a hard time. They felt afraid and anxious because of the difficult circumstances we're living in.
I get it. We're all feeling this way. Right now a lot of us feel like we're out of control, and so we're acting out in old behaviors and fearful patterns.
When we feel out of control, we start grasping for immediate "solutions" that don't really work and just make things worse. For instance, you may notice that you're falling back into an old habit of trying to control everything, or staying up too late, or getting caught up in gossip and drama.
When we feel out of control, it's very valuable to keep things simple. By getting back to basics, we take the pressure off ourselves. This way we keep ourselves from getting overwhelmed, which only perpetuates the feeling of being out of control.
And that's what I suggested to my team.
How I make my spiritual practice a priority
I said, "Team, it's time we amp up the spiritual practices and commit more than ever. You have access to years of my meditations, talks and methods. Let's get back into the groove."
Then I did something I'd never done before: I shared my spiritual schedule with them. I showed them the 3 spots in my daily calendar where I carve out time for meditation, tapping, prayer and other spiritual tools.
In that moment my team was inspired to do the same!
They all pledged to set up a spiritual schedule to help themselves commit to their practices. We even chose a 20-minute block each day where we'd practice together.
The next day I got a call from my COO, Jessica. She said, "Thank you so much for helping me make my spiritual schedule. I can't remember the last time that I did my meditation and yoga at the same time each day. It's really helping me manage work and childcare."
And that's what I want for you.
I want to suggest the most powerful way for you to get through this period with ease: Schedule your spiritual practice and make it a high priority.
When you do this, you'll feel a sense of safety because you'll be taking charge of your day. You'll no longer feel like the victim of the world's events. Instead, you'll feel like you're part of the solution. You'll recognize the power of your energy and the positive impact it has on the world.
When you have a daily devotional practice (and a schedule you stick to), you'll feel empowered and energized. You won't melt down because you'll have sustainable positive momentum.
You may be thinking, "Gabby, this sounds nice, but I'm so busy and stressed as it is. I'm just trying to keep up."
I get it. I really do. But without a daily spiritual schedule, you'll feel more overwhelmed.
I always say we can speed up by slowing down. So to give you no excuse to avoid this practice, I created your schedule for you!
How to create your daily spiritual schedule
Step 1: Open your calendar. It doesn't matter whether it's in an app, online or handwritten on a wall calendar. Just get it ready to go.
Step 2: Choose 3 spiritual practices you want to schedule into your day, and commit to them for the next 40 days.
Here are some recommendations based on what's helping my team and me:
1. Morning meditation
Start your day with my new, free Positive Energy Meditation. You can get instant access to it here.
This affirmation meditation is so beautiful. It makes me feel empowered, hopeful and safe.
2. Midday: Practice Jin Shin Jyutsu holds
Right around lunchtime, or maybe mid-afternoon, you may feel stress come back on. This is when I recommend practicing Jin Shin Jyutsu holds.
Jin Shin Jyutsu is a Japanese healing modality that balances the body, mind and spirit, and there are some simple holds that are very easy to use and that give you fast relief.
Here's the clip from my free Anxiety Relief Workshop where I teach these tension-relieving holds…
3. Before bed: Calm your nervous system
Before bed, I highly recommend practicing good sleep hygiene.
If possible, turn off your phone, your computer and your TV around 7 p.m. Or at the very least, turn off all notifications. That way, if you're going to watch a show or something, you don't see any popups of news headlines, texts, social media posts, etc.
We want sleep to be a time when we can rest, restore, let go and feel the peace that we may not be able to feel throughout the day because we're hit with all this anxiety.
If you can't follow this tip for whatever reason, at least turn off all your electronics 30 minutes or an hour before you go to sleep. Put your phone in another room and set an alarm clock instead.
If you're anxious before bed, do some journaling before you go to sleep. Just get out whatever you're feeling so you can move it through it and then fall asleep more easily.
Practice Voo chanting before going to sleep
Then I suggest you do a breath meditation called Voo chanting. I learned this technique from the leading trauma therapist Peter Levine.
The vibration tones your vagus nerve and the breath work centers you in the here and now. As a result, you relax your whole nervous system.
Watch below to learn how to do Voo chanting. This video clip also comes from my Anxiety Relief Workshop.
Click here to watch my full, free Anxiety Relief Workshop.
Keep your spiritual practice simple
These practices are powerful and can change your whole day.
While they're powerful they're also very simple. That's the goal of all of this — to keep it simple.
I want to help you simplify your spiritual practice so that it feels easy, fun and empowering, and so that you look forward to it every day.
We need that most right now.
When you get grounded in your spiritual practice, miracles happen.
Don't just take it from me… So many of my Miracle Members have been sharing how their practice has saved them at this time!
Now that you have your schedule, make the commitment to stick to it. And celebrate it, because you'll start reaping the benefits right away!
And I want to support you more
I care about your spiritual practice right now and I'm committed to showing up for you as much as possible.
In addition to the free resources I've been sharing on my blog and on social media, I also wanted to make my Miracle Membership more affordable at this time.
What is the Miracle Membership? Think of it like Netflix for spirituality.
As a Member, you get on-demand content that will help you feel supported, safe and spiritually connected.
Whatever your spiritual journey calls for, there's a video talk, audio podcast, mediation or training there to guide you.
There are hundreds of hours of content (meditations, podcasts, videos and much more) that you can check out now.
For the next few months, I want to make the Miracle Membership easier for folks to access. So I decided to remove the 6-month commitment and offer it for $19 a month. As long as it's saving you, then stay connected and committed. But you can cancel anytime if it's not right for you.
The Miracle Membership is really showing up for people right now, and I hope it serves you.
Make feeling good a practice
Here's a lesson from Super Attractor that I want share with you: Make feeling good a practice. Identify the things that bring you joy and do them more often.
Make feeling good a priority the same way you might make exercise or family a priority. You can schedule activities into your calendar, too. This isn't about turning fun into another obligation; it's about making it a priority. If you know you need some structure in order to honor this priority, that's okay. In time it will become a habit.
Remember to be deliberate and bring conscious awareness to feeling good. To be frank, we typically put everything else before feeling good.
Most of us don't necessarily think much about this. Or we might even think it's virtuous or necessary not to feel good, especially when the world around us is in a state of crisis, or when our personal circumstances are difficult.
But when we put everything else before feeling good, we're putting it before our connection to our Super Attractor power. Whatever we put in front of our spiritual connection will suffer greatly.
And we can't ignore the effect that our high vibration has on others. When you commit to feeling good (and to the spiritual practices that help you feel good), you lift up everyone around you. That energy ripples outward, positively impacting far more people than you could ever imagine.
If Super Attractor will serve you or someone you know, then click here to order it.
Your spiritual homework
Follow the schedule above. Add if you're a Miracle Member, you can include practices and spiritual tools from your member portal.
Then come back to this post in one week and let me know how it goes!
I'm serious. 🙂 I want to help you stay consistent, and often when we commit to someone we actually follow through. (One of my team members said, "Thank you for reminding me to schedule meditation into my day. I didn't realize how helpful that would be.")
So here's your homework, Spirit Junkie.
Set up your calendar.
Share a screenshot or photo on social and tag me @gabbybernstein so I can support you!
Commit to sticking to your daily practice for 40 days.
Come back to this blog post in a week or tag me in a social post and let me know the results. (I'll be looking for them!!)
For extra support in staying on track, I want to give you the April meditation calendar that's part of my Miracle Membership. Just download it here and check off each day when you practice. Don't forget to celebrate your progress!
If you're struggling to fall in love with your spiritual practice, then check out my Miracle Membership. Remember that for the next 3 months we're offering a monthly subscription for $19 a month.
Fill your calendar with the practices you love. And if you want more guidance from me, become a Miracle Member today.
How to Release Anxiety Is Your Spiritual Solution to Quickly Overcome Feeling Stressed and Overwhelmed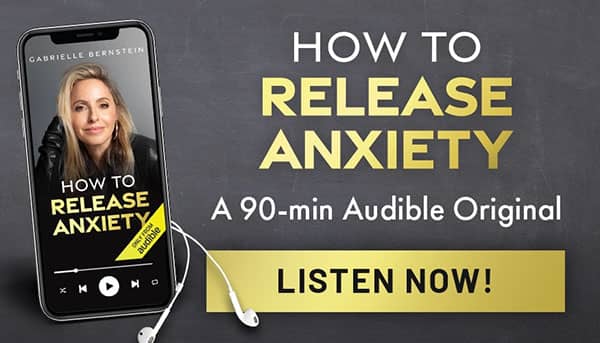 Are you tired of feeling stressed and overwhelmed? How to Release Anxiety will give you 5 proven methods to relieve stress and tap into a steady sense of peace.
If you're overwhelmed with stress and worry, you are not alone—and I'm here to help! In my Audible Original, How to Release Anxiety, I'll share simple tools you can use right now to release anxiety and tap into a steady sense of peace.
Recorded at a live talk, this Audible Original will help you reframe your fears by empowering you to see them differently. Using methods from Internal Family Systems (IFS) therapy, I'll teach you how to hold a compassionate dialogue with your fears. I'll also share experiential methods you can use to release anxiety anytime, anywhere. There's a spiritual and speedy path out of anxiety, and I'll guide you every step of the way.
In the Audible Original How to Release Anxiety, you'll learn how to:
Soothe yourself in minutes using 5 simple techniques
Understand what your anxiety really needs to be set free
Design a sleep routine to help you get more peaceful rest
Become a grounding presence for everyone around you
HOW TO LISTEN FOR FREE
If you already have an Audible Plus membership, How to Release Anxiety is included with membership and you can listen for free. (This offer is only available in the US; in other countries you may have to use a credit.)
If you don't have an Audible Plus membership, you can sign up for a 30-day free trial and How to Release Anxiety will be included with your trial membership.
Offer varies by country.