The practice of trusting that the Universe has your back no matter what is the greatest gift you can give yourself. It's all about living in certainty. It's about being in a place where regardless of what's happening around you, you can trust.
With this practice, obstacles are opportunities to deepen your love of the Universe, and difficult situations are divine spiritual assignments that help you heal and grow.
In this post I dive into that idea of certainty — of fully trusting in the Universe.
trust the universe
Watch the video below for a breakdown of the steps, then keep reading for detailed guidance on how to truly trust the Universe.
trust the universe every day
There's something I want to be crystal clear about: This practice is not for dabblers! We can't just say, "Maybe, sometimes, when it's convenient, I'll trust in the Universe."
It has to be a daily commitment. We need to be in a daily dialogue with the Universe. We must be in a proactive relationship with the presence of love.
When you trust in your relationship with the Universe, your desires come into your life faster than you can imagine.
The path forward becomes more clear and you can easily find your way. Things begin to flow. Invisible angel wings materialize and lift you up.
Step 1
become ready to accept that there is a presence far greater than you supporting you
The first step in your path to trusting the Universe is becoming ready to accept that there's a presence far greater than you supporting you.
So I ask you right now…
Are you ready?
Are you ready to accept that?
Maybe last week you weren't ready. Maybe you weren't ready yesterday.
But maybe today you're like, "YES, Gabby, I am ready! Bring it on!"
Shout it. Be proud of it! Own your readiness.
Step 2
tap into the feelings of what you desire
Step 2 is to tap into the feelings of what you desire. You can tap into what you desire by meditating regularly.
When you feel joy during your meditation, your connection to the Universe is strong.
Joy is the ultimate creator. Meditation offers us a very powerful way to tap into our desires. You can meditate with me right now! Get comfortable and press play below on my guided meditation to clear blocks and receive:
Step 3
be in a dialogue with the Universe every day
The third step is to be in a dialogue with the Universe daily, whether it's through prayer, writing or conscious conversation.
This doesn't have to be complicated. You can say (silently or out loud) or write in your journal:
Thank you, Universe, for guiding me to what I need to hear today
Once you express your gratitude, be receptive to hearing guidance.
guidance comes in many forms
We receive guidance from the Universe in different ways. You may feel an intuitive knowing, such as a clear sense of what to do, a moment of clarity or a sudden realization.
You might also hear a wise inner voice, whether during meditation or in the midst of daily life.
Synchronicities are another way the Universe gives us guidance. You might be in a bookstore when a book falls off the shelf in front of you. A song might start playing that has the exact message you need to hear. A friend who can help you might call you seemingly out of the blue.
guidance also comes through signs if you ask for them
The Universe is creative and delivers guidance in ways that will get our attention and resonate with us. Do not write off anything that feels like wise, loving guidance. Be conscious of the messages you receive and know that it's your connection to the Universe.
Step 4
cultivate the feelings you desire
The next step is to consciously co-create your reality by tapping into the feelings of what you desire and cultivating those feelings throughout the day.
That might mean you talk about what feels good, and you do more of what brings you joy. For example, I know cooking brings me joy, so I make time to get creative in the kitchen!
The fastest way to achieve success in every area of life is to assume the energy of joy. This is true for any kind of goal, whether you want to find a romantic partner, a new job, better health or anything else.
Joy is the ultimate creator. In the video below I talk a bit about why it's so powerful…
Tap into what you desire by answering these questions in your journal: What feeling do you desire? What can you do each day to tap into that desire?
Step 5
pray for the highest good of all
Next, stop praying for certain outcomes and start praying for the highest good for all. How beautiful is that? It's so simple and so powerful.
This is a very relaxed way of settling into certainty. You don't need to control outcomes. In a relaxed state, we are back in alignment with the Universe.
This simple shift reorganizes everything so that you can just allow and receive miracles. You can simply say:
Universe, thank you for supporting me. I surrender my desires and expectations, and I pray for the highest good for all.
Step 6
establish a spiritual relationship of your own understanding
Finally, establish a spiritual relationship of your own understanding.
This relationship will change and grow over time. But wherever you are right now, honor it.
Honor what this relationship is today, whether it's magnificent and loud and present, or whether it's a quiet whisper.
Whatever your relationship to the Universe is today, that's exactly what it needs to be.

gabby
As you practice these steps, you will strengthen that relationship. The more you ask for guidance, the more guidance you will receive.
Your commitment to this way of living will unleash the presence of your power and help you relinquish the need to control so you can relax into a sense of certainty and freedom.
get more guidance
I can be your coach—anytime, anywhere!
My NEW gabby coaching membership makes personal growth easy to access. Get weekly lessons, guided meditations and proven manifesting methods to enhance every area of your life—all inside the exclusive member's app.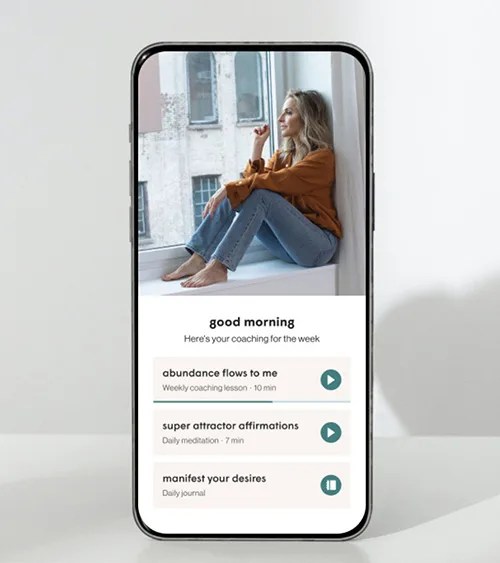 Transform your life in just 10 minutes a day with:
Weekly coaching with practical tools that will instantly improve your life
Quick access to 200+ meditations, affirmations, prompts, lessons and more
️️Quarterly challenges to release old patterns and jumpstart new habits
On-demand access to my best motivational talks
I'll be your coach to help you manifest your desires and live with an unshakeable sense of inner peace.