Do you struggle to detach from outcomes? I see so many people try to control the outcomes of situations instead of trusting the universe, and this includes myself.
For many years I was very determined to create the outcomes I wanted. I always had a plan, and I didn't let myself feel safe unless everything went according to that plan.
If you have a hard time letting go and accepting the way things unfold, this post is for you. I want to help you let you go and start receiving!
how are you attached to outcomes?
Get honest with yourself right now: In what ways are you obsessing over an outcome?
Are you attached to something happening in the timeframe you're comfortable with?
Are you fixated on someone doing something in the way you want?
Do you think something will be a disaster if it doesn't go exactly as you planned?
the power of detachment
When you embrace your Super Attractor power, you can stop controlling and start receiving. The more we turn over our desires and goals to the care of the Universe, the more greatness we allow. We can stop worrying and trust that whatever is coming our way is of the highest good.
When you're attached to an outcome, you actually block your ability to manifest your desires and co-create with the Universe.
But when your energy is aligned with the energy of the Universe, you blast open the doors to receive support, ideas, inspiration, solutions and opportunities you couldn't have imagined!
how to detach from outcomes
If you want to manifest the reality you want, you must be in an energy of detachment. In this energy, you become willing to allow and receive.
These two steps will help you detach from outcomes. When you practice this simple process, you'll live with ease and confidence. And you'll manifest your desires!
Step 1
recognize how you're attached to the outcome
Before you can detach from an outcome, you have to get honest and know that you're attached to it. Maybe you post in the comments below and just get honest with me, and get honest with yourself about an outcome you've been obsessing over.
Then start to pay attention to how that attachment is affecting your energy and your vibrational frequency. How is it making you feel? You can start to see how it's not serving you and how it may be blocking you from manifesting your desires.
Step 2
surrender the attachment with prayer
The next step is to surrender it fully. This is so simple. It's just a prayer. You can say this prayer daily for the next 30 days if you want to detach from an outcome. Just say:
The moment I embrace my peace within and surrender the outcome is the moment that the Universe can truly get to work.
That simple prayer will shift your energy immediately. It connects you to the voice of your higher self, which will help you allow and let go.
In that space of allowing and letting go, you start to come into an energy frequency that is receptive and detached. You start to vibrate with the Universe and trust the Universe with the details.
release every outcome & trust the universe
As I say in Super Attractor, the Universe responds when we let go and welcome divine guidance. When there is a controlling energy behind your actions, you won't receive the outcome you truly want.
the key to attracting your desires is to release them
People often ask me how often they should surrender to and trust the Universe. My response is: Every day. You can use your prayer as often as you need. Turn to it anytime you catch yourself trying to control, or when you're really hung up on a certain outcome.
It helps to begin practicing detaching and surrendering in the areas of your life where things don't feel very high stakes and you have a more relaxed attitude toward the outcome. In time it will become easier to release your bigger attachments. Get into this habit by surrendering something that you're less attached to. Release it all!
focus on feeling good
Abraham-Hicks say:
"The reason you want every single thing that you want, is because you think you will feel really good when you get there. But if you don't feel really good on your way to there, you can't get there. You have to be satisfied with what is while you're reaching for more."
Your satisfaction with what is allows you to be happy and peaceful regardless of whether you have exactly what you think you need. So just forget what you think you need and focus on feeling good!
Feeling good will bring you far more than whatever you thought you needed. You'll release the need to get something, be somewhere or have certain circumstances in place to be happy. Happiness will become the outcome you desire most.
Trust the Universe and you can start cultivating happiness now. Follow the tips in my article on the do's and don'ts of manifesting to focus on feeling good!
get more guidance
I can be your coach—anytime, anywhere!
My NEW gabby coaching membership makes personal growth easy to access. Get weekly lessons, guided meditations and proven manifesting methods to enhance every area of your life—all inside the exclusive member's app.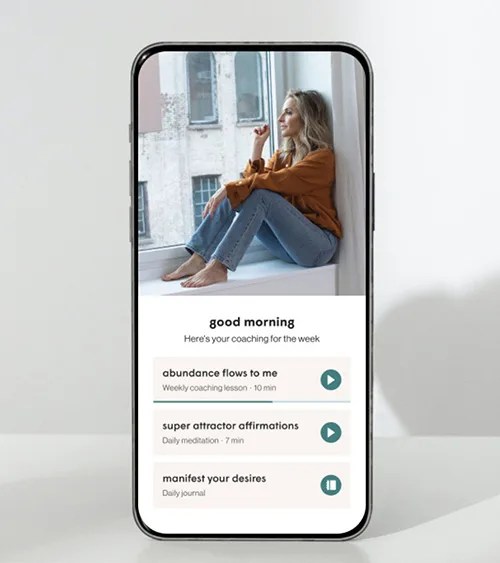 Transform your life in just 10 minutes a day with:
Weekly coaching with practical tools that will instantly improve your life
Quick access to 200+ meditations, affirmations, prompts, lessons and more
️️Quarterly challenges to release old patterns and jumpstart new habits
On-demand access to my best motivational talks
I'll be your coach to help you manifest your desires and live with an unshakeable sense of inner peace.