how to surrender spiritually
Over the years I've been very transparent about my conception journey. It took me three years to conceive my son Oliver, and there were a lot of ups and downs along the way.
Right around the time I began writing my book The Universe Has Your Back, my husband and I also began trying to conceive. It was 2015, and I had it all planned out. I'd get pregnant right away, retreat to my country house, and watch my belly grow bigger and bigger with every chapter I wrote. 
I was so committed to this plan that I said no to big opportunities, canceled travel plans and cleared my calendar because I was so sure my perfect plan would work.
The only problem? I didn't get pregnant.
I told all my friends that I was "consciously conceiving," when really, it was more like unconsciously controlling.
I intuitively knew our baby was on his way, but I still couldn't release the plan. And that need to control—and the stress I'd experience when the plan I'd so perfectly crafted didn't work—was actually cutting off my communication with the Universe. I needed a spiritual surrender, even though I didn't realize it at the time.
I judged myself for not getting pregnant. I suffered the silent shame all women having a difficult time trying to conceive know too well. And worst of all, I walked around telling everyone how much faith I had that I'd be a mother, when really, I was suppressing an unspeakable fear that it was never going to happen.
my spiritual surrender
About nine months into the process of trying to conceive, I spent time with one of my spiritual running buddies, Jordan. When he asked what was going on with me, I broke down and outed my ego. I confessed I'd been trying to control the timing of my pregnancy. Then, out of nowhere, I said to him, "My plan has been getting in the way of God's plan."
Jordan looked at me and said, "That is it."
In that moment, I knew I needed to spiritually surrender.

gabby
I could see clearly how I'd been blocking the higher plan. I accepted this message as a new Universal assignment.
Each and every one of us has a baby of our own that we want—whether it's a child, a romantic partner, a career or health change, a new home, or just a feeling of being free. We all want something. But when our plan gets in the way of God's plan, we block the miracles.
My friend Jordan helped me see that I needed to take my hands off the wheel and let God be my driver.
take your hands off the wheel
I love that metaphor of taking your hands off the wheel. Doesn't it feel so much better to know that you don't have to drive? That you can just sit back and allow? That you can take spiritually aligned actions and show up, but then turn it all over to a power that's so much greater than you?
I talk about all of this—my journey trying to get pregnant, the spiritual surrender it taught me and so much more—in this week's episode of Dear Gabby.
Exactly how I changed my mindset from fear to faith during one of the toughest moments of my life
My best tips for experiencing more joy, which is the true secret to manifesting
How to spiritually surrender (and then surrender some more!) and how it will help you make your dreams a reality
The ways living in the moment can shift your mindset—instantly
It can be so tempting to control when and how our desires manifest. We get stuck in the "when I haves": When I have the baby, the guy, the job, the new house …
But here's the deal:
when you focus on what's thriving right now, you can have fun along the way to what you desire
It's our job to surrender (and then surrender some more!) so we can let the Universe catch up with our dreams. I learned how to do this during one of the most challenging years of my life. And in this Dear Gabby episode, I want to inspire you to think of the ways you might benefit from more spiritual surrender, too.
That year I first started trying to conceive was one of the toughest of my life. Yet now I can look back and say THANK YOU! Thank you, Universe, for teaching me the gift of spiritual surrender. Thank you for showing me the power of taking my hands off the wheel.
Thank you for showing me—and helping me show others—that creating anything in the world requires surrender more than anything else.
Be joyful and surrender.
Are you with me?
get more gabby
The following are helpful resources and books I mention in the episode.
I can be your coach—anytime, anywhere!
My NEW gabby coaching app makes personal growth easy to access. Get weekly lessons, guided meditations and proven manifesting methods to enhance every area of your life—on your own terms, at your own pace, all in one place.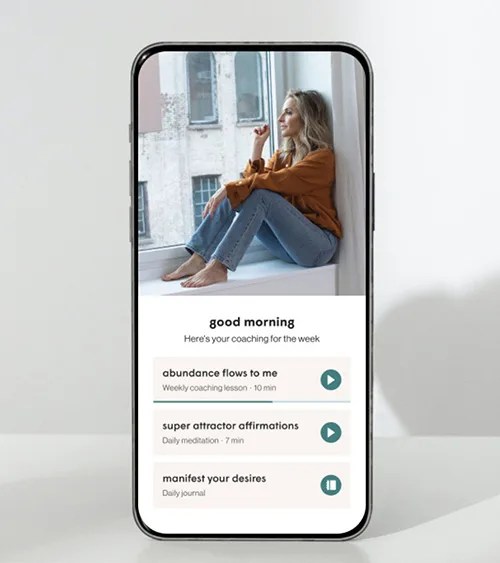 Transform your life in just 10 minutes a day with:
Weekly coaching with practical tools that will instantly improve your life
Quick access to 200+ meditations, affirmations, prompts, lessons and more
️️Quarterly challenges to release old patterns and jumpstart new habits
On-demand access to my best motivational talks
I'll be your coach to help you manifest your desires and live with an unshakeable sense of inner peace.
disclaimer
This podcast is intended to educate, inspire, and support you on your personal journey towards inner peace. I am not a psychologist or a medical doctor and do not offer any professional health or medical advice. If you are suffering from any psychological or medical conditions, please seek help from a qualified health professional.