If you want to learn the most powerful method for manifesting your desires, you are going to LOVE today's episode of the Dear Gabby podcast.
This Dear Gabby is going to help you take your manifesting to the next level. It will make you a yes, and not a maybe for what you want … because the Universe does not respond to unfocused, scattered energy.
Here's the deal: In order to manifest your desires, you have to get clear. You might be thinking, "Gabby, I know what I want! I want a romantic relationship, or I want this type of house… or I want to have this much money in the bank."
But you can go deeper. You can get even MORE clear on exactly what you desire. And, you can become such a strong energetic match for your desires that the Universe can't help but put your manifestations in motion.
Did you know … you can actually tell the Universe: This is what I want? And, you can say it unapologetically and with total conviction. I'll teach you how!
How to become a YES! for what you desire (this is important: the Universe only responds to what you are a clear yes for)
Creative and fun ways to clarify your desires …. and feel super aligned with the Universe (make sure you have a pen & a journal nearby!)
How to get into the energy of "positive expectation" so that you can relax, knowing that your manifestations are on the way
Annnd, this part is super important: I'll teach you how to back your clear vision with a released energy, so that the Universe can really do her thing! (Manic, controlling energy is NOT what you need to manifest)
make a faith statement
I love this episode of Dear Gabby because I got to dip into my archives and share some of my best practices for manifesting. This includes making a faith statement!
This is one of the most powerful exercises from The Universe Has Your Back, and I want to share it with you here.
making your faith statement
The practice of creating a faith statement involves answering some questions. So open your journal and answer these:
question 1
would your life be like if you knew you were being guided?
Take a moment to write down the answer. There is no right or wrong answer. Write down whatever comes to mind. Don't edit yourself.
question 2
what would you do differently if you knew the universe had your back?
Free-write, letting your subconscious come forward. Don't edit yourself. Think big! Let yourself truly imagine what you'd do differently if you knew the Universe had your back.
question 3
what spiritual proof do you have that the universe is guiding you?
For instance, you might ask for a sign from your guides—and receive it! Or someone you're thinking about might call you out of the blue. Or maybe you have a friend who's shared stories of synchronicity that are proof to you that the Universe guides us.
Even if it's not directly related to you today, you can lean on the guidance other people have received and strengthen your faith.
Feel the faithful energy that the story you thought about/wrote down ignites. Take a few moments to tap into the feeling of that faith.
question 4&5
how does it feel to be in faith? what does faith give you the freedom to do and be?
Again, free-write and make a list. Get honest! Don't hold back. Let it flow. Don't edit yourself.
Now you're ready to create your faith statement. We want to make a faith statement that ignites love and joy and enthusiasm and excitement when we read it.
Here's mine:
I know that the Universe is an ever-present energy field of love. When I align with the energy of love through thoughts, actions and beliefs, I am given infinite support and guidance. I know that I can co-create my reality with this loving presence so that I can live in joy and spread light.
Now it's your turn!
how to write your faith statement
Revisit all the answers that you wrote down and free-write your faith statement. Start with "I know" or "I believe." Let it move through you. Trust it. Don't edit a word.
When you're done writing, read what you've written. Take out the three or four sentences that move you to tears. That is your faith statement.
get clear & get what you want!
I can't wait for you to listen to today's Dear Gabby and amp up your manifesting power! Here's the story:
the more clear you are, the more you will receive whatever it is that you genuinely desire
get more gabby
I can be your coach—anytime, anywhere!
My NEW gabby coaching app makes personal growth easy to access. Get weekly lessons, guided meditations and proven manifesting methods to enhance every area of your life—on your own terms, at your own pace, all in one place.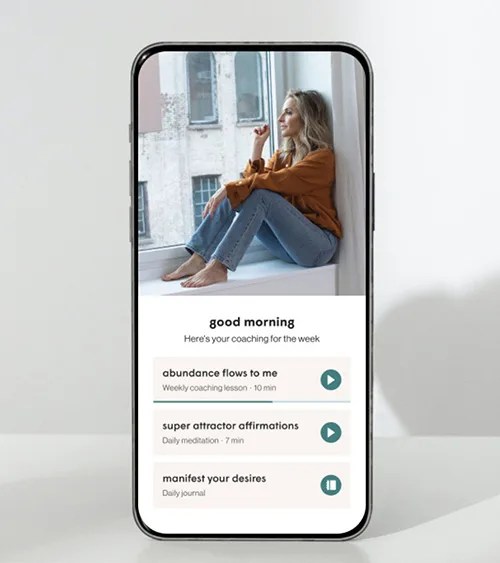 Transform your life in just 10 minutes a day with:
Weekly coaching with practical tools that will instantly improve your life
Quick access to 200+ meditations, affirmations, prompts, lessons and more
️️Quarterly challenges to release old patterns and jumpstart new habits
On-demand access to my best motivational talks
I'll be your coach to help you manifest your desires and live with an unshakeable sense of inner peace.
disclaimer
This podcast is intended to educate, inspire, and support you on your personal journey towards inner peace. I am not a psychologist or a medical doctor and do not offer any professional health or medical advice. If you are suffering from any psychological or medical conditions, please seek help from a qualified health professional.