how to strengthen your faith and practice joy
We went rogue in the latest episode of Dear Gabby! I had one hour left in the recording studio and was trying to MAXIMIZE. I let everybody go so that we could take a break, and then I realized I didn't have any more guests for the show. So I went old-school Gabby style and started up LIVE on Instagram and then transitioned live to the podcast!
This is totally on par with today's theme, which is all about practicing joy and faith, and how breaking our routine can help curate more happiness. I shake up the routine today, rely on my faith, and produce a fantastic episode with lots of energy and vulnerability.
anything is possible with faith and joy
Joy helps us to keep going and find a light in the dark. When things get tough, relying on your faith and knowing how to adapt to change are the keys to living well.
So how the heck do you maintain faith and joy when you're feeling majorly off-balance?
That's exactly what I get into in today's spontaneous episode that starts on IG and shifts over to Zoom. I share some faith-filled methods to help my guests limit negativity and pay more attention to the good.
When you follow these simple steps, you'll learn how to cultivate more joy every single day and stay present during tough or transitional times.
in this episode, I'll share:
How to strengthen faith through prayer. When doubt is rocking your faith, give it over. Witness the moments when you have a lack mentality. Then thank the Universe for opening your heart and reminding you that you are indeed on a spiritual path. Have this prayer ready when doubt creeps in—staying in this dialogue with the Universe aligns your thoughts back to the spiritual condition. Your prayer: Thank you, Universe, for guiding me back to clarity and faith.
Ways to quit focusing on things that aren't working. While it's important to be curious about the future, it's equally important to stop obsessing about it when it becomes unproductive or harmful. We're so invested in the hustle of life that it can be hard to prioritize joy and live in the moment. But it should be a necessity that you seek to experience daily.
How to call in your manifestations. We can attract what we want in life with the right actions that are aligned with our beliefs. Practice being, living and dwelling in the experience of aligning your desires with your beliefs. This practice will show you how to co-create your reality, right here right now. Manifesting happens the moment you align your desires with your physical sensations, belief systems and thoughts.
joy begets more joy
One of my lovely guests on this episode, Holly, is experiencing an incredible amount of anxiety surrounding her upcoming 40th birthday. She's not where she wants to be in life and feels like she's failed.
I remind her that she's at a beautiful turning point. Forty is a GREAT time to make changes to your belief systems and practice more joy. Each new year allows us to grow and experience life in better ways. It's an adventure!
We weren't actually going to record this episode today, but here we are—we did it, and Holly made it through to the pod. I told her to take that as a sign and an opportunity. It's synchronistic, and it's the first step for her to see just how different her life could be if she lets go of the stories that have been holding her back.
Holly's homework is to do a self-audit of her joy factor. She needs to stop focusing on future outcomes, be more grateful for what's actually going right, and make her only priority to feel good and have fun.
That old saying, "Life begins at 40," can actually be true if you embrace a more positive outlook! Happiness is a choice we make. Even being just 1% more joyful each day can completely transform our lives.
showing up for your spiritual path
It's important to remember that we can still practice happiness while we're healing. We can bring joy into our lives as a spiritual tool for moving through the suffering and helping to curate inspiration and direction.
Of course it's still safe to turn inward when you're having the hard days and the yucky feels. But when you open yourself to happiness at the same time, you invite in more joy and light, and over time you become less negative.
Every moment that you're in a positive connection is a healing moment. Learning how to practice more joy every single day, no matter what you're going through, will help reduce stressors and better equip you to ride the rollercoaster of life.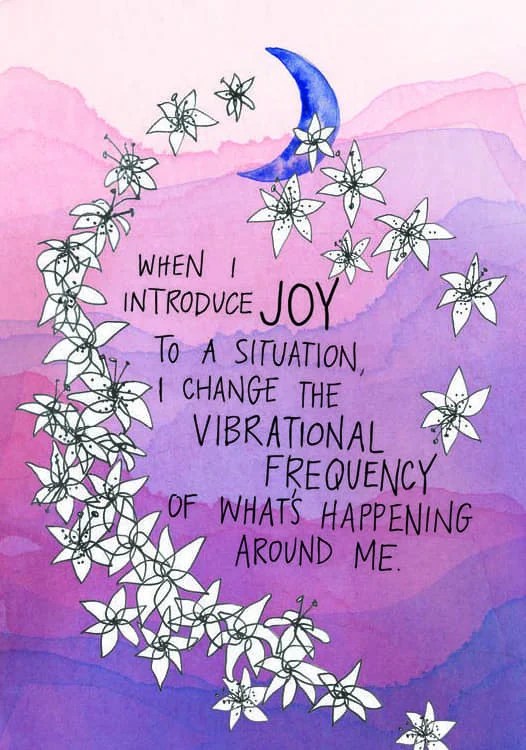 No matter where you are on your journey, bringing in more faith and joy will help you to thrive. Don't forget to stop, look around and recognize the beauty in front of you.
I hope you have a joyful new week and enjoy this inspiring episode!
get more gabby
Get 2 of my most impactful meditations to attract your desires.
• manifesting meditation
This 15-minute meditation will amplify your attracting power and get you aligned with the loving energy of the Universe.
• vision-making meditation
This 6-minute meditation will help you visualize your dreams and shift your energy into a receptive state that attracts miracles.
Click here to get your 2 free manifesting meditations
If you want to learn more about surrendering control in order to live the life you want, check out my book The Universe Has Your Back.
disclaimer
This podcast is intended to educate, inspire, and support you on your personal journey towards inner peace. I am not a psychologist or a medical doctor and do not offer any professional health or medical advice. If you are suffering from any psychological or medical conditions, please seek help from a qualified health professional.