when we allow our stress and our anxiety to get in the way, we block our ability to receive the quiet, gentle voice of true inner guidance
Something interesting happened to me last night …
I usually sleep really well, about 9 to 10 hours a night. But last night I woke up in the middle of the night stressed out and worried. I was nervous about whether I should take on a new project.
I knew I needed to get out of the fear cycle and into a more spiritually minded cycle, to see it through the spiritual lens rather than the fear lens. And so at 2 o'clock in the morning I did some journaling. I released all my feelings, dumped out all the negativity.
And then I said, "Okay, I'm willing to receive guidance. I'm not going to try to fix it at 2 o'clock in the morning. I'm going to give it over and let the Universe show me what to do."
The moment I said that prayer, I went right back to sleep.
I woke up in the morning feeling settled and connected to my intuition. My willingness to receive guidance helped me see that I wasn't meant to take action on that endeavor. I could clearly understand why it wasn't the right time for me.
It took me one minute of prayer to go back to sleep and let it be resolved. It didn't take me two weeks of stress to figure it out.
we just need to get out of the way and let the Universe do its work
The fastest way is through the power of positive thoughts and prayers.
a prayer to receive guidance
In today's episode, I share a prayer to help you open up to receive that guidance:
We open up our consciousness now to receive intuitive guidance through positive, empowering thoughts.

We open up our consciousness now to seek solutions rather than problems.

We open up our conscious awareness to the abundance of gifts that are available to us from the Universe in this day.

We welcome these miracles. We welcome this abundance. We welcome these gifts.

Thank you, Universe, for revealing to us all of the abundance that is around us, guiding us and showing up for us.

We awaken to the presence of that guidance, of those gifts, and of that true nature of love that is within us and around us.

I'm ready to receive. I'm ready to receive. I'm ready to receive.
Let that be your mantra today: I'm ready to receive guidance. And then get psyched, because there's a lot of opportunity in front of you!
lean into a positive perspective
Get ready to learn how to lean in to a positive perspective, how to lean in to a solution, and how to lean in to what's working.
How to unapologetically claim your desires
How thoughts become things
A prayer to help you open up to receiving important messages
3 steps to stop playing small
My method for listening to the gentle voice of your true inner guidance
The importance of resilience in every moment
Why when we lean in to the experience of fun, we can't fail
No matter how much you're struggling, no matter how much you've detoured in the wrong direction, this show can be your catalyst for a quantum shift.
Put on Dear Gabby and let's practice good-feeling thoughts together! And when you're finished listening, I welcome you to leave a review. Let me know how it's going. Share your good-feeling thoughts and your miracles.
get more gabby
I can be your coach—anytime, anywhere!
My NEW gabby coaching app makes personal growth easy to access. Get weekly lessons, guided meditations and proven manifesting methods to enhance every area of your life—on your own terms, at your own pace, all in one place.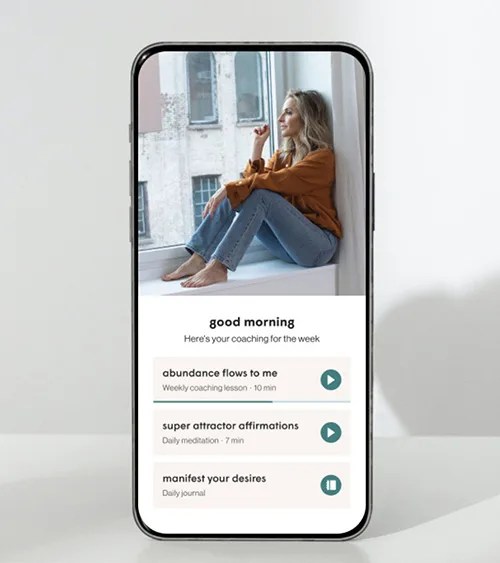 Transform your life in just 10 minutes a day with:
Weekly coaching with practical tools that will instantly improve your life
Quick access to 200+ meditations, affirmations, prompts, lessons and more
️️Quarterly challenges to release old patterns and jumpstart new habits
On-demand access to my best motivational talks
I'll be your coach to help you manifest your desires and live with an unshakeable sense of inner peace.
disclaimer
This podcast is intended to educate, inspire, and support you on your personal journey towards inner peace. I am not a psychologist or a medical doctor and do not offer any professional health or medical advice. If you are suffering from any psychological or medical conditions, please seek help from a qualified health professional.