This three-word phrase has been central to my healing journey: progress not perfection. And I know that this will help you too!
Does perfectionism get in the way of creating what you want in your life? On today's Dear Gabby I'll teach you how to release the need to be perfect so that you can manifest more.
This radical shift will create amazing momentum in every area of your life—and I'll show you how! I'll teach you to embrace the power of imperfection. When you learn to live this way, you'll show up for your life with a more positive attitude, higher vibes …. and a whole lot of love.
progress not perfection
Today's episode of the Dear Gabby podcast has a BIG topic. It's a life lesson that I learned early in my sobriety: Focus on progress not perfection.
Your willingness to be imperfect is your superpower.

gabby
In my first days of getting sober, I'd go to meetings and I'd hear this phrase all the time: "Progress not perfection." It was even written on the walls!
This sentiment really touched me. It allowed me to not worry about trying to be perfect that day. Instead, I'd just celebrate another day of being clean.
I would call my sponsor and celebrate the small right action I had taken that day. However small that action was, I knew it had taken me one step closer to my dream of being a sober woman.
My willingness to be imperfect has given me a lot of grace. It's allowed me to be more creative. And that willingness has created space for so many miracles in my life.
I have brought this lesson of practicing progress not perfection into every area of my life. As a mom, as a wife, as a business owner and as a human in this world, I show up for everything I do with this mindset … and it has served me so greatly!
the power of imperfection
This "progress not perfection" mentality has changed my life, and it can serve you in miraculous ways too. So press play. I'm teaching you the power of imperfection today!
How to overcome your fears gradually—and why this is far more effective than ripping off the Bandaid
The best way to develop a miracle mindset that will diminish your fear
Why celebrating the small stuff will drastically improve your life
How to use a "progress not perfection" mentality as your superpower in relationships—especially the intimate ones
How different would your life be if you let go of the need to be perfect and celebrated the progress instead?
progress is expansive
I see so many people stuck in a perfection mentality. It shuts them down, puts them into freeze mode and cuts off their creative flow.
Progress, on the other hand, is expansive. It is energizing. It has momentum! I really want to encourage you to embrace this mindset.
I have some actionable steps that will move you closer to progress not perfection. You can listen to me share the tips on today's podcast, and revisit this blog post to read them below.
The cool thing about these steps is that you don't have to change overnight. You can do these for only one day, and even then you'll feel some relief.
practice progress not perfection
Step 1
choose one small action that you can take right now that will move you closer to progress not perfection
For instance, if you're working on a project that you think needs to be finished, let go of the finish line. Instead, do one small thing that will take you closer to completing it today.
Step 2
fully embrace your new mentality—even if it's only for one day!
Really allow that progress mentality to take over. Take the area of your life that you're trying to be perfect in, and choose to see that one area through the lens of progress rather than perfection. See what it's like to do this, even if it's just for one day.
For example, say you're experiencing some issues in your relationship. Instead of just being mad that things aren't going exactly the way you want them to, make a list of all the things you've done in the relationship that have created progress in any area.
When you make progress your priority, rather than perfection, you allow creative ideas to come forward. You relax into infinite possibilities, and let yourself off the hook. You give yourself grace.
a whole lot of love
Focusing on progress allows you to tap into the quality of love within you. You tune in to the inner voice that is forgiving, compassionate, courageous, creative and connected.
When you're in a place of progress rather than perfection, you establish a radical momentum that allows you to show up for everything in your life with a high vibe, a positive attitude and a lot of love.
So give yourself this opportunity today to check in, and ask:
In what area of my life could I bring in more progress rather than perfection?

In what area of my life can I let myself off the hook more?
And in that inquiry, expect miracles.
get more gabby
I can be your coach—anytime, anywhere!
My NEW gabby coaching app makes personal growth easy to access. Get weekly lessons, guided meditations and proven manifesting methods to enhance every area of your life—on your own terms, at your own pace, all in one place.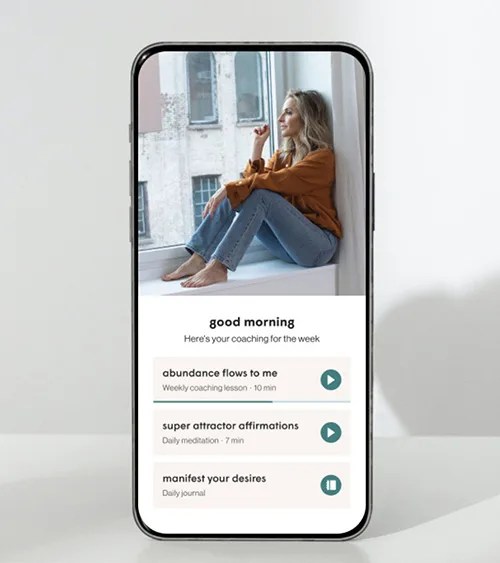 Transform your life in just 10 minutes a day with:
Weekly coaching with practical tools that will instantly improve your life
Quick access to 200+ meditations, affirmations, prompts, lessons and more
️️Quarterly challenges to release old patterns and jumpstart new habits
On-demand access to my best motivational talks
I'll be your coach to help you manifest your desires and live with an unshakeable sense of inner peace.
disclaimer
This podcast is intended to educate, inspire, and support you on your personal journey towards inner peace. I am not a psychologist or a medical doctor and do not offer any professional health or medical advice. If you are suffering from any psychological or medical conditions, please seek help from a qualified health professional.