Today's Dear Gabby is a Big Talk with my EMDR therapist Tammy Valicenti — and it's probably one of the most important podcasts I'll ever do.
I'm so glad you're here! I believe that my spirit guides led me to Tammy … and that your spirit guides led you to this Dear Gabby. This conversation could truly change your life, because it's about a healing modality that had a MAJOR impact on mine!
In my new book Happy Days: The Guided Path from Trauma to Profound Freedom and Inner Peace, I write this:
The relief I experienced from this profound psychiatric healing approach made me want more of it. What I love most about EMDR is how spiritual it is. As the Universe would have it, I was guided to an EMDR specialist who helped me go even further in the process. Her ability to intuitively guide me to explore unresolved memories and emotions was a spiritual process.

It was as if she was attuning with my energy to allow Spirit to work through her to guide me. I have always believed that Spirit works through people (particularly therapists, doctors, and healers). And in this case, I felt truly guided by a force of love working effortlessly through this woman. Often I would see sparks of light flash behind her chair.

This was a common experience for me in therapy sessions. Those sparks of light are angels and Spirit guides peeking through to let me know that I'm in the presence of a healer. Whenever I'd see a spark light up, I'd know Spirit was working through my therapist to help me heal.

-Happy Days, Chapter 6, Page 125
meet my emdr therapist
Well, my friend, the healer that I wrote about was Tammy Valicenti… and she's here on Dear Gabby to break EMDR down for you in the most soulful way!
Have you ever been curious about this type of psychotherapy?
Or, do you just want to learn about one of THE most powerful tools for feeling relief fast?
You're in the right place!
use emdr to bust through limiting beliefs
There's a really important concept called "upper-limiting" that Tammy and I cover in this podcast. If you feel that you might be sabotaging your own success in any way—either consciously or subconsciously—I really want you to hear this.
"Upper-limiting" is a tendency that trauma survivors have to play small. We might hold ourselves back in relationships, or in our finances, or in our careers. And the reason we do it is so profound. Press play to hear Tammy explain why we might keep ourselves small to avoid being retriggered … and how we can break through those blocks to meet our full potential.
If you've been through trauma of any kind, please know that you're not alone in "upper-limiting" yourself. This is a very common side effect of feeling ashamed or afraid… but everything can change once you learn to recognize it.
Surrender your old story and become willing to embrace a new one.

gabby
you are resilient
Tammy read Happy Days cover-to-cover, and in this episode she shares her tips for how to use the book! Tammy advises being gentle with yourself as you work through the exercises. Go slow, and (if you can) find a therapist or a friend to work through the book with you. But in the meantime, I want you to know that I'm there with you on your Happy Days journey, too.
As I wrote this book, I used it as an opportunity to extend my own calm, resourced energy to you. Through the way I wrote to you—and through the guidance, compassion, and vulnerability that I shared on each page—I wanted to show you my resilience. And I wanted you to know, beyond a shadow of a doubt, that resilience is possible for YOU.
expect miracles
You're already on the right path. Whether this episode of the Dear Gabby podcast opens you up to EMDR therapy, or whether you're inspired to read Happy Days and try a different healing modality, that is something to celebrate!
I'm proud of you. Just by pressing play, you're taking serious steps to heal old wounds, bring relief to your entire system and bust through blocks and limitations!
get more gabby
The following are helpful resources and books I mention within the episode.
I can be your coach—anytime, anywhere!
My NEW gabby coaching app makes personal growth easy to access. Get weekly lessons, guided meditations and proven manifesting methods to enhance every area of your life—on your own terms, at your own pace, all in one place.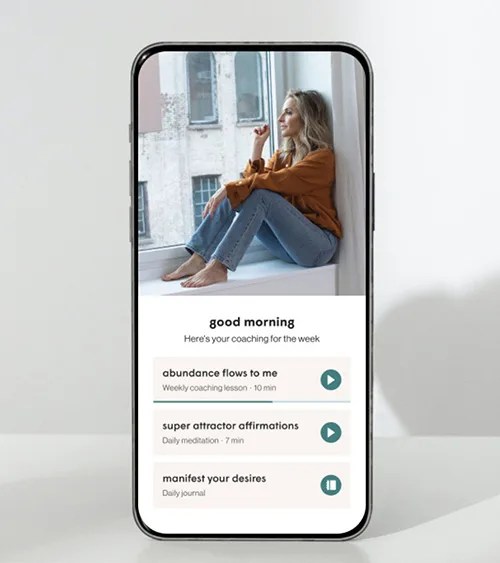 Transform your life in just 10 minutes a day with:
Weekly coaching with practical tools that will instantly improve your life
Quick access to 200+ meditations, affirmations, prompts, lessons and more
️️Quarterly challenges to release old patterns and jumpstart new habits
On-demand access to my best motivational talks
I'll be your coach to help you manifest your desires and live with an unshakeable sense of inner peace.
disclaimer
This podcast is intended to educate, inspire, and support you on your personal journey towards inner peace. I am not a psychologist or a medical doctor and do not offer any professional health or medical advice. If you are suffering from any psychological or medical conditions, please seek help from a qualified health professional.