cultivate a miracle mindset
The journey of conception, all the way through to birth, is like training wheels for becoming a mother. It prepares you for what you need to embrace as a parent—surrender.
Whether you're a parent who's suffered a miscarriage, someone who's made the difficult choice to abort, or a person struggling with conception, this episode will offer you hope. My intention for this episode is to remind you that when you surrender, the Universe reveals a parenting path far beyond what you could have imagined.
There is a spiritual way to travel this path that is backed with faith and miracles. Take it from me, I know how hard this journey can be. But today I'm here to remind you of the miracles. I've been there. It took me three years to conceive my son. I spent 2020 in and out of the fertility clinic doing IVF for a second child. I experienced postpartum depression that rocked me to my core. But no matter how hard the journey has been for me, there was light on the other side. If it weren't for my spiritual faith and commitment to surrender, I wouldn't be able to share this episode with you today.
When I truly surrender my desires to the universe, a mighty force of faith can set in.

gabby
a motherhood prayer for surrender
This is a prayer for all the mothers and mothers-to-be out there. Wherever you are on the fertility journey or the path to motherhood or a mom to young children, older children, or grown children, this prayer is for you. May this prayer open you up to the radical acceptance that being a mother is a transformational practice of surrender.
Take a moment, take a deep breath in, and pray with me.
We ask that all of the maternal angels and guides surround us now and hold us with a sense of safety and security, and unwavering faith. We ask that our babies and our children, in whatever form and age, be protected, be cared for, be loved, and be guided. We ask that our children's guides show up and intuitively work through us to support our children and work through our children so that they can be led by love.

For all those mamas on the conception journey now, we say a prayer that you can be at peace in your mind and at peace in your body, that all anxiety be removed, transformed, transmuted, and recycled, that all fear of the future be released so that only joy in this present moment can be restored. I pray that you can trust your body, trust your baby, and trust your journey. I pray that you can welcome all of the infinite wisdom that this struggle has been and all of the infinite wisdom that this gift of pregnancy and forthcoming birth will be and is now.

And I pray for you to take a deep breath and release any anxiety out into the world right now. I want you to send it off and envision that anxiety being sent down into the ground. I want you to see it going into the Earth. See it alchemized, turned into light, and become fertilizer for the grass and the Earth. Take another deep breath in and send that anxiety down into the Earth. See it turning into light, transformed and recycled. Take another deep breath in and send it down into the Earth, transforming into light, transformed and recycled.

And take a deep breath in, and release.
show up with a miracle mindset
On Dear Gabby we talk about the tough stuff. We call it out, clear the shame, and show up for it all with a miracle mindset.
In this very personal, deep episode of Dear Gabby, we discuss important and often isolating topics surrounding motherhood.
How to overcome fertility challenges through spiritual practices
How to let the Universe support your conception journey
A prayer for surrender to help you let go and allow
Powerful self-forgiveness practices to set you free from self-judgment and attack
The emotional and spiritual methods for processing loss
How to connect to angels, spirit babies and guides throughout your fertility journey
When we surrender, release outcomes and strengthen our faith, the Universe can guide us through the most difficult times. A mighty force of faith sets in, a faith that you are indeed being guided, a faith that even when things aren't working out, you know there is a better plan about to be revealed.
My hope is that this episode will ground you and reconnect you to your love mindset, to your positive energy, to your positive intentions, and give you an elevated way of seeing the fertility journey through the lens of love.
A NOTE TO THE LISTENER: In this episode we touch upon very sensitive topics surrounding the motherhood journey, including abortion, miscarriage and loss. This may be very triggering. If so, perhaps come back to this episode at a later date or seek support here. I respect all views on abortion, and anything related to your personal fertility path.
get more gabby
I can be your coach—anytime, anywhere!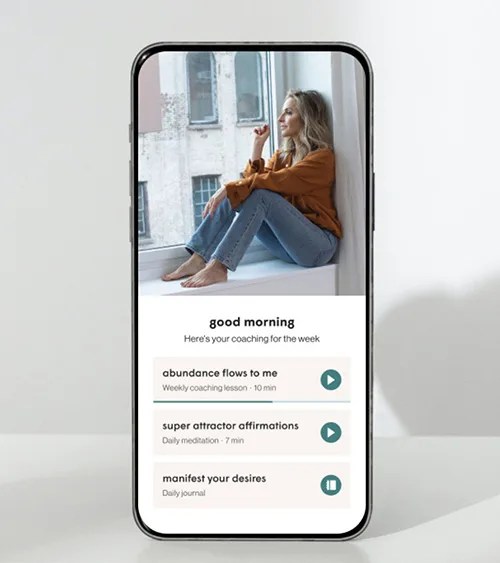 My NEW gabby coaching app makes personal growth easy to access. Get weekly lessons, guided meditations and proven manifesting methods to enhance every area of your life—on your own terms, at your own pace, all in one place. I'll be your coach to help you manifest your desires and live with an unshakeable sense of inner peace.
disclaimer
This podcast is intended to educate, inspire, and support you on your personal journey towards inner peace. I am not a psychologist or a medical doctor and do not offer any professional health or medical advice. If you are suffering from any psychological or medical conditions, please seek help from a qualified health professional.