I'll never forget the first question I asked my spiritual teacher, Marianne Williamson.
It was before she became a friend and mentor to me. I'd just read her book, A Return to Love, and it changed my life. So when I found out she was giving a talk at a church in New Jersey, I jumped at the chance to be there.
I wanted to ask a question, but was terrified to put my hand up. And then it was as if a power greater than me raised my hand—and when she called on me, I blurted out, "Marianne, how would you suggest I share these spiritual messages with my generation?"
In that moment, I knew I was in for an answer that would change everything. And in this week's episode of the Dear Gabby podcast, I share exactly what she told me—and what happened next.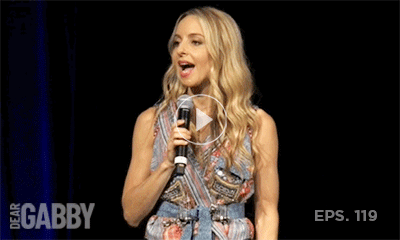 I've been a spiritual teacher for two decades now, and what I know for sure is that you are here to be great. You are here to be happy. You are here to receive. And it's time to fully accept that you can have the peace and serenity and joy and wisdom and purpose you're craving. It's all available to you right now.
My intention is to wake you up to this truth. My hope is that listening to this week's podcast—which is taken from one of my most epic live talks—will do just that.
My personal playbook for choosing a life filled with miracles
My step-by-step approach to getting started on the spiritual path
Exactly how to listen to that inner voice that's filled with wisdom and is always leading you in the right direction
Why learning how to surrender and forgive will change your life for the better, instantly
After reading Marianne's book and embracing her answer to my question, I experienced incredible shifts from fear to love—what I call miracle moments. These are available to all of us, and there are 3 steps to help you experience more miracle moments.
Humble surrender isn't about giving up, it's about giving over. It's about releasing your agenda, your timeline and your control to the power of the Universe.
At some point, we all have to recognize that we can't simply rely on our own strength. We have to be willing to look at the chaos or wreckage in our lives (much of which we may have created ourselves) without judgment. This can be a very humbling experience.
There's a good chance that if you're reading this, you've had your own humble surrender. Maybe your humble surrender came when you put down that last drink and said, "No more." Maybe it came when that long-term relationship ended or when you lost your job. Sometimes your humble surrender can come when life is great and you ask yourself, "Is this it?"
Surrender is about accepting and trusting that wherever you are on your spiritual path is exactly where you need to be.
Step 2
call on your inner wisdom
You can call it anything you want—inner wisdom, guidance, angels, Spirit, God, etc. It's the voice of love that we all too often forget is there. This inner wisdom can be hard to hear—sometimes it's like a whisper—but the good news is that this voice can become really loud if you let it.
So, how do you call on your inner wisdom? You do that by aligning with the energy of love and expressing that love in your own unique ways. You do that by welcoming in your higher self and your intuition. You'll know you're hearing inner wisdom when there's no judgment or fear. This voice is always available to you, to guide you, to give you the inspiration to get over your fear and raise your hand like I did in that church. Calling on this inner wisdom ignites miracle moments and strengthens your Super Attractor powers.
Step 3
be willing to forgive
Repeat after me: I'm willing to forgive. I'm willing to forgive.
I'm willing to forgive myself. I'm willing to forgive my attacker. I'm willing to forgive our corrupt political leaders. I'm willing to forgive my thoughts.
Whatever it is that you feel you are holding on to and feeling resentment toward, you can forgive.
When you start to follow these steps, you align with a presence greater than you. You will be led to exactly what you need, when you need it. You'll be able to show up in the world, bringing light wherever you go, and you will experience the serenity, joy, wisdom and purpose you're craving right away.
get more gabby
I can be your coach—anytime, anywhere!
My NEW gabby coaching app makes personal growth easy to access. Get weekly lessons, guided meditations and proven manifesting methods to enhance every area of your life—on your own terms, at your own pace, all in one place.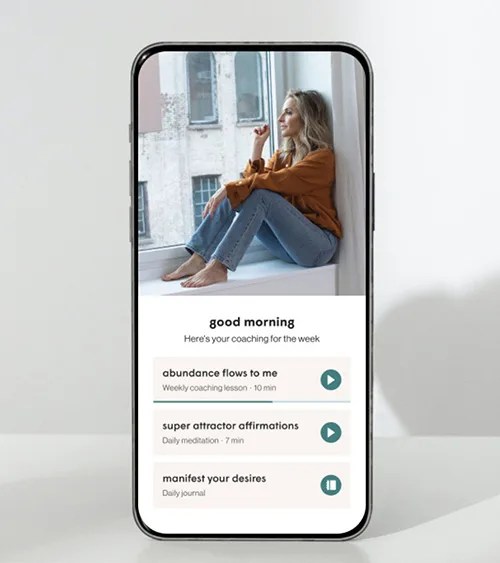 Transform your life in just 10 minutes a day with:
Weekly coaching with practical tools that will instantly improve your life
Quick access to 200+ meditations, affirmations, prompts, lessons and more
️️Quarterly challenges to release old patterns and jumpstart new habits
On-demand access to my best motivational talks
I'll be your coach to help you manifest your desires and live with an unshakeable sense of inner peace.
disclaimer
This podcast is intended to educate, inspire, and support you on your personal journey towards inner peace. I am not a psychologist or a medical doctor and do not offer any professional health or medical advice. If you are suffering from any psychological or medical conditions, please seek help from a qualified health professional.