how to let go and surrender
When I was recording this episode of Dear Gabby, something happened in the studio that really surprised me. 
I had one topic planned for the show, but a completely different one came through when I sat down to record. My guests wanted to talk about something else, and I was happy to go with the flow.
The show you're about to listen to happened by happy accident! And that's the theme of Dear Gabby this week:
The secret to manifesting is to forget what you think you need and to surrender to what's possible.

gabby
Click here to get a spiritual lesson on surrender.
When you're willing to be flexible, you start to attract exactly what you need, rather than what you think you need. And sometimes, the thing you ultimately attract is far greater than what you could ever have imagined!
You might be wondering, "But how can I be flexible when I want something so badly?" I totally get it … and I'll help you out on Dear Gabby.
How to transform your fear into faith when you feel out of control
What it means to take a small right action, and how this can help you manifest in the most unexpected ways
Why simply letting go is the greatest manifesting tip you can ever learn
A short prayer you can say every morning to get into the energy of surrender
How to shift from doing to being, to become a magnet for what you desire
How to clean up your energy so you can attract your ideal partner or career
stop manic manifesting
One of the guests on this Dear Gabby felt a real sense of urgency to manifest her desires. This was making it hard for her to step into an energy of surrender.
"Gabby, I feel like I'm behind," she told me. "I'm not where I want to be career-wise, and I'm not where I want to be relationship-wise. What am I doing wrong?"
First, I sent so much compassion to this brave woman. I was proud of her for exposing the fears that many of us hold inside. These fears can block us from manifesting what we desire, so I was excited to help her bust through them.
Here's the deal: When we have a desire but we fear that we don't know how to attract it—or, even worse, when we think we're running out of time—we start to feel a manic energy. This energy makes us want to control things even more … when the number one key to manifesting is just letting go.
So I gave my Dear Gabby guest a homework assignment to help her clean up her manic manifesting and transform her fear into faith. This is a powerful exercise, and I want you to do it too. Grab your journal …
let go and surrender
Now, get ready for your assignment. Every single day for the next 30 days, I want you to write a list of what you DO have and everything you've done RIGHT.
This exercise will help shift your focus from what's not working to what's thriving.
focusing on fear, worry and uncertainty is a form of addiction
When you learn to place your attention on what is working in your life, you'll begin to abstain from a storyline that's no longer serving you.
welcome flexibility
I love this episode of Dear Gabby because it's an invitation to welcome flexibility and stability into every area of your life. When you do, you can feel free and grounded at the same time.
I gave one guest this beautiful mantra, and I welcome you to repeat it every day this week. Say to yourself, I welcome flexibility and stability into every area of my life.
You'll be amazed by where this commitment takes you.
When you become flexible with your goals, you allow the Universe to do for you what you cannot do for yourself.
get more gabby
I can be your coach—anytime, anywhere!
My NEW gabby coaching membership makes personal growth easy to access. Get weekly lessons, guided meditations and proven manifesting methods to enhance every area of your life—all inside the exclusive member's app.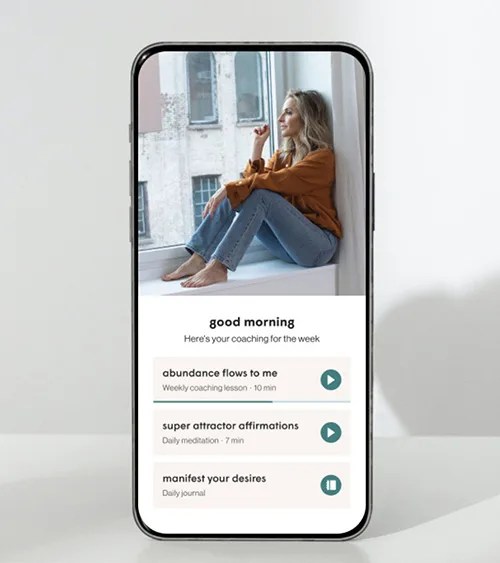 Transform your life in just 10 minutes a day with:
Weekly coaching with practical tools that will instantly improve your life
Quick access to 200+ meditations, affirmations, prompts, lessons and more
️️Quarterly challenges to release old patterns and jumpstart new habits
On-demand access to my best motivational talks
I'll be your coach to help you manifest your desires and live with an unshakeable sense of inner peace.
disclaimer
This podcast is intended to educate, inspire, and support you on your personal journey towards inner peace. I am not a psychologist or a medical doctor and do not offer any professional health or medical advice. If you are suffering from any psychological or medical conditions, please seek help from a qualified health professional.