I've had hundreds of hours of podcast conversations over the years, but there's one podcaster who brings out the best in me. That's my dear friend Lewis Howes.
Today I'm psyched to share our latest Big Talk conversation on how to commit to your dreams.
"Don't die with your dreams inside," says Lewis on today's show. "I don't want anyone to regret not giving it a shot. It doesn't matter if you fail. What matters is whether you're willing to go all in—authentically, courageously and lovingly—toward your dream."
I want you to take a minute to get really honest with yourself and answer this question: In what ways do you shy away from YOUR big dreams?
On this Dear Gabby Big Talk, Lewis and I will teach you how to clear these blocks.
We REALLY go there! Lewis and I open up about how we healed our childhood trauma so that we could truly step into our greatness.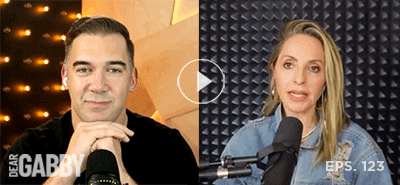 How to have a meaningful, loving, courageous conversation with your inner child (and why this is a game-changer!)
What your discomfort can teach you, and why getting comfortable with your uncomfortable feelings is crucial
Why letting go of the outcome will create more joy and freedom in the present, and help you feel proud of where you are in the process
The ways healing your old wounds can help you step into your greatness
This conversation will show you how to commit to your dreams—lovingly, courageously and authentically.
remember that committing to your dreams requires self-reflection
If we're living in fear and uncertainty because we haven't looked at our wounds from the past, they will drive our actions and almost certainly change the way we see the world. When we get stuck in that old wounded place, nothing aligns. And when we're out of alignment, there's no way we're showing up to anything with greatness.
But when we lean on certainty and faith, we can start to heal those old wounds and see the world with new eyes. When we do this, we start to operate from a place of deep joy and connection to the Universe. THAT is when miracles happen.
I realize all of this can feel daunting. I can hear you saying, "Gabby, I want to go all in on making my dreams a reality, but I don't know where to start!"
I've got you, my friends. Here are 5 steps that will help you get started right now!
5 steps you can take right now to commit to your dreams
Step 1
get clear on your big dream
Before you do anything, you have to know what you want! Every day this week, I want you to set an intention for your morning meditation: I am ready to get clear on my deepest desires. Then, when your meditation is finished, write down everything that comes up for you.
Step 2
believe in yourself and in your ability to make your dream a reality
I know it can feel difficult to drown out thoughts of doubt and resistance. But believing in yourself means quieting that doubting voice (aka your ego!) and letting the voice of love and compassion come through instead. Because when you believe in yourself, NOTHING can hold you back.
Step 3
take one small step in the direction of your dream
Sometimes, committing to your dream means taking just one teeny, TINY step in the right direction. It's okay if it feels like you aren't really making tracks. It's totally normal to want to make serious progress right out of the gate. But I'm here to tell you that any action, even if it feels small, uncomfortable or challenging, will get you closer to what you most desire.
As you commit to your dream and start to take action in the right direction, you will undoubtedly run into challenges or roadblocks that will threaten your commitment. This is when it's important to seek out support and guidance. Find a mentor or coach. Join an online or in-person community of like-minded people, or seek out other resources that will help you stay on course.
Step 5
learn the art of perseverance
To truly commit to your dreams, you have to bank on the road getting bumpy—and keep charging ahead anyway. Perseverance in the face of obstacles not only helps you continue to take steps toward your goals, but also builds resilience and character. Even when things get tough, I want you to remember that you were born to put in the work. Your dreams are worth the effort!
I know you are ready to commit to your dreams with courage, authenticity and love.
And I, for one, can't wait to see where it leads you.
get more gabby
Over the years Lewis Howes learned that self-doubt is the biggest killer of dreams. Which is exactly why he wrote The Greatness Mindset. His goal is to help readers unlock the power of their mind, eliminate self-doubt, sabotaging thoughts, and pursue their Meaningful Mission.
If you feel you need additional support, please consult this list of safety, recovery and mental health resources. I'm proud of you for your commitment to self-care.
I can be your coach—anytime, anywhere!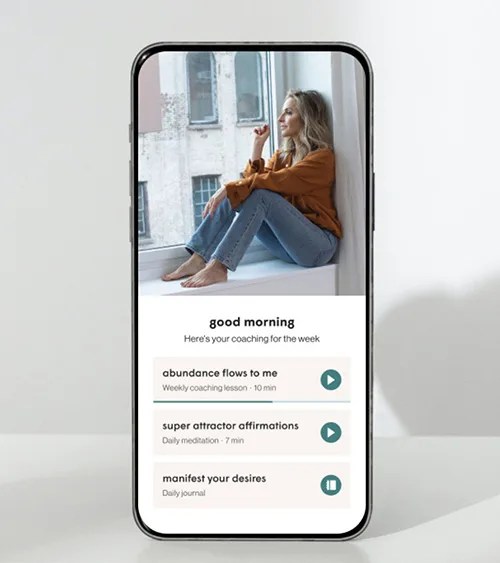 My NEW gabby coaching app makes personal growth easy to access. Get weekly lessons, guided meditations and proven manifesting methods to enhance every area of your life—on your own terms, at your own pace, all in one place. I'll be your coach to help you manifest your desires and live with an unshakeable sense of inner peace. 
disclaimer
This podcast is intended to educate, inspire, and support you on your personal journey towards inner peace. I am not a psychologist or a medical doctor and do not offer any professional health or medical advice. If you are suffering from any psychological or medical conditions, please seek help from a qualified health professional.