When Dr. Gabor Maté came onto Dear Gabby, he asked me a big question:
"Gabby when you recovered from drug addiction, what did you find?"
Without skipping a beat, I replied, "I found me."
You see, our true, undamaged selves can never be destroyed. It's just that pain—and the measures we take to numb it—can disconnect us from the truth of who we are.
Honor Your Authentic Self
We all experience pain and suffering. But when we become brave enough to heal, we can honor our authentic selves and finally feel free. >>>This Dear Gabby will teach you how. 
This is a wide-ranging Big Talk that touches on everything from psychedelics to parenting.
In this episode, Dr. Maté shares his views on:
How spiritual and therapeutic work can enhance each other
Why addiction is a trauma response, not a disease
The link between trauma, PTSD and psychosomatic conditions
How psychedelics can be used to facilitate trauma healing
The 4 essential needs children have for healthy development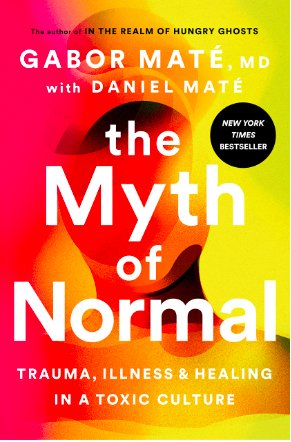 I believe Dr. Maté will go down in history as a major catalyst for great change. His compassionate views have the capacity to change the way we treat addiction.
In his latest book, The Myth of Normal, Dr. Maté shares a mantra that moves me to my core. "Don't ask, 'Why the addiction?'" he writes. "Ask, 'Why the pain?'"
I highly recommend this illuminating work. It doesn't just contain revelations about addiction. It also has beautiful lessons about parenting our children and reparenting oursevles.
In this Big Talk, I open up about the greatest spiritual practice of my life. I actually didn't find it until years into my career as a spiritual teacher.
For a decade, I used my spiritual practice as a way to rise above my suffering. For a long time, I was teaching based on that experience—and I was teaching well. I helped thousands of people create a spiritual connection of their own understanding, and I strengthened my own faith in the process.
But I can look back now and recognize that I was using my spiritual practice as a protector. The part of me that was so deeply devoted to my faith was protecting me from feeling my impermissible feelings of shame and rage.
At the time, I wasn't quite safe enough to remember the trauma that I had dissociated from. I wasn't ready to tap into the root of my pain, so spiritual bypassing was all I could do. (Spiritual bypassing is when we hide behind our spiritual practice as a way to avoid facing unresolved emotional issues.)
I have great compassion for myself at that time in my life. And if you have any spiritual bypassing tendencies, I urge you to see yourself with compassion too.
When you are ready, you can gently crack open to the inner work that will help you get to the root of your unresolved pain and release it.
But for now, just put your hand on your heart. Take a deep breath, and know that you are on the path to emotional freedom. Just by reading this blog, you are showing your willingness to open up to guidance.
As you work to heal your inner pain and reconnect with the truth of who you are, I want you to be gentle with yourself. Allow yourself to honor all your emotions as they come up. I dug this card out of my The Universe Has Your Back deck for you:
Give yourself permission to feel all your feelings. When you are ready—and with the right guidance—you can become curious about the things that trigger you.
In my book Happy Days, I share my journey from trauma to profound freedom and inner peace. On page 35, I write:
In order to let true healing begin, we must become conscious of the triggers and the feelings that live beneath our destructive patterns. A huge shift occurs when you become brave enough to look closely at what you've been unwilling to see. The key here is to go slowly.
You might be thinking, this feels too heavy; I should just skip ahead or read one of her other books on manifesting. I get it. It feels like hard work to face our past and heal. That's true, but it's much harder not to face it, stay stuck in negative patterns, and never know true peace. But facing our truth is a spiritual practice, and it's necessary to feel free.
In this Big Talk, Dr. Maté says that children have four essential needs for healthy development. One of those needs is "the freedom to experience all the emotions that nature gave us."
Dr. Maté argues that whatever emotion rises up in a child—whether it's joy or playfulness, panic or grief—needs to be met with understanding from their caregivers. To feel free to stand in their truth, children need to feel understood, seen and held. And so do adults.
We can start by seeing ourselves, and embracing ourselves for all that we are.
My prayer is that this episode of Dear Gabby opens you up to a deep connection with your authentic self. And in that connection, may you know a profound sense of freedom and safety. 
Get More Gabby
The following are helpful resources and books I mention in the episode.
Gabor Maté is a world-renowned addiction expert, speaker and bestselling author. He studies human development through the lens of science and compassion. He developed the psychotherapeutic method Compassionate Inquiry. This technique helps clients recognize the unconscious dynamics that run their lives, and free themselves from them. His latest book is The Myth of Normal.
In my book Happy Days: The Guided Path from Trauma to Profound Freedom and Inner Peace, I reveal 9 transformational techniques for serenity and genuine happiness. This book presents a clear plan for transforming the pain of your past, whatever that may be, into newfound strength and freedom.
I created the Miracle Membership to help you design a spiritual practice you can stick to—so you can feel connected, supported and inspired every day. Each week I deliver brand new workshops, guided meditations, community connection and so much more. Plus, I lead a different challenge each quarter to elevate every area of your life. Click here to join.
If you feel you need additional support, please refer to this list of safety, recovery and mental health resources. I am proud of your commitment to self-care.
This podcast is intended to educate, inspire and support you on your personal journey toward inner peace. I am not a psychologist or a medical doctor and do not offer professional health or medical advice. If you are suffering from any psychological or medical conditions, please seek help from a qualified health professional.
Check Out More Dear Gabby Podcasts