May is Mental Health Awareness Month, and mental health is a BIG topic for us here at Dear Gabby.
If you've listened to the podcast before, you've heard me go deep on mental health issues. You've heard callers bravely open up about their own struggles surrounding mental health. And if you're here for the first time, that is no accident! I welcome you with so much love to this important conversation.
I'm grateful that the Dear Gabby platform allows us to get real, raw and introspective about mental health. We experience real-time miracles in this setting, and I've designed it to be a safe container for callers to get curious and come clean about the state of their mental health.
But I wasn't always as clued in about mental health as I am today. In fact, there was a time in my life when I was unwittingly contributing to the stigma surrounding mental health.
By the grace of God, I was able to see things differently.

gabby
On today's episode of the Dear Gabby podcast, I share a deeply personal story about how my own struggles with depression and anxiety led me to understand mental health on a whole new level.
You'll understand why I'm now SO passionate about busting through stigmas surrounding mental health!
Listen to the full story here.
my mental health story
Five months postpartum, I was living in complete denial. I was holding the most beautiful baby boy in my arms, but something was off. I didn't feel like myself. And my spiritual tools were no longer working to bring me back to safety.
The reality was that I was having a biochemical reaction to the postpartum experience. I was battling severe anxiety, insomnia, depression, agoraphobia and even suicidal ideation. My brain chemistry was changing!
And though my daily practice of prayer and meditation certainly didn't hurt, I could not meditate my way out of this situation. This did not come down to a lack of faith or a failure to repeat positive affirmations; it came down to neurochemistry.
But as always, the Universe had my back. I was led to a psychiatrist who prescribed a medicated course of treatment. With her guidance, I was able to get back to a baseline of safety.
And from there, I could begin a process of profound healing, using the therapeutic and spiritual tools that I share in my new book, Happy Days.
a lesson in humility
Accepting that I had a biochemical condition—and being willing to treat it—kicked off the deepest healing journey of my life. The moment I picked up the medication my psychiatrist had prescribed, I let out a deep sigh of relief …
And got real with myself.
I had someone I needed to apologize to.
Years before my own diagnosis, I had asked a woman I knew and loved—one of my team members—to share her story on my blog. This woman had been on prescription medication for anxiety for years, and that treatment had saved her life.
She was proud of the progress she'd made. And when she sat down to share her story, she didn't hold anything back. She wrote about how her medicated path to recovery had saved her life, and her courage and conviction showed up in every word.
When I read her blog post, I was moved. But instantly, I started thinking about possible blowback. (The comments section on a blog can be a loaded place!)
busting through stigmas surrounding mental health
"Listen," I told my friend, "I love this post—but it's going to set off a heated discussion in the blog comments. People have such strong feelings about medication! I don't think we want to go there right now."
At that moment, I had no idea that I was contributing to the stigma surrounding mental health—but I see it so clearly now. And I saw it then, as a new mom, when I was holding my first bottle of psychiatric medication in my hand.
That's when I picked up the phone.
I called my team member and we had a beautiful heart-to-heart conversation. She handled my apology with grace and maturity. And from that moment on, she's been one of my biggest supporters on my own healing journey.
Today, I am committed to shifting the stigma surrounding mental health. I believe that shift starts with having open conversations about mental health, and being honest about the ways that we all suffer. Yes, even self-help authors suffer—and I'm not afraid to admit it!
So sit back, press play and prepare to dive deep into mental health on this episode of the Dear Gabby podcast.
healing and hope
If this topic brings up any funky feelings for you, know that I've got your back. If you're struggling with mental health issues of any kind, it is my sincerest prayer that this episode opens you up to possibilities for healing and hope. Most of all, I want you to know that you are not alone.
In this episode, I'll share candid details about my own journey with mental health—and some key lessons I learned along the way. I'm also answering BIG, brave questions that were sent in by Dear Gabby listeners!
The best way to get more support from your family and loved ones if you're struggling with mental health (I know this from my own life experience, and I offer this advice with so much love)
How to build a support team that can guide you through a mental health healing journey (you don't need a huge budget to assemble this team!)
The mindset shift that helped me stop resisting treatment for my biochemical condition and finally get myself on a healing path
A simple prayer you can use to expand your awareness of your mental health and open yourself up to healing
How our own childhood wounds affect the way we parent—and my BEST advice for overcoming excessive worry about the children in your life
How to befriend your anxiety and loosen its grip on you
a journaling exercise
I also share a powerful writing exercise that will help you take inventory of the ways you might be running from your own well-being. This is from Chapter 2 of Happy Days. If you have the book, you can begin the exercise on page 38; if you don't, just follow my guidance on the podcast.
be proud of yourself
If you're listening to this episode of Dear Gabby today, reading a book like Happy Days, or just cracking open to a willingness to explore what lies beneath your suffering, you can know this with every fiber of your being: You are already on a healing path.
Be proud of your commitment to transformation. Believe in your path toward peace. And allow yourself to feel some relief, knowing that you have a mental health first-aid kit as soon as you press play.
get more gabby
I can be your coach—anytime, anywhere!
My NEW gabby coaching app makes personal growth easy to access. Get weekly lessons, guided meditations and proven manifesting methods to enhance every area of your life—on your own terms, at your own pace, all in one place.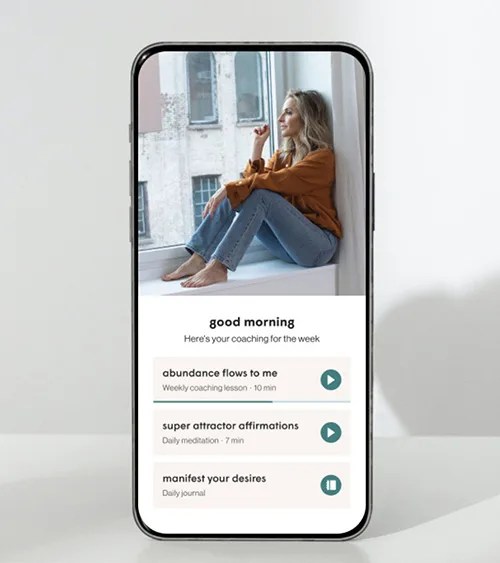 Transform your life in just 10 minutes a day with:
Weekly coaching with practical tools that will instantly improve your life
Quick access to 200+ meditations, affirmations, prompts, lessons and more
️️Quarterly challenges to release old patterns and jumpstart new habits
On-demand access to my best motivational talks
I'll be your coach to help you manifest your desires and live with an unshakeable sense of inner peace.
disclaimer
This podcast is intended to educate, inspire, and support you on your personal journey towards inner peace. I am not a psychologist or a medical doctor and do not offer any professional health or medical advice. If you are suffering from any psychological or medical conditions, please seek help from a qualified health professional.