Repeat after me:
It's good to feel good.
So many of us are afraid to claim that we can feel good. We resist happiness. We want to become happy, but we have a fear-based belief system. We think things like, "If I'm suffering, I'm succeeding. If I'm struggling, I'll make things happen. If I'm controlling, I'm safe."
You'll be surprised to read this, but I have a big confession …
The scary truth is I spent most of my life feeling really crappy. And I didn't even realize it! It wasn't until I hit major bottom with postpartum depression that I discovered how bad I had felt throughout my life.
Accepting this truth was the first step. Next, I needed to do something about it.
As a self-help book author, I've devoted my life to feeling good and teaching others how to do the same. In that moment, I needed to follow my own wisdom and guidance. I pulled Super Attractor off my bookshelf and flipped to chapter 2. There's this one sentence at the top of page 26 that made everything click:
The key to feeling good is to decide to stop feeling bad."

gabby
Whoa! That was the message I needed to hear! Decide to stop feeling bad—it's as simple and as profound as that.
I know you're probably wondering, "Just decide to stop feeling bad? Gabby, how can I do that?"
I understand. Especially if you're going through a dark moment, it can sound a bit crazy. But hear me out. Even when I was at my lowest low, suffering with suicidal postpartum depression, I was able to make the decision to feel better.
And you can too! On today's episode, I break it down for you. You'll learn how to become happy.
Press play to FEEL GOOD right now!
How to transform your fear-based beliefs into faith
Powerful tools to live a Super Attractor life
How to change your story surrounding financial insecurity
My method to stop resisting the good things in your life
3 ways to show up for yourself
Ways to identify and heal childhood wounds
An amazing technique to release judgment and shame
And check this out …
a prayer to feel good now
In today's episode, I share a prayer for any area of your life where you're struggling and want to feel better. Fill in the blank in the sentence below:
I recognize I'm out of alignment with [name a person, a situation or a belief system].

I choose to release the outcome and feel good now.

Thank you, Universe, for guiding me.
Humbly offer your fear over to the Universe and claim your desire to feel good and to become happy. The Universe has been patiently awaiting your decision to feel good, and it's especially needed in your darkest moments.
No matter what's going on in your life, there's always a moment when you can choose again and shift to a new perception.
remind yourself that it's good to feel good
Open up your consciousness to a better-feeling thought and a better-feeling energy.
When you feel good, everything you need will come to you. The more you focus your attention and energy on feeling good, the more you attract what you want to experience in life. And the more you'll become a Super Attractor!
Put on Dear Gabby and go for a walk with me. Let me help you get to a better mood, feel good, and become happy!
If you're enjoying this show, I welcome you to leave a review. Let us know how it's going. Tell us about your miracles. I want to witness your miracles in those reviews. I love this community and I'm so proud that we're all here together!
get more gabby
I can be your coach—anytime, anywhere!
My NEW gabby coaching app makes personal growth easy to access. Get weekly lessons, guided meditations and proven manifesting methods to enhance every area of your life—on your own terms, at your own pace, all in one place.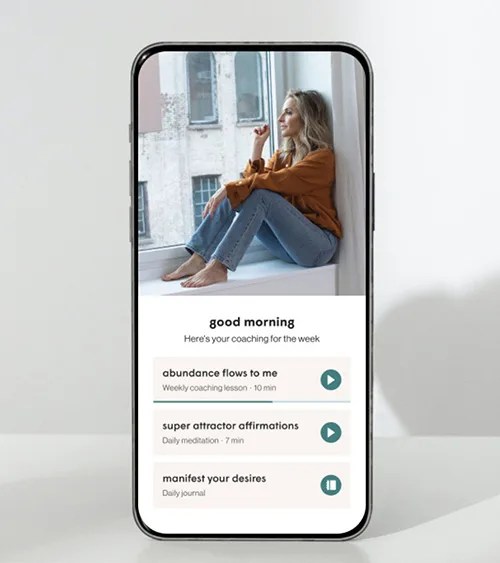 Transform your life in just 10 minutes a day with:
Weekly coaching with practical tools that will instantly improve your life
Quick access to 200+ meditations, affirmations, prompts, lessons and more
️️Quarterly challenges to release old patterns and jumpstart new habits
On-demand access to my best motivational talks
I'll be your coach to help you manifest your desires and live with an unshakeable sense of inner peace.
disclaimer
This podcast is intended to educate, inspire, and support you on your personal journey towards inner peace. I am not a psychologist or a medical doctor and do not offer any professional health or medical advice. If you are suffering from any psychological or medical conditions, please seek help from a qualified health professional.