On October 2, 2005, I said four simple words that would change my life forever: "I need a miracle."
Those words were a prayer. Those words were a loud request to the Universe to help me end my struggles with addiction—and wow, did the Universe deliver.
The moment my knees hit the floor in my tiny New York City apartment, I heard a clear message from my spirit guides. Their words were audible, and they moved me to my core:
Get clean, and you will live a life beyond your wildest dreams.
THIS was the turning point. This was the moment I said yes to life. It was the moment I made the choice to clear my consciousness and surrender to a higher power.
In this moment, I awakened to the presence of love, of peace, of joy within me. I've been allowing myself to be led by that presence ever since.
I want you to tap into that presence too.
start on your path to addiction recovery and sobriety
If you landed on this episode of Dear Gabby, it's absolutely no accident. So many people are suffering right now. Substance abuse and mental health are some of the most pressing issues of our time. We are living in a collective experience of trauma and crisis.
But you know what?
if we can get through this, we can get through anything
This is the powerful message that came through at the top of today's episode of Dear Gabby. Not only do I share my own spiritual path to sobriety, but I jump head first into Big Talk with George Resch, a.k.a. Tank Sinatra.
George is a true Internet sensation. His memes—and his Influencers in the Wild feed—crack.me.up. But what George and I really connect on is our shared devotion to recovery. On today's Dear Gabby, we dive deep.
My deeply personal riff on what being sober has meant to me
How to forgive the part of yourself—or of your loved one—that struggles with addiction
How to clean up your mistakes (and we all make mistakes)
How to start out on the path to addiction recovery
Resources to undo the fear-based belief systems that made you use
How to fill the emptiness within, even if you're not struggling with addiction
This is just a beautiful conversation with my sober brother, who's expressing positive energy and some incredibly funny stuff. His high vibes are contagious, and I can't wait for you to ride his wave!
This episode is also deeply centering.
forgive yourself
First and foremost, my intention in this episode is to help you forgive yourself—especially if you're struggling with addiction. I want you to take a deep breath right now, wherever you are, and forgive yourself. Forgive yourself for leaning into destructive behavior. It was the best you could do. It's how you've been surviving.
I honor that part of you, and I want you to honor it too.
But if you've been led to this podcast, you have an opportunity. You can choose a new way of being. You, too, can open up your consciousness and welcome a new perspective. Even by tuning in to this episode, you're showing your willingness to see things differently.
And being willing—even slightly willing—is the key to beginning your journey to recovery. Start now.
In this episode, I channeled a prayer to help you tune in to the voice of your own spirit guide. 
Will you pray with me now?
a prayer for recovery
I pray for you to open up your consciousness to the miraculous possibilities of recovery. I pray for you to be guided to human angels, who will hold you by the hand and guide you on your path and show you where to go and what to do.

I pray for you to open up your consciousness to the spiritual realm—the Spirit Guides, the angels that are available to you now. To open up the door, to guide you to the person you need to meet, to give you the resources you need to heal. To give you the miraculous possibilities of life. I pray for you to feel supported, to feel guided. And most of all, to know you're not alone.

You are not alone.
From the very first episode of Dear Gabby, I've been fiercely committed to helping you. My friend, know that you are not alone. My hope is that this episode comforts you, uplifts you and inspires you. I hope you use George's story and my own as proof that you can end your suffering and not just survive, but THRIVE.
We can play small, hide out, and just try to survive. Or, we can show up and thrive.

gabby
If surviving, let alone thriving, feels difficult right now, I have four words for you: "Ask for a miracle." I'll show you how.
And, if you want even more support, check out the video below. This meditation can help you heal addictions to substances as well as bad habits and negative patterns.
get more gabby
The following are helpful resources and books I mention in the episode.
George Resch, a.k.a. Tank Sinatra, is a true Internet sensation. Through his Instagram accounts Tank Sinatra, Tanks Good News and Influencers in the Wild—which were turned into a fun board game—he takes people out of their heads and into their hearts. (And no one's feed makes me laugh louder.) He's also a proudly sober dad, friend and husband who's deeply committed to guiding others on the road to recovery. He's the most beautiful soul, and I'm honored to share him with you today.
I believe the foundation of addiction treatment really is through therapy, through a connection to a higher power, and through modalities and practices like these:
I can be your coach—anytime, anywhere!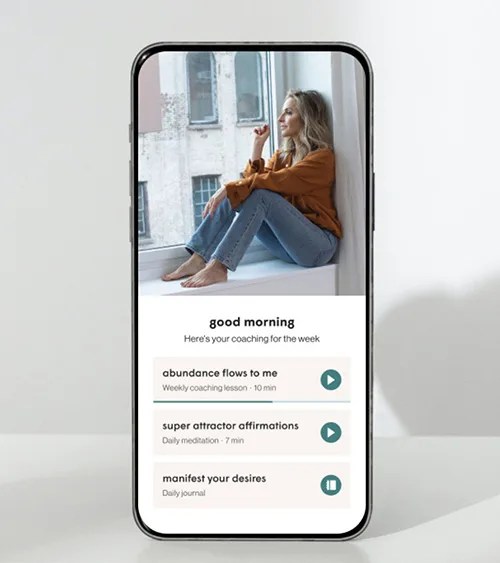 My NEW gabby coaching app makes personal growth easy to access. Get weekly lessons, guided meditations and proven manifesting methods to enhance every area of your life—on your own terms, at your own pace, all in one place. I'll be your coach to help you manifest your desires and live with an unshakeable sense of inner peace. 
disclaimer
This podcast is intended to educate, inspire, and support you on your personal journey towards inner peace. I am not a psychologist or a medical doctor and do not offer any professional health or medical advice. If you are suffering from any psychological or medical conditions, please seek help from a qualified health professional.