trust in divine timing
I get this question a lot:
"Dear Gabby, how can I trust the Universe when nothing seems to be working out?"
I'm going to answer this with a quote from my late friend and mentor, Dr. Wayne Dyer.
"You'll see it when you believe it."
If you're super hung up on thoughts like, Where's my boyfriend? Where's my job? Where's my money? I won't be happy until I have that thing, you'll continue to block your desires.
But if you redirect your focus onto believing you're worthy of what you desire, you'll truly enjoy the journey of co-creating the life you want.
Today on Dear Gabby I offer you a reframe: If you're waiting for the Universe to reveal to you that you're on the right track, you're looking in the wrong place.
You have to redirect that search inward and ask yourself, Do I believe I'm worthy of what I desire?
Listen to this week's episode of Dear Gabby to answer that question for yourself, and hear me coach three callers through the quick shift that will unlock your greatest manifestations.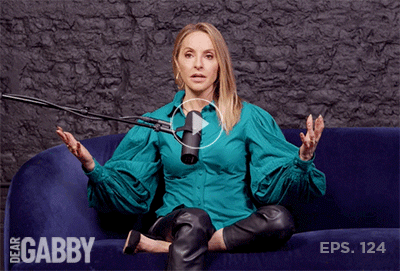 Here are 3 steps to unlock your greatest manifestations:
Step 1
be open to creative possibilities
We often get stuck in limiting ways of thinking. These old thought patterns hinder our capacity to see all the possibilities.
We think we know what we want and how to get it. This makes us feel attached to a specific outcome and the best way to get there.
This thought process creates a major problem when things don't go as planned. When we don't get the job or the partner or the baby, we feel defeated and hopeless.
But when we approach life with a sense of openness and curiosity, we allow ourselves to be surprised by what the Universe has in store for us.
Being open to creative possibilities means letting go of our need for control and surrendering to the unknown. It means allowing the Universe to reveal new paths and opportunities, even if they don't fit into our preconceived ideas of what we should be doing.
One way to open yourself up to creative possibilities is to repeat this mantra: I'm seeking solutions. All my solutions are on the way.
Repeating this mantra redirects your focus and shifts your energy into a more receptive state.
As soon as you realign your energy, the Universe delivers. And then you start to see the creative possibilities you've been waiting for.
Step 2
trust in divine timing
It can be tempting to try to control every aspect of our lives, to push and strive to make things happen on our timeline. We feel like we need to be in control to feel safe. But the truth is, life is unpredictable no matter how hard we try to control it. And that's okay!
When we try to force things to happen before they're meant to, we often end up feeling frustrated, anxious and burned out.
Trusting the Universe and divine timing means we have faith that everything is unfolding in perfect order and that we're EXACTLY where we are meant to be.
When we trust in divine timing, we let go of our need to control and surrender to the flow of the Universe. We allow ourselves to be guided by our intuition, knowing that we are always being led toward our highest good.
learn to appreciate the journey, even when it's difficult, because every experience is a valuable lesson to help you grow and evolve
So if you're feeling stuck or unsure about where you're headed in life, know that the Universe is working behind the scenes to bring you everything you've been asking for. Trust in the process and know that your greatest blessings are yet to come.
Step 3
have fun along the way
We tend to ask ourselves, Where do I want to be? Instead, we should be asking, How do I want to feel?
The fastest way to unlock your greatest manifestations is to practice joy. This is true for any kind of desire, whether you want to find a romantic partner, a new job, better health or anything else.
When you make fun your priority, you attract what you want into your life. But most importantly, the fun you have along the way puts you in an energy of certainty.
Choose joy as your default and you can rest easy, knowing that everything will work out—even if it's different from what you planned. You'll learn to rely on your own capacity to access joy rather than needing to get it from an outside source.
Maintaining a sense of joy is a moment-to-moment commitment. The energy of the world around us can take us out in an instant. Our job is to stay in the flow with joy and have fun! Remember, happiness is an inside job. We can take pleasure in life's successes, but we must focus on the greatest success of all: living a fun, fulfilling life.
When we enjoy the journey and believe in our own worthiness, we send a powerful message to the Universe that we are ready and open to receive.
Trust that the Universe's plan and timeline is far greater than your own.

gabby
And if you find yourself getting stuck or blocked, listen to this week's episode for an instant reminder that you are worthy of your desires and the Universe WILL catch up with your dreams at exactly the right time.
get more gabby
I can be your coach—anytime, anywhere!
My NEW gabby coaching app makes personal growth easy to access. Get weekly lessons, guided meditations and proven manifesting methods to enhance every area of your life—on your own terms, at your own pace, all in one place.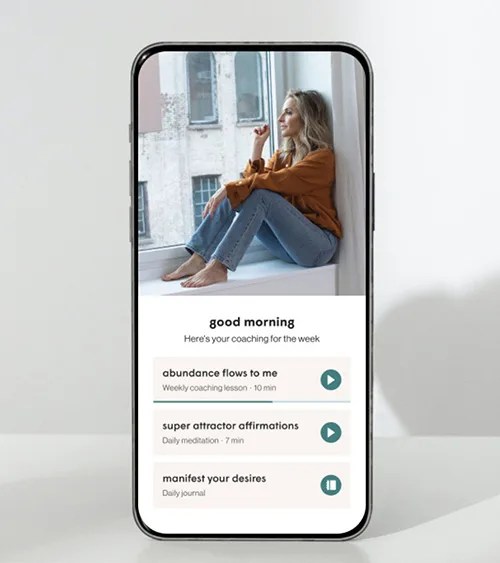 Transform your life in just 10 minutes a day with:
Weekly coaching with practical tools that will instantly improve your life
Quick access to 200+ meditations, affirmations, prompts, lessons and more
️️Quarterly challenges to release old patterns and jumpstart new habits
On-demand access to my best motivational talks
I'll be your coach to help you manifest your desires and live with an unshakeable sense of inner peace.
disclaimer
This podcast is intended to educate, inspire, and support you on your personal journey towards inner peace. I am not a psychologist or a medical doctor and do not offer any professional health or medical advice. If you are suffering from any psychological or medical conditions, please seek help from a qualified health professional.