Want to chill the eff out … for real? You're in the right place!
But first, I have a story for you.
I remember this so vividly, even though it took place 16 years ago.
Seriously, I can smell the incense!!! …
Flashback to 2006.
I'm sitting on a meditation pillow in my New York City apartment,
Sigur Ros is playing, and the band's super-chill music is like a lullaby.
As I focus on my breath, my nervous system starts to settle. Then, a feeling of love and peace washes over me like a warm wave.
My hands go numb, energy starts moving through me, and I'm getting major messages from spirit.
An hour passes. Then another hour passes. I go out to dinner with some friends, filled with a sense of inner peace.
I come back to my apartment, cue up those beautiful Icelandic tunes, and meditate again. In case you can't tell, I was hooked on my meditation practice … and it's a habit I've never broken.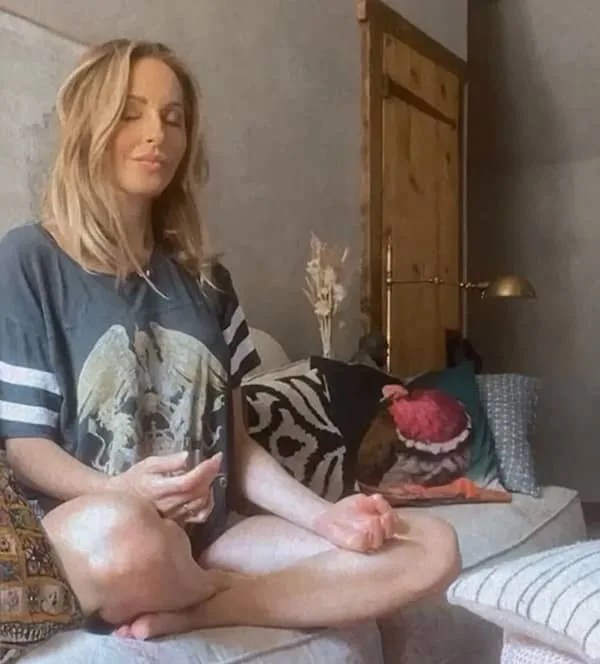 Meditation has saved me. It's helped me recover from addiction, heal from postpartum anxiety and depression and it's helped carry me through the loss of my baby Owen after I'd carried him in utero for more than 5 months.
Meditation has been the #1 key to my success.

gabby
And, yes — it's helped me to chill the eff out in a major way!
It's been a profound joy to help other people develop meditation practices they love … and I want to help you, too! (That's why I created a whole episode of the Dear Gabby podcast that's all about starting a meditation practice.)
But, I know that some people feel resistance around this subject.
"Gabby, I have three kids — how can I find a quiet space to meditate?" they ask me.
Or, "I can't sit still long enough to meditate!"
And, I hear this one a lot: "How can I meditate when I have such a restless mind?"
In other words: "Gabby, how can I chill the eff out!?!?"
Well, I hear your questions …. and I've got answers!
A 30-second meditation you can do anytime, anywhere (the mantra? "Let it go!" You'll be like a super-chill Elsa)
The widely-accepted meditation "rule" that's actually a bunch of b.s.
The easy breath practice that will soothe your entire nervous system in 15 seconds flat!
Why having a "monkey mind" during meditation is actually a GOOD thing (I know you'll be relieved to hear this!)
How to know if you're meditating "right" (OMG I love this question!)
meditation for energy protection (aka meditation to chill the eff out!)
I also share a beautiful meditation that clears any low-vibe energy you may have picked up from others. (Not everyone has chill meditator vibes … and that's OK! You don't have to let anyone else's energy take you down.)
You can read the meditation below, or let me guide you through it in the podcast audio.
Find a quiet, comfortable space. Say this prayer out loud, or silently in your mind:
Thank you, Universe, for removing any negative energy I have picked up and for retrieving any positive energy I have lost.
Then, allow yourself to go into a meditation where you visualize your relief with every inhale.
Breathe in relief. Breathe in positive energy.
With every exhale, let go of any energy that is not serving you.
Breathe in light energy.
Exhale a vision of gray, low-vibrational energy.
Eventually, that gray will start to transform into light.
Breathe in that light.
And on the exhale, breathe out light.
As you breathe in light you're cleansing your energy. You're bringing light to anything you touch, and letting go of anything that's gray.
Breathe in light.
Exhale light.
Feel peace and ease.
support for trauma survivors
Another question that came into the podcast today cracked my heart wide open. "Dear Gabby, how can I meditate when it feels so vulnerable, as a trauma survivor?"
Here's what I want to say to the brave soul who asked this question — and for anyone who can relate: I am in awe of your commitment to recovery. Be proud of yourself.
Whether you're reading my blog for the first time, listen to the Dear Gabby podcast or have even considered taking the 21-Day Meditation Challenge, it took courage to be here. And, you're in the right place.
Even doing the 30-second meditation from today's podcast can help to ground your energy and soothe your nervous system … AKA chill the eff out! You can do it with your eyes wide open, anywhere you feel safe. (Just as long as you're not driving, of course!)
a grounding meditation
I would also guide trauma survivors toward my book Happy Days, which details my own journey through trauma recovery. Meditation was an important part of my healing process, and in the book I share some body-based meditations that are particularly helpful for trauma survivors.
These practices will help you feel grounded and safe in your body.
I'd like to share one with you now. You can refer to this "grounded release" exercise again and again:
Start by feeling your feet on the ground. Notice how the ground supports your feet. Then focus on how your feet support your ankles. Keep moving your focus up to your legs, hips, and spine, noticing how each part of you is connected to your feet and the ground.

Next, lift your arms in the air on an inhale. On the exhale, swing your arms down and breathe out a sigh of relief.

Let your knees move and your body move. Let your jaw relax and even jiggle as your mouth opens naturally. Repeat a few more times. Use this exercise to open the physical energy in your body.

Happy Days, Chapter 8, Page 168
get more gabby
In this episode of the Dear Gabby podcast, I referenced a bodywork practice from my new book Happy Days. In this book, I share the nine spiritual and therapeutic tools that helped me survive and thrive after trauma … and find more freedom and inner peace than I ever thought possible.
Check out my Manifesting Meditation for a New Life in the video below.
I can be your coach—anytime, anywhere!
My NEW gabby coaching app makes personal growth easy to access. Get weekly lessons, guided meditations and proven manifesting methods to enhance every area of your life—on your own terms, at your own pace, all in one place.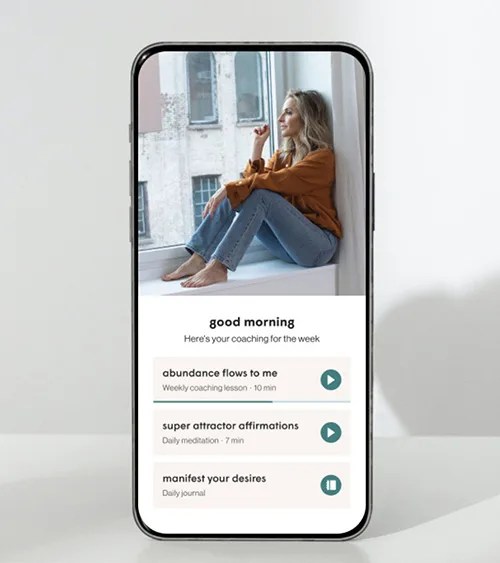 Transform your life in just 10 minutes a day with:
Weekly coaching with practical tools that will instantly improve your life
Quick access to 200+ meditations, affirmations, prompts, lessons and more
️️Quarterly challenges to release old patterns and jumpstart new habits
On-demand access to my best motivational talks
I'll be your coach to help you manifest your desires and live with an unshakeable sense of inner peace.
disclaimer
This podcast is intended to educate, inspire, and support you on your personal journey towards inner peace. I am not a psychologist or a medical doctor and do not offer any professional health or medical advice. If you are suffering from any psychological or medical conditions, please seek help from a qualified health professional.