In 2018, my son Oliver was a newborn.
I was sitting in a cozy chair with baby Ollie, nursing him as I gazed dreamily out the window.
In the background, the audio version of Dr. Shefali's book, The Conscious Parent, was playing. I was soaking in Dr. Shefali's wisdom, stroking my baby's little curls, when I heard a line that stopped me in my tracks.
I'll read that line word-for-word in today's episode of Dear Gabby!
Dr. Shefali's wisdom has transformed the way I parent, and the way I show up in my marriage.
In her work as a clinical psychologist and in her books, this is what Dr. Shefali does.
She cracks open the matrix!
She is a powerful force of awakening. She lifts the veil on institutional ideas surrounding marriage, parenting, femininity, relationships and so much more.
And we're making some deep cracks today on Dear Gabby, so buckle up.
How to break free of the patterns you've unconsciously adopted to live a freer, more authentic life
How to bring the ego's patterns to the light, so that you can interrupt them
How to remove the blocks to the love within you (when you do this, you will hear the voice of your true self!)
Why divorce is not a betrayal, but an opportunity to evolve into your most authentic self
How to free yourself from heartbreak by shifting your expectations
How to find deep, abundant love in your life (hint: This has nothing to do with whether you're single or in a relationship!)
identifying your archetype
There's also a really cool part of the show that will help you identify your predominant archetype so that you can understand—and relieve—your anxiety. This is so eye-opening! Click here to find out your archetype. (I'm a recovering controller!)
AND, we're having some BIGGG talk about love … and not just the gushy surface stuff.
On today's Dear Gabby, we'll talk about when a relationship is working, when it's definitely not, and how you can be unshakably true to yourself in either case.
knowing when a relationship is over
As a spiritual coach, people ask me all the time how to know when it's time to pull the plug on a relationship.
On today's podcast, I'm sharing the number one sign that a relationship has run its course and is no longer of the highest good for both parties.
And that's not a bad thing!
As Dr. Shefali so beautifully explains in this podcast, a breakup or a divorce can be "an emergence of the true self."
She challenges us to crack open our perception of divorce. She'll help you understand that as long as you're true to yourself, you can never really fail in a relationship.
And here's some more good news: Whether you're divorced, married, newly single, or timidly venturing into the dating pool, love is available to you at any time.
Love doesn't exist within a contract, and it can't be bottled up and prescribed. Love is a free, spontaneous emotion that you can ALWAYS tap into.
On today's podcast, you'll get hooked up with the tools you need to crack into the love that's constantly within and around you … no matter WHAT your relationship status is!
get more gabby
Dr. Shefali is a clinical psychologist, a leader in mindful living, and an expert in parenting and family dynamics. She's written four books, including the New York Times bestsellers The Conscious Parent and The Awakened Family. Her latest book, A Radical Awakening, teaches women how to transcend societal expectations and live free, authentic lives.
I can be your coach—anytime, anywhere!
My NEW gabby coaching app makes personal growth easy to access. Get weekly lessons, guided meditations and proven manifesting methods to enhance every area of your life—on your own terms, at your own pace, all in one place.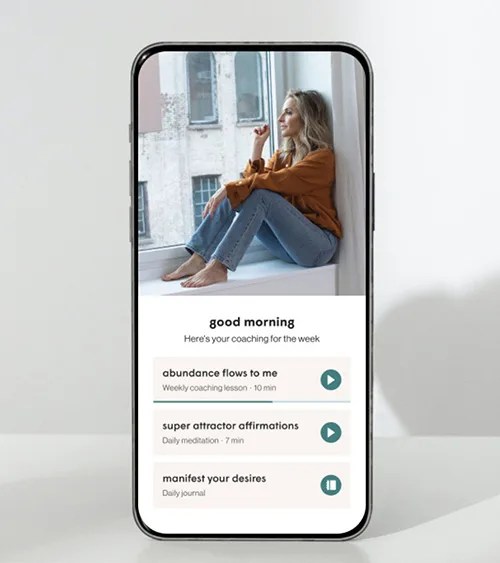 Transform your life in just 10 minutes a day with:
Weekly coaching with practical tools that will instantly improve your life
Quick access to 200+ meditations, affirmations, prompts, lessons and more
️️Quarterly challenges to release old patterns and jumpstart new habits
On-demand access to my best motivational talks
I'll be your coach to help you manifest your desires and live with an unshakeable sense of inner peace.
disclaimer
This podcast is intended to educate, inspire, and support you on your personal journey towards inner peace. I am not a psychologist or a medical doctor and do not offer any professional health or medical advice. If you are suffering from any psychological or medical conditions, please seek help from a qualified health professional.