In today's episode, I'll teach you one of my favorite tools for climbing toward your bliss. It's all about progress over perfection. Chapter 4 of my book Super Attractor breaks down one of my go-to tools from Abraham-Hicks: the Emotional Guidance Scale. With 22 emotions that climb up toward joy, the scale is like your personal roadmap to feeling good—and it leaves so much room to give yourself grace along the way! 
Here's a hint: If you're feeling bored as you work toward joy, or if you're casting blame, you can relax. It just means you're on the right track. Even if something seems like a low-vibration feeling, it can still be better than the one before. For example, moving from anger to blame can actually be pretty groovy. That may sound weird, but it's true!
The better you feel … the sooner you will be guided to your calling.

gabby
your inner superpower
I saw the Emotional Guidance Scale play out IRL just the other day, when I took my friend to have some blood work done. Let me just tell you, this friend dreads having his blood drawn. He's even been known to pass out. But with some help from a jovial nurse, and with me there to lend him support, my miracle-manifesting pal moved from despair to hope by the end of his visit. And though he may never find joy in being poked by a needle—and really, who does?—my friend intuitively climbed up the scale until he was able to feel some peace, and even have a laugh, amid his discomfort. You can do the same in any situation you dread.
remember: the goal isn't always instant joy
If you can learn to guide yourself toward better-feeling thoughts, you'll have an inner superpower that you can call on for life.
On today's Dear Gabby episode, you'll witness gorgeous vibrational transformations just like my friend's. (Don't worry: There are no needles involved.) You'll have the opportunity to witness one miracle moment after the next as my guests move from despair to hope and acceptance in an instant. And you know I've got your back: During the show, I break down how to bust free from despair using simple, small steps anyone can apply. The tools are available to you now, in this episode of Dear Gabby—just press play to claim them.
lean towards joy
This Dear Gabby show also offers spiritual solutions to issues we all grapple with from time to time.
How to reach for the next best-feeling thought, even and especially when you're in despair
A simple prayer that you can use every day to open up your consciousness to divine guidance, spiritual wisdom and hope
How to reenter the "real world" post-pandemic with a rock-solid sense of inner peace
How to do less and attract more, and why manifesting doesn't always equal doing
Why it's counterproductive to worry about other people's opinions, and how to redirect your energy onto what really matters
Finally, this episode touches on something that I can deeply relate to, because I have lived it myself: shame and addiction. These are pervasive burdens that many people—and particularly survivors of sexual assault—have to bear. But you don't have to bear them forever. In this episode, I'll teach you to look for the angels that are all around you in your everyday life, whether they're here in the Dear Gabby community or in a support group that's one Zoom call away.
And for any of you out there who are struggling with shame, addiction or grief of any kind, I want you to know this deep within: You are not alone. In times of despair, it can be hard to place your faith in simple, gentle tools that will lead you back to joy, one step at a time. But believe me when I say that you—yes, YOU, right here, right now—have the power to change your energy. We can all choose to lean into a better-feeling vibration at any moment. Lean toward joy with me today.
get more gabby
The following are helpful resources and books I mention in the episode.
AA (Alcoholics Anonymous)
Check out the video below for more on how to tap into your super attractor powers.
I can be your coach—anytime, anywhere!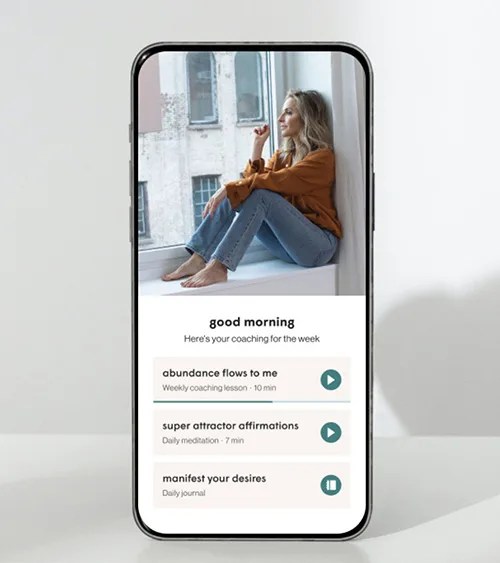 My NEW gabby coaching app makes personal growth easy to access. Get weekly lessons, guided meditations and proven manifesting methods to enhance every area of your life—on your own terms, at your own pace, all in one place. I'll be your coach to help you manifest your desires and live with an unshakeable sense of inner peace. 
disclaimer
This podcast is intended to educate, inspire, and support you on your personal journey towards inner peace. I am not a psychologist or a medical doctor and do not offer any professional health or medical advice. If you are suffering from any psychological or medical conditions, please seek help from a qualified health professional.