At the top of the show I pulled this affirmation card from the Super Attractor Deck, it read, "My genuine desire to serve clears the path for me to step into my purpose."  This particular card resonated with me personally because the message had come up at a recent team meeting. 
My team had been working overtime to bring this podcast to life and I felt they needed a Gabby pep talk. Here's what I said, " You beautiful people rock my world! While we're all working so hard to bring this podcast to life, and it feels exhausting at times, there's an energetic force that is behind us, supporting every move that we make. For every weekend or late night that we work on this, we can tap into that energy to drive us forward. It's the energy of service." I knew this Gabby riff would remind them of the driving force behind all that we do.
Every person on my team is deeply committed to the service of what we do, the service of you, our listeners. That is the service that's driving us. That driving, invisible force of service energy is opening invisible doors, expanding time, and helps us feel supported and inspired to move forward with momentum.
In this episode, I will teach you how to tap into the energy of service so that you can have extreme success and live your purpose. Each guest that showed up on this episode was looking for their purpose. As you listen to their stories and the guidance I provide, I want you to really think about the energy that you bring forth—whether it's caring for a child, showing up for your career, or being a friend.
when we bring a service-oriented energy to the things that we do, our purpose is revealed to us
Stick to the end to hear how to really focus your energy on what is working in your life right now, so that you can attract an energy force field that is magnetic and become a Super Attractor.
How to live at your highest capacity
The clear path to your purpose
How to add more meaning to each day
My spiritually aligned action method to fulfill your purpose
Why we shouldn't underestimate the power of love in small actions
How to put momentum behind what you want to manifest
My method for overcoming resistance and fear
A 90-second technique that alleviates anxiety
The importance of creating boundaries and prioritizing self-care
The more we stay committed and grounded to our own personal growth and development and our spiritual condition, the more we live in the energy of service.
Our energy is our contribution.

gabby
I welcome you to become unapologetic about your personal growth, become unapologetic about the time that you bring to your spiritual practice, your therapeutic practices, to feeling good because it's in the presence of feeling good that you bring the best vibration to every soul around you. You bring the best of you, when you feel good. So remember that every time you do something to expand your inner peace, you're doing something to expand the world.
get more gabby
I can be your coach—anytime, anywhere!
My NEW gabby coaching app makes personal growth easy to access. Get weekly lessons, guided meditations and proven manifesting methods to enhance every area of your life—on your own terms, at your own pace, all in one place.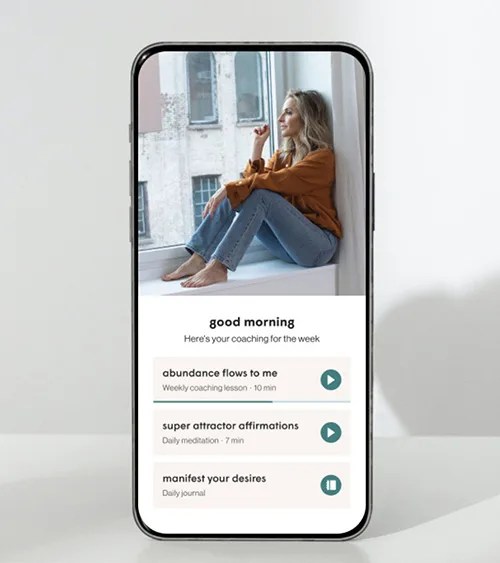 Transform your life in just 10 minutes a day with:
Weekly coaching with practical tools that will instantly improve your life
Quick access to 200+ meditations, affirmations, prompts, lessons and more
️️Quarterly challenges to release old patterns and jumpstart new habits
On-demand access to my best motivational talks
I'll be your coach to help you manifest your desires and live with an unshakeable sense of inner peace.
disclaimer
This podcast is intended to educate, inspire, and support you on your personal journey towards inner peace. I am not a psychologist or a medical doctor and do not offer any professional health or medical advice. If you are suffering from any psychological or medical conditions, please seek help from a qualified health professional.