My late mentor Wayne Dyer used to say that no amount of lack will heal the poverty in the world. This goes for happiness, as well.
Hear me when I say this: No amount of your own sorrow or grief will heal the suffering in the world.
you don't have to feel guilty about being happy
In fact, it's quite the opposite.
In today's Big Talk episode of Dear Gabby, I'll tell you why it's not only okay to be unapologetically happy, it's actually your divine responsibility. You don't have to feel guilty about being happy!
As you lean into what's thriving in your life, you'll have more energy to show up for others. The more you lean into joy, the brighter a light force you can become in this world.
And during this Big Talk, my friend Fearne Cotton and I offer all kinds of tips for how you can reignite your own source of light.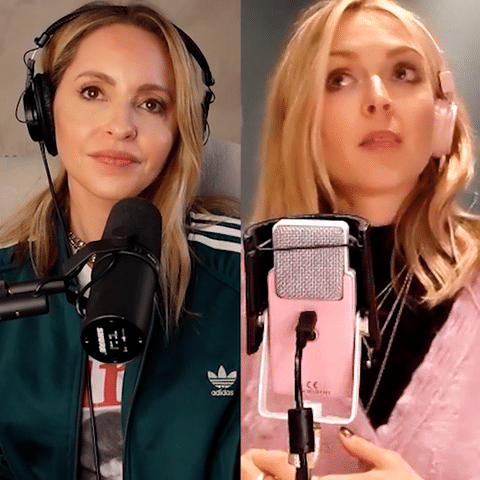 Fearne and I are talking about angels today, and I'll also turn you on to the power of prayer.
In my work as a spiritual teacher, everything I preach is nondenominational… but prayer is a huge part of my practice! Leaning on prayer has literally saved my life—more times than I can count.
Press play on today's Dear Gabby to harness the power of prayer, no matter what religion (or non-religion) you practice.
having trouble sleeping?
As a survivor of insomnia, I know intimately how scary it is when you can't get your body to sleep at night. These days, I hit the pillow and sleep for 10 hours a night—CBD-free, baby!
That is one of my greatest accomplishments in life.
I want to share the blessing of sleep with you, too, and on today's Dear Gabby I offer up a technique that has helped me go from zero hours of sleep a night to 10.
This is such a precious moment that happens in my house each night … and I feel called to share it with you, too!
When my son Oliver was about 10 days old, I channeled a prayer that I said to him as he settled into his bassinet for the night. I've been saying it ever since, and the soothing words act as a lullabye for Ollie — and for me!
I share the prayer, word for word, on today's podcast. I welcome you to use these words to help yourself or a loved one drift off to sleep.
lean into joy
This episode touches on so many other ways you can surrender control and really start flowing with the Universe!
How to lean into joy and focus on what's thriving, like it's your JOB (because it is!)
The power of speaking your truth and how to do it with confidence and ease
How to dismantle the belief that it's selfish to feel good (this is a MAJOR misconception!)
How to master the art of allowing, so that you don't strangle your desires with controlling energy
How to tap into feelings of deep worthiness
This Dear Gabby Big Talk also offers a profound message that will allow you to see the light—and the divine opportunity—in any dark moment.
When you learn to see a difficult moment as a form of guidance, you'll be absolutely fearless in life.

gabby
Listen to today's Dear Gabby to learn this massive perspective shift. Then go forward fearlessly to claim all your desires, standing in the full light of your worth! I'm cheering you on.
get more gabby
Fearne Cotton is one of the top broadcasters in the U.K.—and she's a happiness expert. This British powerhouse is the author of several books detailing her own journeys with happiness. Happy, Calm, and Quiet are must-reads! She launched the Happy Place podcast in 2018, and has gone on to interview everyone from Russell Brand to Alicia Keys.
I can be your coach—anytime, anywhere!
My NEW gabby coaching app makes personal growth easy to access. Get weekly lessons, guided meditations and proven manifesting methods to enhance every area of your life—on your own terms, at your own pace, all in one place.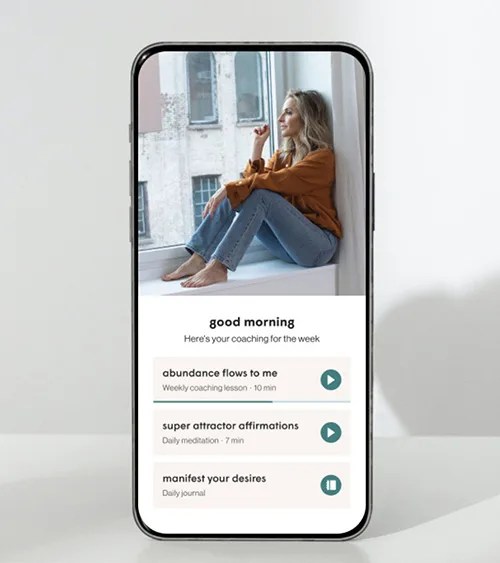 Transform your life in just 10 minutes a day with:
Weekly coaching with practical tools that will instantly improve your life
Quick access to 200+ meditations, affirmations, prompts, lessons and more
️️Quarterly challenges to release old patterns and jumpstart new habits
On-demand access to my best motivational talks
I'll be your coach to help you manifest your desires and live with an unshakeable sense of inner peace.
disclaimer
This podcast is intended to educate, inspire, and support you on your personal journey towards inner peace. I am not a psychologist or a medical doctor and do not offer any professional health or medical advice. If you are suffering from any psychological or medical conditions, please seek help from a qualified health professional.