Spirit Guides and angels have always been a very important part of my life. It took me a while to push the metaphysical envelope and speak openly about guides. I was always worried I might freak people out or make someone feel like they had to share my beliefs.
But on this podcast I speak openly and unapologetically about the spiritual realm. I know the world is ready to open up to new forms of guidance.
When we become willing to see a world beyond our physical sight, then life becomes easier, we feel safer, and we can access our true power.

gabby
You may not believe in Spirit Guides, or maybe you have your own beliefs that are contrary to mine. Or maybe this concept is totally new for you. I welcome your resistance, but I ask that you stay open. I never aim to force my ideas onto you, but it's my job to always offer to you what I know to be true for myself.
When you get stuck in a fear-based thought or pattern you can turn to your guides to help lead you back to love. To receive their guidance, all that's required is your willingness to surrender your fear and slow down enough to listen.
I've grown to rely on these nonphysical guides in every area of my life. Knowing that there is a presence always supporting me has given me unshakable faith and strength.
When we cultivate a connection with our guides, we can trust the Universe no matter what.
The exact steps to connect with your Spirit Guides
3 steps to clear the blocks to spiritual guidance
What to expect when you hear from your Spirit Guides
How to trust the guidance you receive and act on it with confidence
How to know you're not alone
There are many ways to receive messages from Spirit Guides. When you open your consciousness to receive spiritual support, the most miraculous guidance will be presented to you.
get more gabby
I can be your coach—anytime, anywhere!
My NEW gabby coaching app makes personal growth easy to access. Get weekly lessons, guided meditations and proven manifesting methods to enhance every area of your life—on your own terms, at your own pace, all in one place.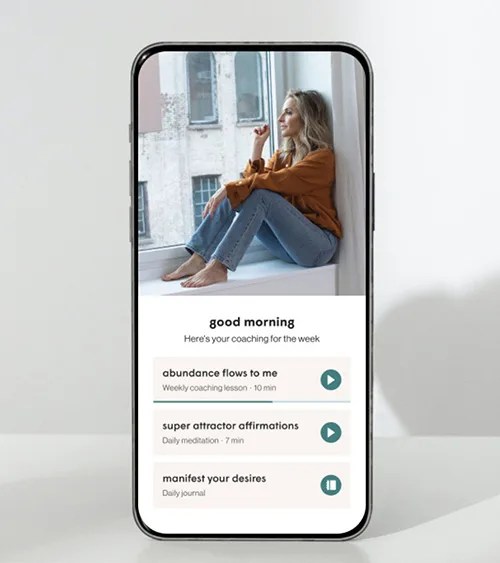 Transform your life in just 10 minutes a day with:
Weekly coaching with practical tools that will instantly improve your life
Quick access to 200+ meditations, affirmations, prompts, lessons and more
️️Quarterly challenges to release old patterns and jumpstart new habits
On-demand access to my best motivational talks
I'll be your coach to help you manifest your desires and live with an unshakeable sense of inner peace.
disclaimer
This podcast is intended to educate, inspire, and support you on your personal journey towards inner peace. I am not a psychologist or a medical doctor and do not offer any professional health or medical advice. If you are suffering from any psychological or medical conditions, please seek help from a qualified health professional.