I'll admit it. The day we recorded this episode of Dear Gabby, I was in a funky place.
I was late. My team was trying to reach me. "Are you okay?" they asked. "Gabs—where are you!?"
The answer? 1) I would be okay. And 2) I was somewhere between a breakdown and a breakthrough. (Unfortunately, my team couldn't locate me there on GPS!)
Here's the deal: At the time of this recording I was going through IVF. That day, I found out about a setback in my fertility journey.
I was incredibly disappointed.
I started going down the storyline of how I could have handled things differently. I was blaming myself. I was seeing everything through the lens of fear.
But then I reached for one of my favorite spiritual tools … I chose again!
I chose to recognize that although this outcome wasn't what I'd hoped for, it was actually of the highest good. It was an opportunity for me to loosen my grip, surrender, and get psyched for what the Universe had in store for me.
Even though the Universe was behaving in wonky ways that day!
I chose to learn through the lens of love
But there's more to the story …
After I chose again, I was feeling pretty good. I called a close friend who'd been helping me through my fertility journey. I was telling her how I was ready to find the opportunity in this obstacle, and I thought she'd root me on.
Her response wasn't what I expected.
"What about the fact that you're human?" she asked. "You're upset about it. Let yourself be upset about it!"
I knew she was right. I would get to the positivity … but first, I needed to feel all my feelings. By pushing past my feelings too fast I was spiritual bypassing.
what's spiritual bypassing?
When we spiritually bypass, we're bingeing on our spiritual practices—meditating, breathing exercises, whatever we enjoy—to avoid the deep-rooted issues that need to come to the surface.
They need to surface so that they can heal.
That's what I'm going to teach you on today's episode: how to avoid numbing out, whether it's by spiritual bypassing or any other means. I'll guide you to learn through love by allowing yourself the freedom and the space to really feel what's up!
prayer for seeing through the lens of love
To avoid spiritual bypassing, combine the choose again method with the prayer below.
Here's how to lean toward love without overriding your true feelings.
First, notice that fear-based thought coming up from your ego. There's no need to judge it. Just recognize it as your old story, trying to trick you again.
Second, forgive yourself for having the thought.
Third, choose again. In this case, reach for the next best-feeling thought by reciting this prayer:
Thank you, ego, for sharing. I choose to see this through the lens of love.
5 ways to process your feelings
Today on Dear Gabby, the souls who joined us were willing to learn through the lens of love!
An awesome 90-second technique to restore calm
How to stop numbing your feelings and feel what you need to
Ways to trust and care for yourself in every situation
How to see every experience as a learning opportunity to get closer to love
Why we spiritually bypass and how to stop doing it
No matter what's going on in your life, no matter what's happening around you, choose to see your circumstances through the lens of love.
get more gabby
The following are helpful resources I mention in the episode.
I can be your coach—anytime, anywhere!
My NEW gabby coaching app makes personal growth easy to access. Get weekly lessons, guided meditations and proven manifesting methods to enhance every area of your life—on your own terms, at your own pace, all in one place.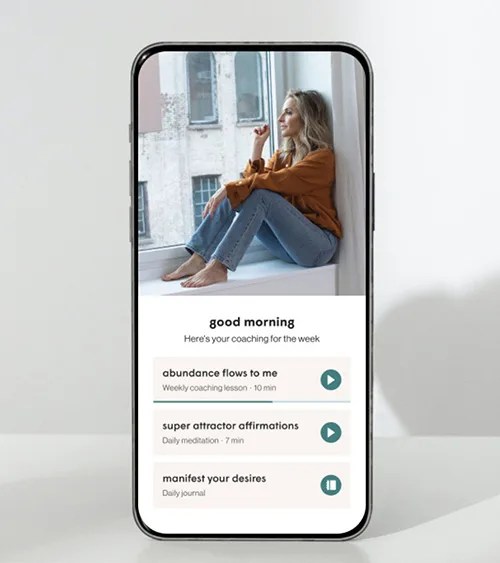 Transform your life in just 10 minutes a day with:
Weekly coaching with practical tools that will instantly improve your life
Quick access to 200+ meditations, affirmations, prompts, lessons and more
️️Quarterly challenges to release old patterns and jumpstart new habits
On-demand access to my best motivational talks
I'll be your coach to help you manifest your desires and live with an unshakeable sense of inner peace.
disclaimer
This podcast is intended to educate, inspire, and support you on your personal journey towards inner peace. I am not a psychologist or a medical doctor and do not offer any professional health or medical advice. If you are suffering from any psychological or medical conditions, please seek help from a qualified health professional.