You might not know this about me, but I love to unicycle. Sure, it's a little quirky. But it's a skill that I picked up in middle school, and it almost saved my life when I tried it again in adulthood.
Unicycling reminded me how to be a happier person, at a time when I needed that lesson. It also planted the creative seed for the first book I wrote, Add More ~ing to Your Life: A Hip Guide to Happiness.
That book was published in 2010, and I'm proud to say that it's become a self-help classic. I attribute the book's success to one thing: It works!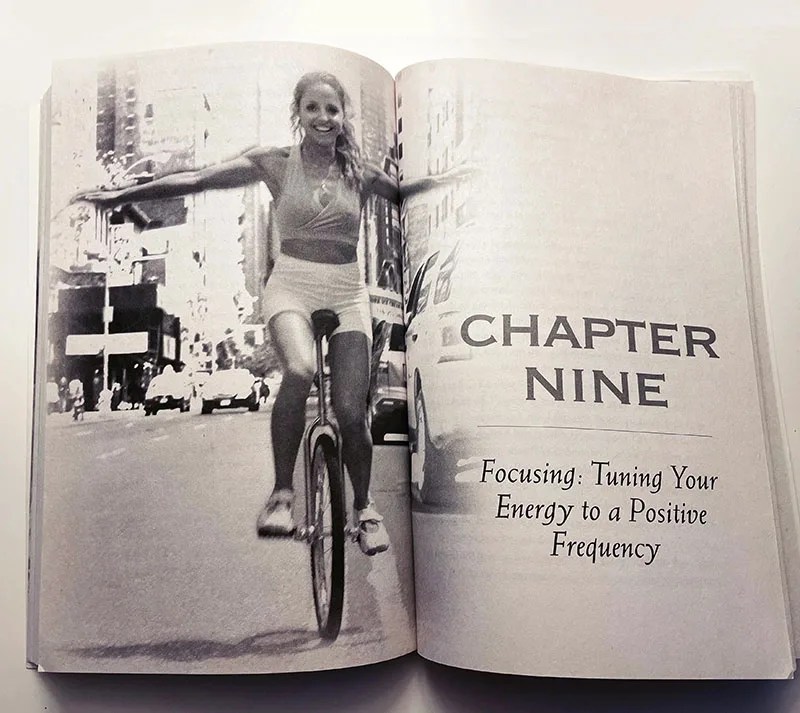 When I sat down to teach how to be a happier person, I made a vow to myself and to my readers: I would only write about techniques that I know from my own experience will lead to happiness. I did not think that would include unicycling, but …
When I hopped onto that unicycle in my twenties, 17 years after trying it last, I was so excited that I rode it out of the store. And then a miracle happened.
Even though my muscle memory soon kicked in, I found that staying balanced required my full concentration. As I focused intently on not wobbling, I recited a mantra in my mind: I am calm and balanced.
Without even realizing it. I'd found a way to keep myself completely present in my body and mind. I had discovered a way to set myself free from obsessive negative thoughts. And most importantly, I'd laid the groundwork for adding more ~ing to my life. (What is ~ing? It's a method for clearing your mind and opening up to receive inner guidance.)
Add More ~ing to Your Life isn't just a list of things you can do to feel more joy. (Though, if you want to try unicycling, be my guest!) It actually sets you up with an equation for how to be a happier person.
After experiencing the liberation that came from pairing a physical activity with a positive affirmation, I started applying this combo to all areas of my life. This is when I came up with the ~ing Equation that is the foundation for the book: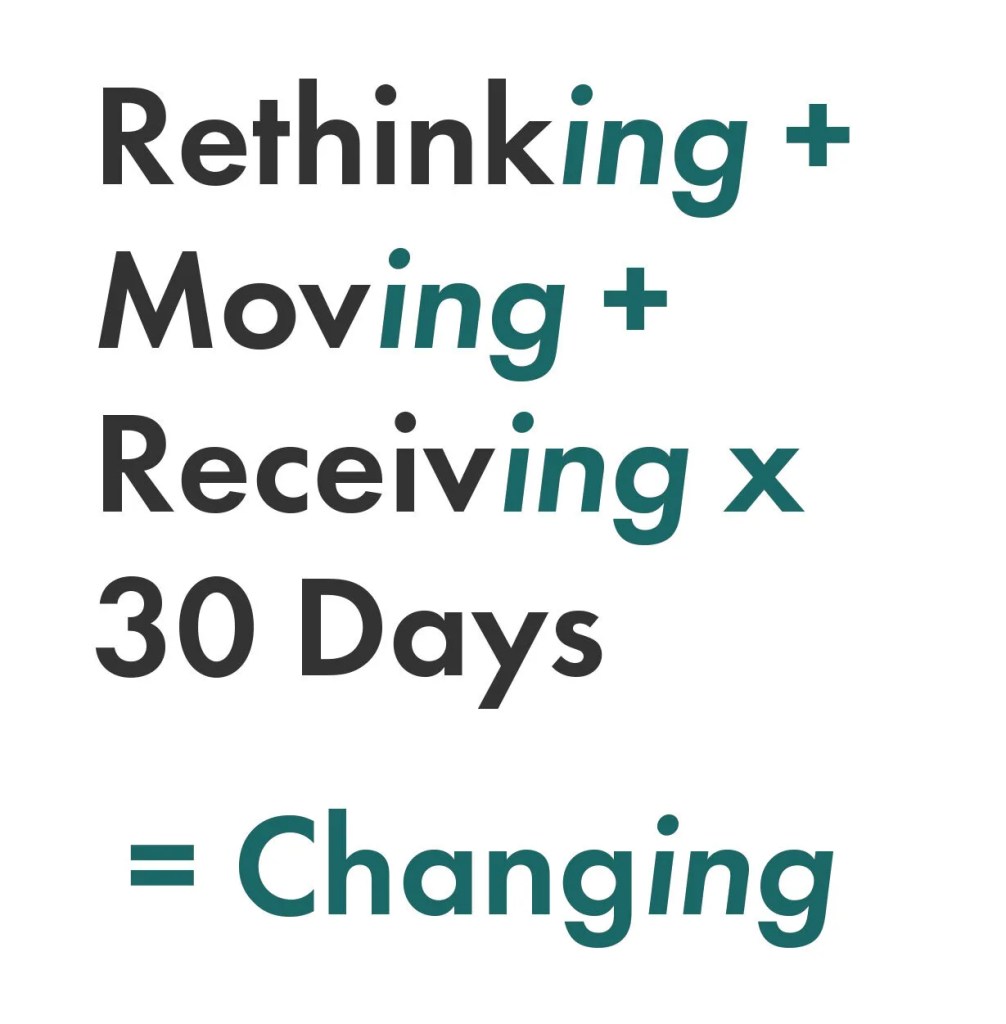 Back when I was a private life coach, I taught my clients this equation. And I witnessed incredible transformations within the four walls of my first coaching space.
This is literally what was happening in my studio apartment in 2007:
This equation has gone on to help millions of readers lead happier lives over the years. And now, for the first time, Add More ~ing to Your Life is available as an audiobook. You'll hear me read an exclusive excerpt from it on Dear Gabby today.
add more ~ing and be a happier person
It was trippy to get into the recording booth this past summer and read Add More ~ing to Your Life out loud for a new generation. I smiled as I read it, thinking, "Whoa, 28-year-old Gabby! No wonder this book has changed lives." Fifteen years after I wrote it and 12 years after it was published, the ~ing Equation really holds up.
In this episode of Dear Gabby, you'll hear me read the intro and Chapter 1. These are KEY parts of the book, packed with actionable takeaways.
Why repeating a new behavior for 30 days is SO effective in creating lasting change (there's a neurobiological reason for this—I'll share it to make you a true believer in the ~ing Equation)
How to get into the ~ing zone—this is a state of flow where your mind is free, your body is relaxed and you're powerfully tuned in to your intuition
A creative exercise for maximizing the clarity you receive in the ~ing zone, so you can open up to creative ideas and honor your intuition
The Feel~ing Equation, my system for excavating long-buried feelings so you can heal them, change your thought patterns and undo negative emotions
put the feel~ing equation into practice
Keep in mind that adding more ~ing to your life isn't all about doing, doing, doing. It's also about stillness.
At the end of the first chapter of Add More ~ing to Your Life, I lead a meditation. "Meditation is the most powerful tool in the ~ing box," I wrote. I wanted to make sure all readers, even those who had never meditated before, would feel inspired to give stillness a try.
That's why I created a super simple guided meditation that you can turn to wherever you want to put the Feel~ing Equation into practice. You can close your eyes and listen to me read the meditation on today's Dear Gabby, or you can read it below. I recommend playing some ambient music in the background as you read the script.
Take a deep breath in through your nose and out through your mouth.

Allow your mind to soften, and reconnect with your body.

Identify the area in your body that is holding on to pain.

Take a deep breath into this pain.

Release on the exhale.

As your mind softens, allow your feelings to be your guide.

Gently ask yourself where these feelings came from.

Is there a time period associated with these feelings?

Is there a person or a specific situation associated with them?

Let your feelings guide your mind.

As you deepen into the feelings with each breath, identify where your pain came from.

Open your heart and mind to welcome these feelings.

Gently remind yourself that it is completely okay to feel.

Breathe in and feel the feelings.

Breathe out and release.
shine your light
I wrote Add More ~ing to Your Life to help you shine light on the dark areas of life and create positive change.

Before I discovered the ~ing Equation, as I write in the preface, "I was full of insecurities, booze and Subway sandwiches." It took me time, devotion and a solid spiritual practice to transform into the young woman you see on the cover of Add More ~ing to Your Life.
But trust me when I say that the big smile on my face is sincere. And I'm smiling at you, because I know something major is about to happen. I know the secret to happiness, and I'm about to let you in on it.
I especially recommend this audiobook for spiritual seekers in their teens and twenties. It's written in the voice of a 28-year-old spiritual seeker. I have readers of all ages, but this book in particular speaks to the younger generation.
get more gabby
The following are helpful resources and books I mention in the episode.
The audiobook version of my first book is now available for the first time! Add More ~ing to Your Life is the book that started me on my path of spiritual guidance more than a decade ago. Discover how to make happiness a way of life by accessing your inner guide, your ~ing!

Listen to Add More ~ing to Your Life now on Audible.
I can be your coach—anytime, anywhere!
My NEW gabby coaching app makes personal growth easy to access. Get weekly lessons, guided meditations and proven manifesting methods to enhance every area of your life—on your own terms, at your own pace, all in one place.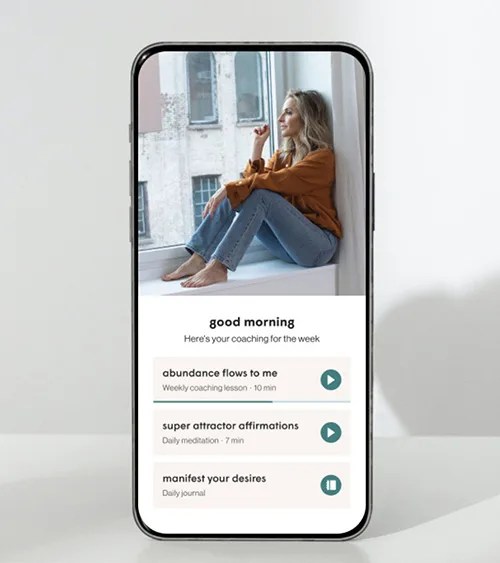 Transform your life in just 10 minutes a day with:
Weekly coaching with practical tools that will instantly improve your life
Quick access to 200+ meditations, affirmations, prompts, lessons and more
️️Quarterly challenges to release old patterns and jumpstart new habits
On-demand access to my best motivational talks
I'll be your coach to help you manifest your desires and live with an unshakeable sense of inner peace.
disclaimer
This podcast is intended to educate, inspire, and support you on your personal journey towards inner peace. I am not a psychologist or a medical doctor and do not offer any professional health or medical advice. If you are suffering from any psychological or medical conditions, please seek help from a qualified health professional.