One of the greatest ways to begin healing the root cause condition of stress is through a powerful process called Emotional Freedom Technique (EFT). It's also known as tapping.
What is Emotional Freedom Technique (EFT)?
Emotional Freedom Technique (EFT), also known as tapping, is a psychological acupressure technique that supports your emotional health. EFT combines the cognitive benefits of therapy with the physical benefits of acupuncture to restore your energy and heal your emotions. EFT doesn't use needles. You just stimulate certain meridian points on the upper body (seen in the diagram) by tapping on them with your fingertips.
How EFT works
The goal of EFT is to balance disturbances in your energy field. More than 5,000 years ago the Chinese recognized a series of energy circuits that run through the body. They called these circuits meridians, and today this concept is the basis for acupuncture and acupressure healing.
When you tap on specific energy meridians found on your face, head, arm and chest, you can release old fears, limiting beliefs, negative patterns and even physical pain. While you tap you talk out loud about the issue you are working to heal. Allowing yourself to emote while simultaneously tapping on the energy points sends a signal to the brain that it's safe to relax. Our fear response, which is controlled by the amygdala, is lessened.
Guided EFT for anxiety and stress
If you feel inspired to begin addressing the root cause behind your stress, let's begin the EFT process. Please remember to take full responsibility for your own well-being, because sometimes unexpected emotions can come up while tapping.
Start by rating your stress level on a scale of 0 to 10, 10 being the most severe.
Then take a moment to write down the most pressing issue (MPI) causing your stress. Some examples:
I'm so stressed because of work.
I'm stressed because of my marriage.
I'm anxious about this health situation.
Or it can simply be, "I'm stressed out."
Next, press play on this video and tap with me.
What to do after EFT
Now that you've finished your tapping session, rate your MPI on a scale of 1 to 10 again. It's likely you moved down the scale, maybe from a 10 to a 4 or even a 0!
Take note of the emotional shift that occurred. If this worked for you, then keep tapping! If it didn't work, keep tapping! Tapping has countless benefits, and stress reduction is one of the greatest. In order to heal your gut you have to heal the root cause condition: stress.
For more mental health resources, check out my blog post on gut health and stress as well as my blog post on spiritual and practical tips for anxiety.
How to Release Anxiety Is Your Spiritual Solution to Quickly Overcome Feeling Stressed and Overwhelmed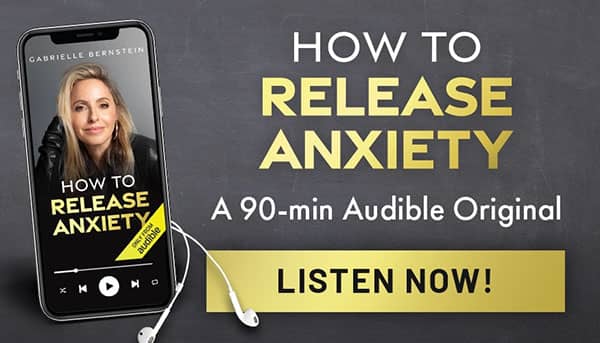 Are you tired of feeling stressed and overwhelmed? How to Release Anxiety will give you 5 proven methods to relieve stress and tap into a steady sense of peace.
If you're overwhelmed with stress and worry, you are not alone—and I'm here to help! In my Audible Original, How to Release Anxiety, I'll share simple tools you can use right now to release anxiety and tap into a steady sense of peace.
Recorded at a live talk, this Audible Original will help you reframe your fears by empowering you to see them differently. Using methods from Internal Family Systems (IFS) therapy, I'll teach you how to hold a compassionate dialogue with your fears. I'll also share experiential methods you can use to release anxiety anytime, anywhere. There's a spiritual and speedy path out of anxiety, and I'll guide you every step of the way.
In the Audible Original How to Release Anxiety, you'll learn how to:
Soothe yourself in minutes using 5 simple techniques
Understand what your anxiety really needs to be set free
Design a sleep routine to help you get more peaceful rest
Become a grounding presence for everyone around you
HOW TO LISTEN FOR FREE
If you already have an Audible Plus membership, How to Release Anxiety is included with membership and you can listen for free. (This offer is only available in the US; in other countries you may have to use a credit.)
If you don't have an Audible Plus membership, you can sign up for a 30-day free trial and How to Release Anxiety will be included with your trial membership.
Offer varies by country.