you can use affirmations for healing the body
In this blog, I'll explain how you can use your spiritual practice to relieve physical pain. But first, I have a story for you …
I often feel the presence of my mentors and spirit guides when I write.
While I was writing Happy Days, an affirmation from my late friend and publisher, Louise Hay, came into my head … and I knew I had to share it! Chapter 4, "Hiding Behind the Body," explains how subconscious emotional problems can contribute to physical pain. And I open the chapter with these words from Louise:   
With every breath I take, I am sending love, gratitude and healing to every single cell in my body. Yes, yes, yes, yes.

-Louise Hay
"Lulu," as we call her at Hay House, was a pioneer in mind-body healing. She believed positive affirmations could bring powerful relief to both body and mind.
I believe that too! And in today's episode of the Dear Gabby podcast, I share how affirmations have helped me recover from jaw pain, gastrointestinal issues, chronic stress and more.
how i recovered from physical pain
Using these affirmations has been a beautiful way to bring my spiritual practice into my overall plan for relieving pain in my body.
And today, I am deeply proud to say that my gastrointestinal issues have resolved.
And that's not all …
I have perfect sleep.
I have no anxiety.
And I feel completely at ease! I am so excited to share more about this on today's Dear Gabby. The topic of mind-body healing is a big one for me, and I really geek out on it.
The POWERFUL affirmations I use to soothe my body in an instant
A gorgeous practice that will help you slow down, relax—and stop feeling so burnt out!
The game-changing spiritual exercise I do for 40 minutes a day (it helped me with my jaw pain!)
A playlist that will help you process emotional distress (to make it super easy for you to access, I uploaded the list to Spotify!)
what's behind your physical pain?
Want to learn more about the mind-body connection? In Chapter 4 of Happy Days, I also dive deep into the work of Dr. John Sarno. 
Dr. Sarno believed we push our unresolved, impermissible feelings onto our physical body. That way, we can focus on the physical symptoms rather than addressing those deeply difficult emotions.
When I was dealing with my TMJ ( or jaw pain), I used a powerful practice that I call "Rage on the Page." This practice enabled me to work through those impermissible feelings so that they would stop manifesting as jaw pain!
relief through writing
I explain "Rage on the Page" in detail on today's Dear Gabby. You can also read about it in this passage from Happy Days: 
My friend Nicole Sachs—a therapist who specializes in the work of Dr. Sarno—told me about her journaling method that she recommends to everyone. She calls it Journal Speak and adapted it from Dr. Sarno. Nicole suggested that I journal for 20 minutes about all of my anger, rage, fear and discomfort. Then, after 20 minutes of writing, she instructed me to meditate for 20 minutes to allow the emotional release to set in.

Ready to relieve my jaw tension, I was willing to do whatever she suggested.

I made a few of my own tweaks to the practice as she described it. For one, I renamed it Rage on the Page. Then I decided to add bilateral music. Bilateral music rhythmically stimulates each side of the brain to help fully process thoughts. It opens our "window of tolerance," which is the psychological state when we're best able to respond to whatever comes our way by building emotional resilience. Emotional resilience increases our ability to process stress and big emotions, keeping them from getting stuck in our subconscious.

Twenty minutes of Rage on the Page brings your unconscious rage and fear (or worry, sadness, judgment, or any other repressed emotions) to the surface. Then, in your meditation, while listening to the bilateral music (found at DearGabby.com/HappyResources), you allow yourself to become more present with those feelings so you can take the tension and pressure off your body


Happy Days, Chapter 4, Pages 82-83
affirmations for healing the body
No matter what your plan is for soothing and relief, you can add in any of the following affirmations. Choose one that calls to you, and repeat it several times a day.
I'm safe in my body. Everything is working out for me.

I am truly taken care of.

My presence is my power.

I am at ease. I am free in my mind and body.

My energy has the power to be restored.

I can let go and trust that everything is working out for me. 

My body is strong and resilient.

I am still, I am well. 
use prayer to relieve physical pain
I also use prayer to contribute to my feeling of well-being.
Over the years, I've shared a lot about my morning routine.
I've talked about lying down on my sofa and practicing Transcendental Meditation for at least 20 minutes. (This is non-negotiable.)
I've described how I like my coffee (dairy-free creamer + collagen powder, please!). I've talked about pulling a card to set the tone for my day.
And I've shared my secret for settling my nervous system before diving into work. (I take a nice salt bath and sometimes even throw in some crystals.)
But there's one beautiful aspect of my morning routine that I haven't spoken much about: When I'm taking my medication in the morning, I pray over it.
Here's what I say: Thank you, medicine, for giving my body what it needs. 
This is such a beautiful way to start the day!
get more gabby
The following are helpful resources and books I mention within the episode:
In this episode of Dear Gabby, I refer to my new book, Happy Days. The entire book is intended to soothe and settle your nervous system. Chapter 4, in particular, which is called "Hiding Behind the Body," focuses on the mind-body soothing practices I cover on the podcast today.
Head to my Happy Days Resources page to find the binaural-beats playlist I created! This will help you with the Rage on the Page exercise I mentioned in this episode.
For more positive affirmations to settle your nervous system, check out this video:
I can be your coach—anytime, anywhere!
My NEW gabby coaching membership makes personal growth easy to access. Get weekly lessons, guided meditations and proven manifesting methods to enhance every area of your life—all inside the exclusive member's app.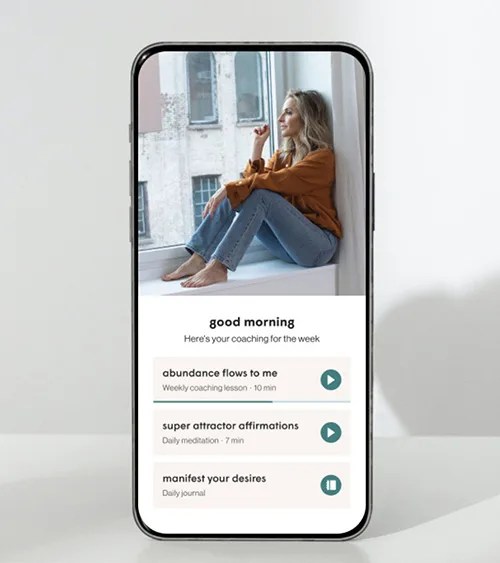 Transform your life in just 10 minutes a day with:
Weekly coaching with practical tools that will instantly improve your life
Quick access to 200+ meditations, affirmations, prompts, lessons and more
️️Quarterly challenges to release old patterns and jumpstart new habits
On-demand access to my best motivational talks
I'll be your coach to help you manifest your desires and live with an unshakeable sense of inner peace.
disclaimer
This podcast is intended to educate, inspire, and support you on your personal journey towards inner peace. I am not a psychologist or a medical doctor and do not offer any professional health or medical advice. If you are suffering from any psychological or medical conditions, please seek help from a qualified health professional.