trauma, vulnerability, miracles and signs from the Universe—it's all here!
Just saying the phrase "angel wings" gives me goosebumps now—and probably gives goosebumps to every single person in the amazing audience in Brisbane who heard me tell this story on the final night of my tour. I had to share the recording with you for this special live bonus episode!
I wish I could take you with me on every stop of my tours, because there's always something different and magical. Every. Single. Time. The energy in the room never fails to wow me, and the final night of my tour in Brisbane, Australia, was no exception.
At the end of the show, I talked with three listeners and we shared so much vulnerability. We talked about fear, trauma, suffering, hope, miracles—all in the span of less than half an hour.
"Go help those girls."
That's what my husband says to me whenever I go on tour, and I love it. I take it to heart. That's really why I'm doing what I'm doing. And part of helping is doing exactly what I ask others to do—to be vulnerable, to seek higher vibes, to trust in the Universe, to treat ourselves with love and compassion. I want to share what I talked about with those listeners on my tour.
how can I get over my fear of vulnerability?
The first guest on stage had a dilemma that's close to my heart. She completed a manuscript for a book, and she's very proud of it—but she feels incredibly raw and vulnerable about the idea of submitting it to her publisher and letting it go out into the world. I've been there. She's scared, but to her—and to anyone struggling with putting themselves out there in any way—I say that not putting yourself out there is far scarier. It means living a closed, unfulfilled life. It also means denying your light to the world.
For me, it helped to realize that my vulnerability is not only a service to me—it's also a service to others. I told her to invite her reader in. Be present with her. Sit with her. Breathe with her. Understand what she needs and deserves. Then, when the book gets handed over, it's no longer about the writer. It's about the reader.
My response:
Vulnerability is my true strength.

gabby
When I submitted my manuscript for Happy Days, my publisher said, "Gabby, we're nervous for you. You're sharing so much heartache and negativity in this book, and you're not showing your true strength."
I didn't change a word of the manuscript. What you can read today is what I sent them.
While we were talking specifically about publishing a book, that goes for any creative project, or any process of the heart. Vulnerability is a gift to you and to whomever you're being vulnerable with.
"I'm feeling shame about taking medication for my mental health."
The second listener to join me had experienced severe postpartum depression after the birth of her first child. She wants another one but is fearful, both of repeating the postpartum issues and that the words she spoke into the Universe after her first child was born ("I'm never doing this again") will interfere with her chances of conceiving.
She's also experiencing a lot of shame over her decision to try medication to treat her severe symptoms. She said, "I have been terrified about what it said about me if I was on medication."
I'm so glad she brought this up. Sometimes people assume I'm anti-medication because I am such a big proponent of spiritual practices, but that's not the case. As I told this listener, "There is zero shame in medication. When you've having a biochemical experience, no amount of yoga is going to save you. Go to the doctor. You being depressed, anxious and potentially suicidal is far more dangerous than a medication that has been extensively studied for safety. God works through medication and doctors, just as God works through other practices."
I went on medication for severe postpartum issues, and when I was going to taper off, I was made to realize that I'm still working on the PTSD from that experience and medication is still beneficial for me.
To be clear, it's not an either/or scenario. There are extremes on both ends: excessive reliance on medication or other substances, and excessive reliance on non-medical practices that don't fully address the issue. I want everyone to find the right balance for them.
You can hear this whole conversation, along with the other recommendations I made to this listener, on the podcast. It's worth it to hear what she said at the end that had the whole audience rolling with laughter.
"How do I make the leap between where I am now and where I want to be?"
Our final guest was celebrating a birthday and said having this conversation with me had been on her vision board. (See? Manifesting works!)
She had a very clear vision of the life she wanted to lead, and yet she was still struggling to make what she called the "quantum leap" between where she was now in her life and where she wanted to be. She was still facing a lot of barriers and stress, and felt so far from her dream life.
My take: You don't have to wait until things are perfect to experience elements of your dream life. It's not like walking from one room to another where suddenly everything is behind you and it's a whole new world. Like most of us, this listener had a lot of undoing to accomplish in order to feel free. You can have fun, experience joy and accomplish things WHILE you're still going through the struggle and suffering and the process of achieving your dream life.
Then I went to pull a card for a reading for her, and the deck flew everywhere! Three cards ended up doing the card equivalent of raising their hands to be read. And I definitely know why.
The first:
my high vibe thoughts create health in my body, peace in my mind and love in my heart
That was sooo clearly meant for this listener.
The second: My productivity stems from inspiration. When I focus on what brings me joy, my tasks become effortless actions.
We can all use those reminders, right?
in this episode, I'll share:
The third card I pulled, which was clearly meant for the entire audience and everyone listening, and was the perfect way to end the show
The story the last listener inspired me to tell, which left me (and probably everyone in the room) with goosebumps
What made me tell this listener she was worthy of miracles
More on how to be vulnerable, move toward your dream life and confront shame
We packed so much into a short bonus episode, and it's an amazing way to experience the energy and lessons of a live show, if you haven't been able to make it to one yet. Don't miss this.
get more gabby
When I submitted my manuscript for Happy Days, my publisher said, "Gabby, we're nervous for you. You're sharing so much heartache and negativity in this book, and you're not showing your true strength."
My response: "Vulnerability is my true strength." I didn't change a word of the manuscript. What you can read today is what I sent them.
Read what I wrote here.
I can be your coach—anytime, anywhere!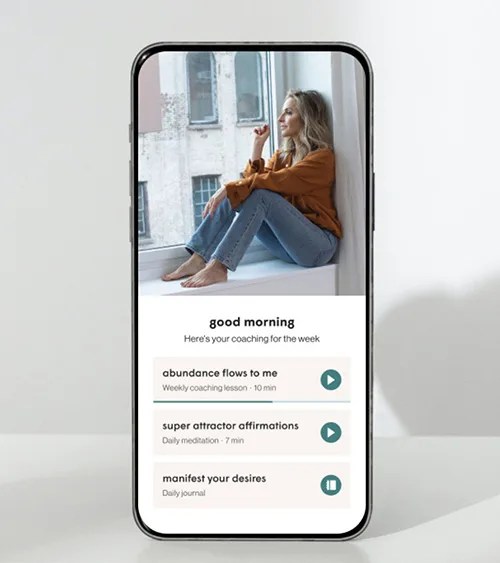 My NEW gabby coaching app makes personal growth easy to access. Get weekly lessons, guided meditations and proven manifesting methods to enhance every area of your life—on your own terms, at your own pace, all in one place. I'll be your coach to help you manifest your desires and live with an unshakeable sense of inner peace. 
disclaimer
This podcast is intended to educate, inspire, and support you on your personal journey towards inner peace. I am not a psychologist or a medical doctor and do not offer any professional health or medical advice. If you are suffering from any psychological or medical conditions, please seek help from a qualified health professional.