how to take action on your dreams
A close friend recently told me he's desperate to make a change in his career, but he's terrified to take the leap.
He's in his 40s and a super successful lawyer. He's got a big job (and an even bigger paycheck). I get why he's hesitant to take such a big-seeming risk.
So I asked him a question that got him thinking: "Can you do just one small thing every day to get you closer to your dream?"
I saw relief in his eyes as he replied, "One small thing? Yes, I can totally do that!" Adjusting his perception activated his "YESNESS" – the part of us that allows for movement toward our desired outcomes.
to courageously take action on our dreams, we have to be a yes for them
so how do we get to our YESNESS?
All the answers are inside this Big Talk with my friend Jennifer Fisher. Jennifer is a world-renowned jewelry designer and master at taking action toward her dreams. In this episode, we go into all the details that'll help you lean into that part of you that decides to say F*ck it! F*ck doubt and resistance. I'm going to do just one tiny thing that takes me closer to what I really want.
Why embracing a "F*ck it!" mentality is key to changing course—and how to do it
The best way to stop worrying about the outcome, or about other people's perceptions of what you're doing
Why focusing on the fun and the joy of what you're trying to create brings out your Super Attractor vibes
Exactly how to lean in to your YESNESS—that part of you that decides to do just one small thing that takes you closer to what you really want
Many of us abandon what we really want to do because we feel like we're too far down the path we initially chose. It's scary to change course.
>>> But here's the thing: You don't have to turn your back on your life as you know it if you want to make a change. But you DO have to start making tracks, no matter how tiny, toward the life you really want to live.
The action you take will transform your perspective and help you see that your big dream might not be as far out of reach as you think. Yesness will create momentum and energy to support your dreams.
If you're struggling to take action, I want you to take a big, deep breath with me right now and get ready for some awesome news: I have a 3-step method I've used to help thousands of people go from ideas to action. I've used this method myself to take small, right actions toward my biggest dreams. And I'm going to share these steps with you right now!
Step 1
think openly and positively about your vision
Okay, here's the part where I want you to get really clear about your dream. What exactly do you want to manifest? Is it a new job? A relationship? More money in the bank? Write down your desires in a journal or notebook. Be as specific as possible and use vivid language to describe what you want.
Every day, I want you to think about what you're a YES to in positive ways. This will not only help you manifest what you want to call into your life, but it'll also make you feel great in the moment—another key to being a Super Attractor and making your biggest dreams a reality.
Step 2
allow yourself to really feel what it would be like to pursue your dream
Take a minute to close your eyes and really embrace how it would feel if you landed your dream job, met your perfect romantic match, or had the amount of money in the bank that you need or want. For just a few minutes a day (I'm talking two or three minutes!), sit in meditation and let yourself feel the feelings of having what you desire.
When you dwell in the excitement and joy your dream will bring into your life, you become an energetic match for what desire and the Universe will respond accordingly.
Step 3
take a small action from a place of spiritual alignment
Here's where I need you to get really honest. How invested is your ego in the steps you're taking toward your big goal? You'll know your ego is involved if you've had thoughts like, It's too late for me to try this, or, Who do you think you are to do this?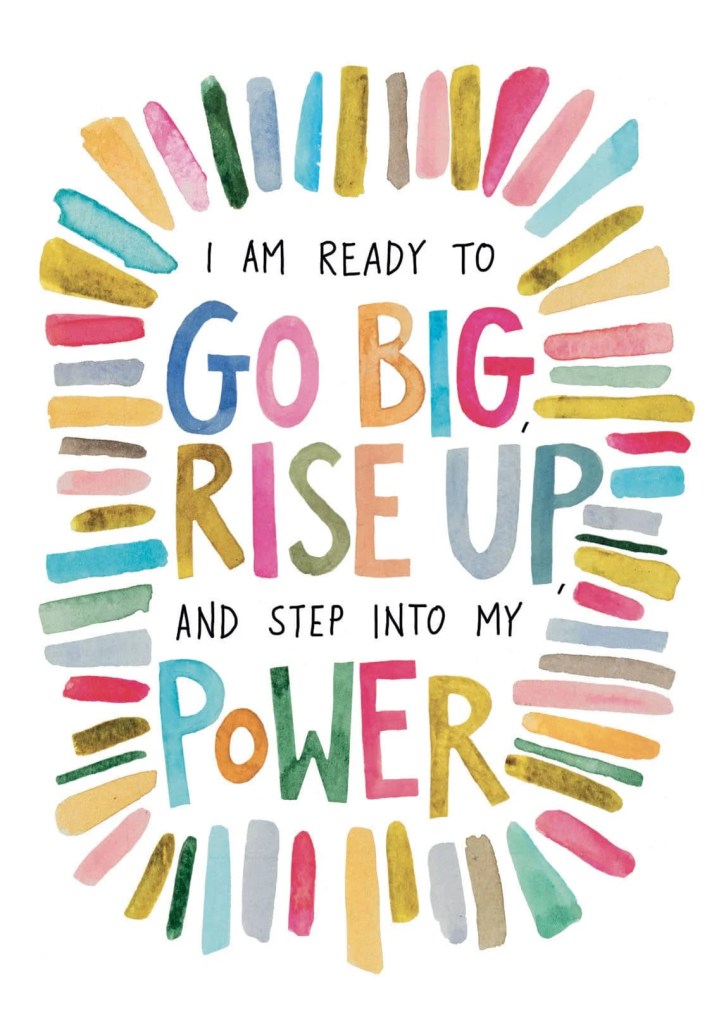 If you're allowing the voice of your ego to guide you, you probably won't get very far. However, when you practice the first two steps, it primes you to take action from a place of alignment with the Universe. And when you're in sync with Spirit, you will feel a level of confidence and know-how that you probably wouldn't be able to access otherwise.
The final step is to take inspired action toward your desires.
Make a plan, take small steps toward that goal every day, and trust that the Universe will support you every step of the way.

gabby
These three steps will set you up for success on the path toward your biggest dreams. As you can see, the first move you make doesn't have to be big. All it requires is positive thinking. And even if it doesn't feel like you're creating a huge shift, trust that these steps you're taking ARE important.
Even the smallest steps we take toward our dreams can require BIG energy. It can require what I call a "F*ck it!" attitude—which we talk about in this episode.
I don't know if my friend will ultimately ditch his corporate law gig and make a big career change. But I do know that if he starts taking just one step each day toward what he really wants to do, he's creating the space for something amazing.
get more gabby
I can be your coach—anytime, anywhere!
My NEW gabby coaching app makes personal growth easy to access. Get weekly lessons, guided meditations and proven manifesting methods to enhance every area of your life—on your own terms, at your own pace, all in one place.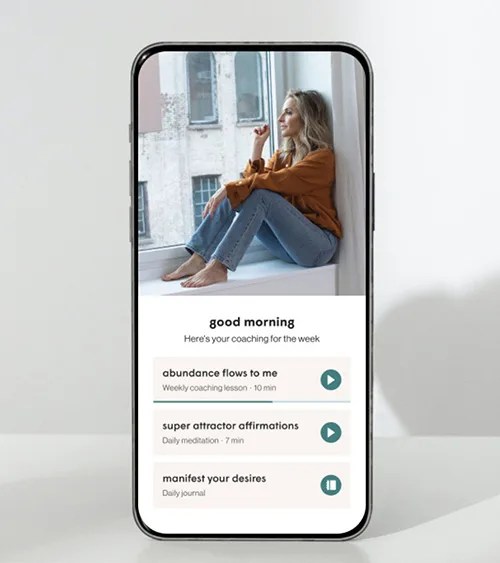 Transform your life in just 10 minutes a day with:
Weekly coaching with practical tools that will instantly improve your life
Quick access to 200+ meditations, affirmations, prompts, lessons and more
️️Quarterly challenges to release old patterns and jumpstart new habits
On-demand access to my best motivational talks
I'll be your coach to help you manifest your desires and live with an unshakeable sense of inner peace.
disclaimer
This podcast is intended to educate, inspire, and support you on your personal journey towards inner peace. I am not a psychologist or a medical doctor and do not offer any professional health or medical advice. If you are suffering from any psychological or medical conditions, please seek help from a qualified health professional.