I once made a seasoned, salty, New York Times reporter gasp — and it was a sure sign that I was on the right path! (I tell the whole story in today's bonus episode of Dear Gabby.)
This was back in 2009, when I was just kicking off my career as a spiritual teacher. (As you can see, I was committed to rolling with the good vibes)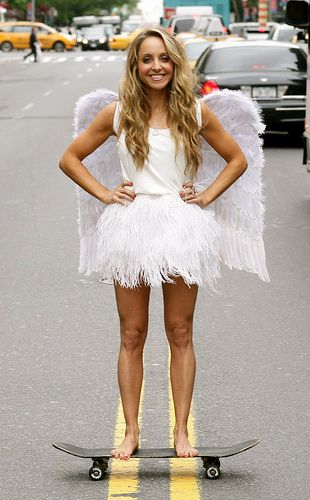 I'd written a book, I was leading workshops in my New York City apartment, and—at just 28 years old—I knew I was on to something big.
I was at the forefront of a movement. 
It was a movement of women who had stopped idolizing Carrie Bradshaw and started seeking guidance from Marianne Williamson and Wayne Dyer.
These young women—including myself—were the next generation of spiritual leaders. We were about to spread our light everywhere and make a massive impact on the world.
And I wanted to give The New York Times the exclusive scoop!
So, I did what any trained publicist would do.
I busted out my Rolodex (yes, Rolodex!) and got on the phone.
I called up the one contact I had at the Times, confidently pitched my story … and then waited.
For a year and a half!
be patient on your path
But even as I waited, my confidence never lagged. I knew I had a story to share. And I knew that story would be told—in the Sunday Style Section. My certainty allowed me to be patient.
As A Course in Miracles says: "Those who are certain of the outcome can afford to wait, and wait without anxiety."
So when that reporter finally came to my apartment to observe one of my workshops and interview me for a story, I wasn't surprised.
But when he saw what I had on my wall, he was shocked. And he could see, before his very eyes, that my patient, gentle method of manifesting had worked!
Press play on today's episode of Dear Gabby to learn what this reporter saw, and learn how I was able to kick back, relax … and land a story in The New York Times.
Doing less and attracting more is just one of the powerful manifesting tools I teach in this episode of Dear Gabby.
super attractor
My book Super Attractor: Methods for Manifesting a Life Beyond Your Wildest Dreams, breaks down all the tools I've used to make my wildest dreams become a reality, and to see all the signs that I'm on the right path! 
This bonus episode gives you a front-row seat to one of my best live talks from my Super Attractor book launch.
listen to this talk to learn:
How to receive divine messages and signs that will let you know—without a doubt—that you're on the right path
Exactly what it means to be a Super Attractor (and how to activate your Super Attractor power)
How to feel good and flourish, even in dark times
My 3-step method for instantly reframing fear
A spiritual method that will help you do less … and attract more
I'll also give you a simple but powerful mantra you can use every day to elevate your vibes.
These five words have lifted my energy, inspired me to create joyful content, and carried me through dark times.
Press play to learn this gorgeous mantra—and be sure to write it down! You'll want to carry this empowering message with you wherever you go.
clear the path to your manifesting power
But before you begin the process of manifesting, there's a super important step that most people forget to take.
It's crucial to look at the ways that you've been blocking your manifesting power.
>>>And yes, I'm talking to you!
You might say, "But Gabby, I have a vision board. I sage my crystals every day. How am I blocking my manifesting power? How am I not on the right path by now?"
I totally get it! If you're listening to Dear Gabby today, you're committed to doing spiritual work. I honor you for that.
Sometimes the most spiritual people are the ones who resist miracles the most … in ways they're not even aware of.

gabby
So let's get clear:
In this talk, I'll open your eyes to all the hidden ways you might be sabotaging your dreams. And I'll help you clear those blocks right up and get on the path toward everything you desire.
So, my friend …
Are you psyched to get in sync with the Universe, feel a deep sense of faith and trust, and start attracting your deepest desires?
Let's go!
get more gabby
I can be your coach—anytime, anywhere!
My NEW gabby coaching membership makes personal growth easy to access. Get weekly lessons, guided meditations and proven manifesting methods to enhance every area of your life—all inside the exclusive member's app.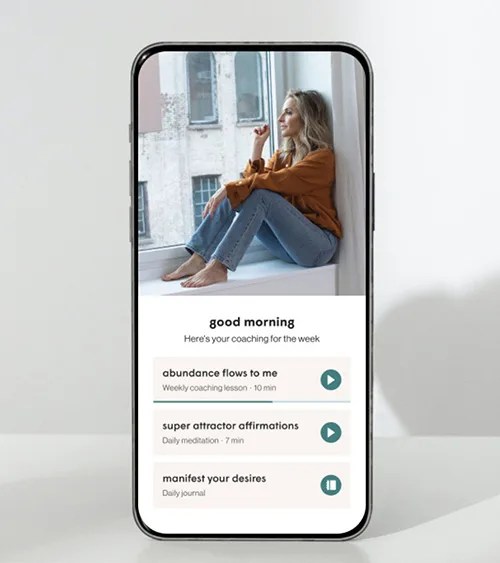 Transform your life in just 10 minutes a day with:
Weekly coaching with practical tools that will instantly improve your life
Quick access to 200+ meditations, affirmations, prompts, lessons and more
️️Quarterly challenges to release old patterns and jumpstart new habits
On-demand access to my best motivational talks
I'll be your coach to help you manifest your desires and live with an unshakeable sense of inner peace.
disclaimer
This podcast is intended to educate, inspire, and support you on your personal journey towards inner peace. I am not a psychologist or a medical doctor and do not offer any professional health or medical advice. If you are suffering from any psychological or medical conditions, please seek help from a qualified health professional.