I love the chill family time—and the good food—that the holiday season brings. But for me, January 1 is when the positive vibes REALLY start flowing. I'm going to tell you how I cultivate that good New Year juju on today's Dear Gabby!
I see each new year as an opportunity to create powerful change … and I know many of you are with me! (Shout out to my Manifesting Challenge diehards!)
I've found the following practices really helpful in getting me psyched, spiritually aligned, and ready to manifest miracles in the year ahead.
my new year ritual
Before every new year, I take out my journal and light a candle. I write this statement down, then I say it out loud:
I commit to releasing the previous year.
I take a few minutes to reflect on the past 12 months. I forgive the hard times, honor the lessons I learned—both good and bad—and release the year with love.
Then I turn my focus to the year ahead.
For a symbolic fresh start, I turn to a new page in my journal. On this blank page, I write down all my intentions for the year to come.
Finally, to turn those intentions into actions …
I devote the first 21 days of each year to completing my Manifesting Challenge.
Speaking of which …
manifest your desires
You can join me for 21 days of manifesting and miracles in my Manifesting Challenge starting every January 1! The challenge can be accessed exclusively in my new coaching app (see below for details!).
I share more about the challenge—and SO MUCH MORE about manifesting—in today's Dear Gabby.
How to set spiritually aligned boundaries that will protect you from burnout
How to take action from a place of service and love (and why this is KEY to getting in sync with the Universe)
How to cultivate true abundance—regardless of what's in your bank account
The simplest way to manifest your desires (warning: most people have this backwards!)
An exercise for attracting your dream job
How to be grateful for the tough times in your life
Want more manifesting tips? Check out this video where I share 4 additional steps to make your dreams come true.
Annnd …. listen to today's podcast to get your miracle mojo flowing. I'll also teach you a beautiful tapping exercise that will help you work through difficult feelings with a deep sense of safety.
my method to get in sync with the universe
I'll also teach you one of my FAVORITE methods for getting in sync with the Universe. This is from my book Super Attractor, and I used it to help one of today's callers deepen her connection with a family member.
the spiritually aligned action method
This 3-step method will set you up to take action on your desires from a place of faith and inspiration. Here's how to do it.
First, think about your desire. Picture it clearly, dream about it openly. Then use your positive thoughts to inspire you as you go about your day. You CAN think your way into a better reality, if you …
Step 2
feel it
Feeling your way to your desired state is a MAJOR part of manifesting, and we'll practice that throughout the Manifesting Challenge.
Finally, from the inspired state you've felt your way into, take action on your desires!
The Spiritually Aligned Action Method is also one of the new lessons in this year's Manifesting Challenge, and we'll go DEEP with it during a whole day of practice.
You have the power within you to attract everything you desire.
But what I wish for you most in the new year is to manifest grace, ease, and a deep inner sense of freedom and safety.
That will come through in the practices I share today on Dear Gabby. And it will come through with so much joy and excitement in our 21-day Manifesting Challenge that's included with my coaching app! I hope you'll join me there.
get more gabby
I can be your coach—anytime, anywhere!
My NEW gabby coaching app makes personal growth easy to access. Get weekly lessons, guided meditations and proven manifesting methods to enhance every area of your life—on your own terms, at your own pace, all in one place.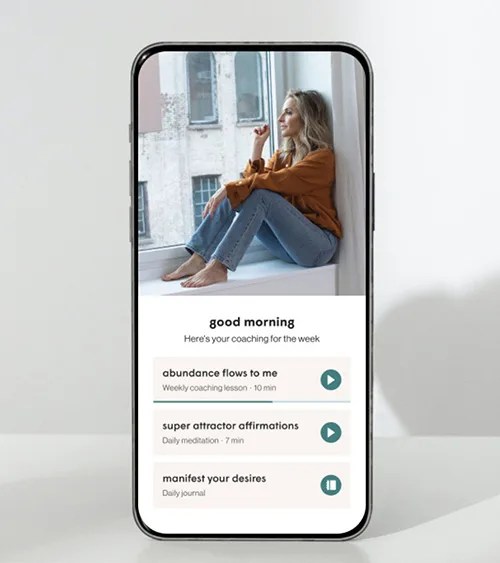 Transform your life in just 10 minutes a day with:
Weekly coaching with practical tools that will instantly improve your life
Quick access to 200+ meditations, affirmations, prompts, lessons and more
️️Quarterly challenges to release old patterns and jumpstart new habits
On-demand access to my best motivational talks
I'll be your coach to help you manifest your desires and live with an unshakeable sense of inner peace.
disclaimer
This podcast is intended to educate, inspire, and support you on your personal journey towards inner peace. I am not a psychologist or a medical doctor and do not offer any professional health or medical advice. If you are suffering from any psychological or medical conditions, please seek help from a qualified health professional.