During these times of crisis, I've been thinking about my grandmother a lot.
My grandmother was a Holocaust survivor. She escaped from her home country at the start of World War II. She found safe-haven in Switzerland, and survived the war.
Many of her family members did not.
So I don't just believe that someone's good intentions — whether it's a community's intentions or a single individual's — can have a ripple effect in the world. I know this for a fact. It's a fact that's baked not only into my spiritual practice, but into my DNA.
Here's the thing: I would not be on this planet had my grandmother not been able to safely escape, so many years ago. I wouldn't be here, and my son wouldn't be here. And his future children (should he someday become a dad!) wouldn't be born.
My grandmother was given safe haven, decades before I was even born … and that act of grace still has a ripple effect.
And that is why — in these times of crisis, division and devastation — I'm focusing on one small right action at a time.
the ripple effect
Instead of collapsing into despair, I'm holding onto faith that each action I take can have a ripple effect for years to come. I believe it.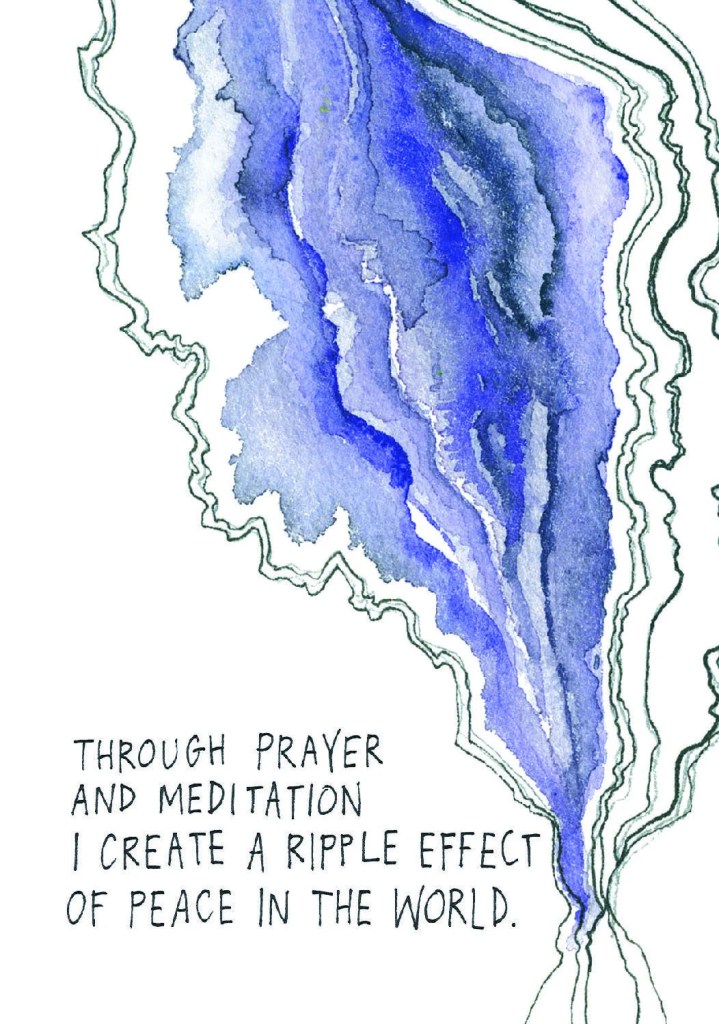 And I want you to believe it, too.
So many of us are suffering right now. We open our browsers, or turn on our TV or pick up our phones … and the news of the day takes us out. So if you're feeling powerless today, this episode of the Dear Gabby podcast is for you.
And if you're feeling joyful right now, this episode is for you, too!
It's easy to feel guilt when others are suffering all around us … and yet, we're feeling pretty good! But hear me when I say this: the world needs your joy more than ever right now. And that's not just spiritual fluff.
That is the absolute truth.
how can i stay joyful in times of crisis?
I've had so many readers and Dear Gabby listeners ask me: "Gabby, how can I stay joyful and stay present to what's happening in the world? I don't want to ignore the news … But every time I turn it on, I feel powerless and defeated."
I deeply honor these feelings. I understand these feelings, because I've had them too! But I assure you that you are not powerless.
So on the Dear Gabby podcast today, I'm calling on you to become a spiritual first responder. Don't worry: I'll teach you exactly how to do that.
The morning prayer that will give you the power to feel good and do good in the world
How you turn your guilt into your superpower
How to protect your energy in times of crisis
While recording this podcast, I was moved to pray several times. Each time I did, I could feel the Dear Gabby community praying along with me. I am certain that the positive, protective energy we created that day had a ripple effect.
Let's keep that ripple effect going.
prayers for times of crisis
Anytime you need some comfort or wish to extend peace to others, please return to the prayers below. You can read them silently, or say them out loud. All that matters is that you hold an intention of peace.
You can also hear me say the prayers on today's episode of The Dear Gabby podcast:
a prayer for our transgender friends
May our transgender friends be supported, guided, and led by spiritual connection as they step into the truth of who they are.
I witness their bravery and I honor their truth. I call upon the guides of the highest truth and compassion to wrap our transgender friends in protection and love.
May they find allies and divine guidance on every step of their journey. May our transgender friends feel loved, respected and seen.
a prayer to get grounded in the times of crisis
Place one hand on your heart, and the other hand on your belly. Ground yourself right now in the energy of love.
Surrender what you think you need, and allow the presence of strength, wisdom, inspiration, and guided direction to enter in.
Now, notice things that you've been holding onto: Your own personal struggles, and the struggles and fears of the world. Now take your anxiety, and give it away. One by one, give away your physical tension, insecurity, and fear — and hand it over.
Witness yourself handing over your fear. Visualize yourself placing it in a basket, and give it away to a higher power of your own understanding.
Ask that power to do for us what we cannot do for ourselves. Ask that power to give us strength when we feel powerless, and to remind us where our true strength lies.
May that power send us strength, intuitive energy, power and commitment to our brothers and sisters in Ukraine who may not have that energy at their disposal right now.
Take a deep breath in, and let that go.
be a spiritual first responder
I believe so deeply in this community. I trust in our power as spiritual first responders.
May today's episode of the Dear Gabby podcast give you hope, and may you carry that hope with you out into the world.
And if you start feeling helpless or scared at any point, I encourage you to use this exercise from my new book Happy Days. This will help you self-regulate, soothe your nervous system, and tap into your source of inner wisdom.
The next time you feel triggered, ask yourself the following questions:
What do I need to feel safe right now?
How can I feel seen right now?
What do I need to feel soothed right now?
What do I need to feel secure right now?
Between each question, pause to reflect. Trust the inner guidance that you receive. This inquiry is a spiritual conversation between your inner child parts and your adult resourced Self. It's a form of prayer. Relying on your own inner parent will give you a newfound sense of safety and resilience to move through life with grace.
— Chapter 9, Page 194, Happy Days 
get more gabby
My new book Happy Days is my most important spiritual work yet. In it, I share the 9 spiritual and therapeutic tools that I used to overcome trauma — and not only survive, but thrive. No matter what you've been through in your life, my hope is that this book will help you find clarity and peace. If you've been on this planet for the past couple of years, you've survived trauma of some sort. Now, I want to help you thrive. 
For additional guidance on cultivating an energy of peace, please watch the video below.
I can be your coach—anytime, anywhere!
My NEW gabby coaching membership makes personal growth easy to access. Get weekly lessons, guided meditations and proven manifesting methods to enhance every area of your life—all inside the exclusive member's app.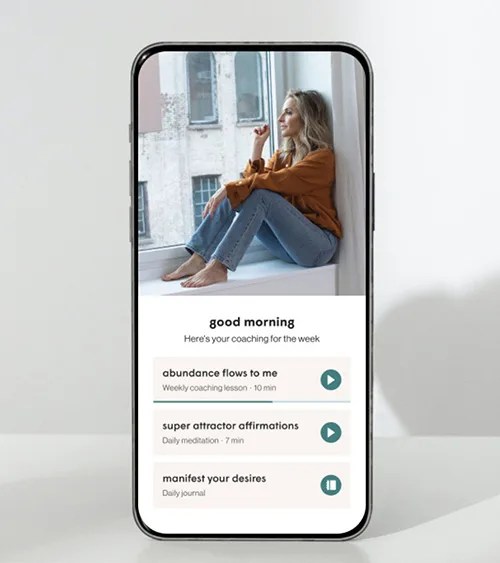 Transform your life in just 10 minutes a day with:
Weekly coaching with practical tools that will instantly improve your life
Quick access to 200+ meditations, affirmations, prompts, lessons and more
️️Quarterly challenges to release old patterns and jumpstart new habits
On-demand access to my best motivational talks
I'll be your coach to help you manifest your desires and live with an unshakeable sense of inner peace.
disclaimer
This podcast is intended to educate, inspire, and support you on your personal journey towards inner peace. I am not a psychologist or a medical doctor and do not offer any professional health or medical advice. If you are suffering from any psychological or medical conditions, please seek help from a qualified health professional.