Dr. Dan Siegel is my guest on today's Big Talk episode of the Dear Gabby podcast — and we're going deep in our talk about childhood wounds. It's such an honor for me to share Dan's wisdom and work with you, because he has had a HUGE impact on my life.
This revered psychiatrist has redefined the way I parent my son, and the way I care for myself.
After I delivered my son in 2018, there was a stack of parenting books on my bedside table, but I had some resistance to reading them right away.
Dealing with postpartum depression, running a business and being a new mom, I was just trying to make it through the days.
And then, the stay-at-home orders hit in 2020. Left at home with a two-year-old, no childcare, and some deep self-work under my belt, I went big.
I wanted to do this parenting thing RIGHT.
I was ready to crack into the books that were still sitting next to my bed.
dr. siegel
The first parenting book I read was No-Drama Discipline: The Whole-Brain Way to Calm the Chaos and Nurture Your Child's Developing Mind by Dan Siegel and Tina Payne Bryson. This book blew my mind, rocked my world and—without a doubt—made me a better parent.
After that, I did a deep dive into Dr. Siegel's work. I read every book he'd written. I listened to every relevant podcast I could find. His work was such a grounding resource for me as a parent …. and not only as a parent to Oliver.
In my newest book, Happy Days: The Guided Path from Trauma to Profound Freedom and Inner Peace, I wrote:
I had an amazing revelation as I explored Dr. Siegel's parenting techniques. At first I thought I was reading these books only to strengthen my bond with Oliver, but I came to see how I could apply them to myself. I could become my own internal parent and heal my past attachment wounds by honoring my inner child parts and applying the same methods I would offer to my son. In order to establish a deeper connection with Ollie, I had to establish a deeper connection with myself.

-Happy Days, Chapter 9, Page 176
On today's Dear Gabby, Dr. Siegel breaks down his strongest parenting techniques so that you can apply them in your own life … whether you're a parent or not.
A GEM of a parenting technique called "connect and redirect" (this makes my life so much easier as a parent—and you can apply it to any relationship)
A simple technique for grounding and soothing yourself when you're feeling overwhelmed (I use this during frantic workdays and it helps me feel super chill—no matter what's going on!)
The fundamentals of attachment science (this is the KEY to understanding your behavior in relationships)
What the four Ss are, and how you can use them to self-soothe at any moment
On the day I recorded this episode of the Dear Gabby podcast, I was in the middle of launching Happy Days. I'd appeared on four podcasts that day alone, and I was starting to feel overwhelmed.
Using techniques I'd learned from Dr. Siegel's work, I was able to connect to my feelings of being overwhelmed and help them settle. I tuned in to my feelings and asked the overwhelmed parts of myself what they needed.
a beautiful thing
The most beautiful thing happened after that. I took a short rest on a heated mat. I spent some time playing with my kitten, and used a soothing heart-hold technique that I share in Happy Days.
After I'd taken the time to honor my needs, I was able to reconnect with my adult-resourced Self. I walked into my recording booth feeling calm, curious, connected and compassionate. In the end, I was able to show up for this Big Talk as my highest self!

I want to share the heart-hold technique with you here, so that you can use it any time to return to a state of calm. This is on page 171 of Happy Days:
Heart hold:
Place your right hand on your belly and left hand on your heart. Breathe in deeply, and exhale completely. Notice peace and relief set in. I use this hold when I'm meditating or before I go to sleep at night. When I was suffering with postpartum anxiety, this hold was my savior to calm my anxiety and connect to my body.

-Happy Days, Page 171
I hope this episode of the Dear Gabby podcast serves you in all your relationships … especially the one you have with yourself.
And I hope you walk away with hope: it is possible to overcome your childhood wounds, and to thrive!
get more gabby
The following are helpful resources and books I mention within the episode.
I can be your coach—anytime, anywhere!
My NEW gabby coaching app makes personal growth easy to access. Get weekly lessons, guided meditations and proven manifesting methods to enhance every area of your life—on your own terms, at your own pace, all in one place.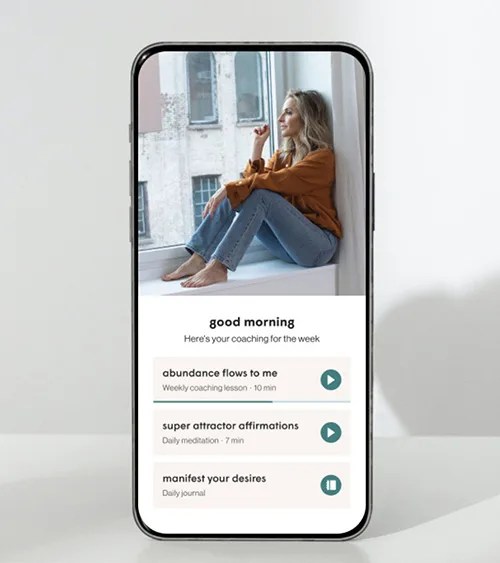 Transform your life in just 10 minutes a day with:
Weekly coaching with practical tools that will instantly improve your life
Quick access to 200+ meditations, affirmations, prompts, lessons and more
️️Quarterly challenges to release old patterns and jumpstart new habits
On-demand access to my best motivational talks
I'll be your coach to help you manifest your desires and live with an unshakeable sense of inner peace.
disclaimer
This podcast is intended to educate, inspire, and support you on your personal journey towards inner peace. I am not a psychologist or a medical doctor and do not offer any professional health or medical advice. If you are suffering from any psychological or medical conditions, please seek help from a qualified health professional.