Have you ever been so inspired by someone that you wish you could get coffee and ask them a million questions? Well, that's the intention of Dear Gabby Big Talk. I made a list of all the people I'd LOVE to meet for coffee and I invited them on the show for a deep, spiritual conversation. There's no small talk, ONLY big talk! For my first Big Talk guest, I had a beautiful conversation with award-winning producer, New York Times bestselling author and renowned spiritual speaker DeVon Franklin.
During the darkest days of the pandemic DeVon was a shining light for me. Every week he'd share prayers on his Instagram feed. His prayers got me through the scariest moments. Whenever I felt out of control or spiritually disconnected, I'd turn to DeVon's Instagram prayers and his words would alchemize my fears.
DeVon has a super impressive resume, but here on Dear Gabby Big Talk I care way less about credentials and focus on the person's soul! In fact, the less you know about how famous and accomplished these folks are, the better. I want you to hear their authentic truth and let their stories remind you of your own resilience.
We sat down to discuss everything from success and relationships to finding our authentic self.
How faith can be a driving force for career success
How the COVID-19 pandemic helped us change our patterns and lead with greater authenticity and purpose
Ways to grow and thrive during difficult times
How to learn what is your greatest trait and maximize it for ultimate success
How to channel the Universe to help you receive guidance
A beautiful prayer for those suffering at this time
What I love most about this episode is how DeVon teaches us that spirituality can be the driving force for success and joy.
no matter how hard life can get, we can always return to our spiritual faith for solutions and direction
get more gabby
DeVon Franklin is a media multi-hyphenate. As an award-winning producer, New York Times bestselling author and renowned motivational speaker, he has made a commitment to inspire people around the world through entertainment. DeVon is a force in media and has become a leading authority on inspiration, spiritual wellness and personal development.
I can be your coach—anytime, anywhere!
My NEW gabby coaching app makes personal growth easy to access. Get weekly lessons, guided meditations and proven manifesting methods to enhance every area of your life—on your own terms, at your own pace, all in one place.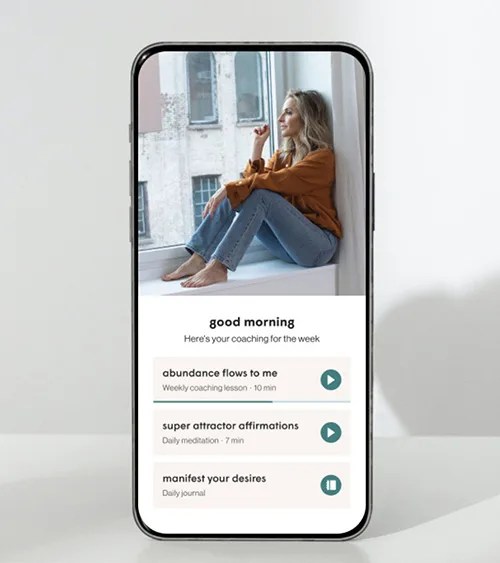 Transform your life in just 10 minutes a day with:
Weekly coaching with practical tools that will instantly improve your life
Quick access to 200+ meditations, affirmations, prompts, lessons and more
️️Quarterly challenges to release old patterns and jumpstart new habits
On-demand access to my best motivational talks
I'll be your coach to help you manifest your desires and live with an unshakeable sense of inner peace.
disclaimer
This podcast is intended to educate, inspire, and support you on your personal journey towards inner peace. I am not a psychologist or a medical doctor and do not offer any professional health or medical advice. If you are suffering from any psychological or medical conditions, please seek help from a qualified health professional.