Let's talk setting boundaries. I'll start with an example from my personal life.
Want to know what it's like to work for me?
I can tell you right now.
Every one of my current team members has said this to me at some point: "Gabby, you're super loving and kind. And at the same time, you have very clear boundaries in place."
It feels good to hear that. Because, trust me, it wasn't always this way!
I spent years being boundary-less in many of my relationships—especially in my work relationships. In the past, I had unclear or even nonexistent boundaries with the people I employed.
I would often find myself in situations where I would override my own instincts just to be accommodating … but I'd only end up disappointing people in the end.
Over time, I've learned that not speaking up, not creating clear boundaries, or doing something just to come off as "nice" isn't actually supportive to the other person involved. In fact, the more boundaries you set, the more supportive you can be.
So think of today's episode of the Dear Gabby podcast as a little Gabby kick in the ass for you. I'm going to teach you step-by-step how to set boundaries and why you need them!
setting boundaries
If you've landed on this page today, it's absolutely no accident. I'm almost certain that you, my friend, need to set some boundaries in your life. (Because, let's face it, we all do.)
You may be nodding your head in agreement right now … and you may also be a little uncomfortable!
Trust that this reaction is completely normal, and that today's episode of the Dear Gabby podcast will serve you greatly.
Often, when we think about setting boundaries, we think about assuming a kind of hardcore attitude.
We might picture speaking up for ourselves in a loud, assertive way. Or maybe we imagine calling up loved ones and rattling off a list of demands.
But did you know that setting boundaries can actually be a massive act of love?
boundaries of compassion
That's right! Boundaries can coexist with the energy of love and the frequency of compassion. In this episode of Dear Gabby, I'll tell you how.
The exact 4 steps you can take to set boundaries with love … including the "prep step" you CANNOT miss!
Why setting clear boundaries can be soothing—not hurtful!—for someone who's anxious
An exercise to instantly connect with your heart center (do this with me right now—as long as you're not driving …)
The #1 thing that holds us back from setting boundaries … and how to work through it
How to use your attachment style to create boundaries that will strengthen all your intimate relationships (don't know anything about attachment styles? Keep reading!)
your attachment style matters
As I write about in my book Happy Days: The Guided Path from Trauma to Profound Freedom and Inner Peace, most of us have one of three types of attachment style when it comes to relationships. Some of us are anxious attached, some of us are avoidant, and some of us are secure attached. 
Knowing your attachment style is KEY to cultivating love, connection and understanding. It will also help you set clear boundaries with love, and elevate your relationships in a major way. It may seem like setting boundaries can actually put distance between people in a relationship, but quite the opposite is true.
Understanding your attachment style is the first step to cultivating a lot more love (and a lot less drama!) in all your relationships.
Here's a quick overview of each style:
secure
Being securely attached means you're comfortable asking for what you need and sharing your feelings openly.You have high self-esteem and you enjoy intimate relationships.
anxious
Being anxiously attached means you're afraid of losing a relationship—even if that relationship is not right for you. Above all, people who are anxiously attached crave stability and security.
avoidant
Being avoidant attached means you shy away from closeness and deep emotional connection with others.You value your personal space and freedom and pride yourself on self-reliance—but this might come at a cost.
Check out this one-minute reel I made to further explain attachment styles:
get more gabby
Here are the 4 steps to creating boundaries with love, which I talk about in detail on today's Dear Gabby. Bookmark this page and come back to this guide any time you need to set a boundary. This takes practice, so be patient with yourself as you apply these steps.
1: Center into love.
2: Get crystal clear on the boundary you want to set, and with whom.
3: Let go of the other person's reaction.
4: Be patient.
I can be your coach—anytime, anywhere!
My NEW gabby coaching app makes personal growth easy to access. Get weekly lessons, guided meditations and proven manifesting methods to enhance every area of your life—on your own terms, at your own pace, all in one place.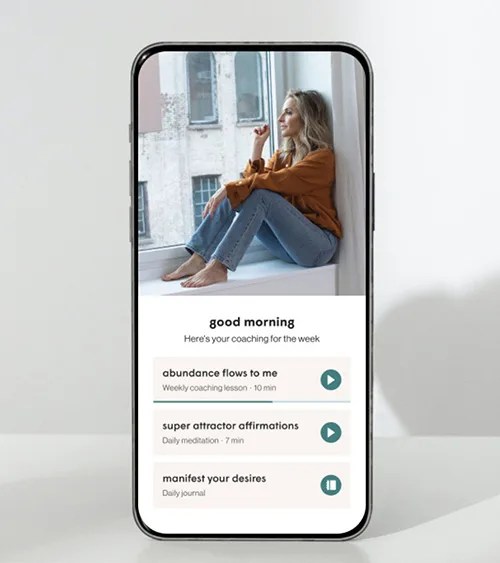 Transform your life in just 10 minutes a day with:
Weekly coaching with practical tools that will instantly improve your life
Quick access to 200+ meditations, affirmations, prompts, lessons and more
️️Quarterly challenges to release old patterns and jumpstart new habits
On-demand access to my best motivational talks
I'll be your coach to help you manifest your desires and live with an unshakeable sense of inner peace.
disclaimer
This podcast is intended to educate, inspire, and support you on your personal journey towards inner peace. I am not a psychologist or a medical doctor and do not offer any professional health or medical advice. If you are suffering from any psychological or medical conditions, please seek help from a qualified health professional.