how to boost confidence
If you ever wondered how some people can be so confident, so trusting of life and so comfortable in their body, the answer is that they have one thing in common: a strong spiritual foundation.
When we live without a strong spiritual foundation, we feel like a fish out of water, like we're flailing around. We feel like we need to control our circumstances to make things happen. We project fear onto the future because we don't want to recreate the past. We walk around with a sense of uncertainty all the time. Ultimately, we don't have a way to self-soothe or to settle ourselves into a surrendered, faithful state.
But when we cultivate a spiritual connection, that's when we can really begin to settle into a new level of faith, a new level of trust, a new level of confidence.
What is a spiritual connection? It's our ability to trust that there is a presence beyond the physical that is supporting our every move.

gabby
And it's the secret to true confidence.
Sounds awesome, right?
It doesn't matter if you've been on a spiritual path for years or if this is your first time dabbling in the spiritual space. That love, faith and support is available to you right now.
In this episode of Dear Gabby, each soul who joined us had a commitment to cultivate a deeper spiritual connection and a greater sense of confidence.
Amazing tools to deepen your spiritual connection
Ways to recognize if you're suffering from imposter syndrome
My steps for transforming fear into faith
The secret to confidence and how to apply it
My number one breath practice for instantly reducing stress
Enjoy the episode and stick around to the end to hear my guidance on how to break free from getting stuck in the drama and chaos and find your way to feeling good.
my method to stop the spiral of negative thoughts
Any time you're feeling anxious, uncomfortable, scared, stressed, angry, disappointed or frustrated … use this method!
Step 1
notice the thought
Ask yourself, "How do I feel right now?" Notice the negative thoughts or fear stories you're repeating.
Step 2
forgive the thought
Forgive yourself for being misaligned and celebrate your desire to shift. (I break this down in detail on the podcast.)
Answer this question: "What is the best-feeling thought I can find right now?" Then ask the Universe to guide you toward that thought.
In today's episode, I'll walk you through each of the 3 steps and explain why the second step, forgiving the thought, is the key to elevating your energy.
This Choose Again method is the very first method I teach in my book Super Attractor. Use it as often as you need to stop the spiral of negative thoughts, slow down your mental momentum, and bit by bit shift toward more positive and empowering thoughts.
Friends, I'm so glad you came here to Dear Gabby and are doing whatever it takes to build your spiritual foundation. You're showing up. You're doing the work to cultivate your spiritual connection—and it's so freaking beautiful!
Celebrate it. Commit to it. Make it something that you're deeply, deeply proud of doing. Because with that spiritual connection, you can trust the Universe no matter what.
Press play now and build your spiritual foundation, starting with this episode of Dear Gabby.
get more gabby
I can be your coach—anytime, anywhere!
My NEW gabby coaching membership makes personal growth easy to access. Get weekly lessons, guided meditations and proven manifesting methods to enhance every area of your life—all inside the exclusive member's app.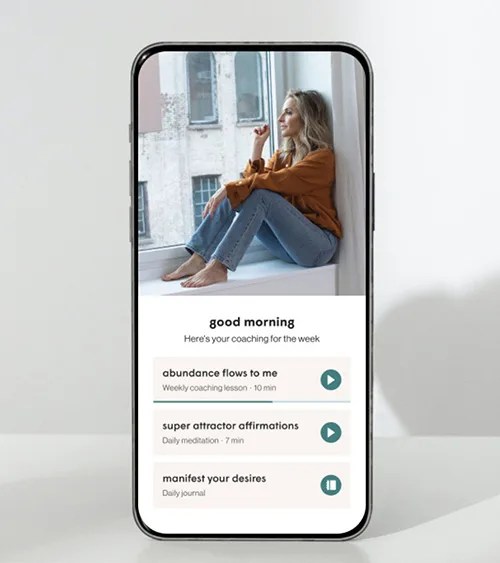 Transform your life in just 10 minutes a day with:
Weekly coaching with practical tools that will instantly improve your life
Quick access to 200+ meditations, affirmations, prompts, lessons and more
️️Quarterly challenges to release old patterns and jumpstart new habits
On-demand access to my best motivational talks
I'll be your coach to help you manifest your desires and live with an unshakeable sense of inner peace.
disclaimer
This podcast is intended to educate, inspire, and support you on your personal journey towards inner peace. I am not a psychologist or a medical doctor and do not offer any professional health or medical advice. If you are suffering from any psychological or medical conditions, please seek help from a qualified health professional.