This episode of Dear Gabby is deeply important to me. It's about how to overcome addiction.
I recently celebrated 18 years of sobriety. My sober date, October 2, 2005, was the turning point in my life. It was the catalyst for great change. When I decided to get sober, I chose life. I chose purpose, freedom and inner peace. 
And I made a massive choice to be of service.
addiction, recovery, and spirituality
I recorded this show to give people hope that my story of recovery can be theirs. I want anyone who's struggling with addiction to know that they are not alone. There is a way out. And there is hope, starting with the heartfelt guidance I share in Dear Gabby.
Think of this show as a message of hope from me to you, delivered with all my love.
I want to be very clear: This message isn't just for anyone who is struggling with drugs and alcohol. Addictions are rampant in our world today. If you're addicted to sugar, social media, love, sex, work, worry or anything else that distracts you from being present with your feelings, this is for you.
In this show, I share how to overcome addiction using a gentle, two-step method. I have found that addiction, recovery and spirituality go hand-in-hand, and this practice incorporates all three to provide great relief.
how to overcome addiction using spiritual tools
Here are the steps you can take to replace an addictive habit with a spiritual practice. I've found this two-pronged method particularly helpful.
Step 1
practice abstinence
First, take away the permission-giving thoughts that are fueling your addiction. When I quit drinking, I didn't give myself permission to have one or two glasses of wine a week. I knew I couldn't drink casually. This abstinence helped me tremendously in my recovery.
Step 2
lean into a spiritual practice
When you no longer have permission to reach for your drug of choice, you'll need to put a habit in place to replace drinking, texting, or whatever it is you're addicted to. When you feel the urge to turn to your vice, choose a spiritual practice instead. You may want to meditate, journal about all your frustration and fear (I call this practice Rage on the Page, and I explain it on Dear Gabby today), or take a walk. This will help you redirect your neural pathways and get to the root cause of the addiction.
honor all your parts
As you work to overcome addictive patterns, it might bring you relief to know that your addictions aren't bad. Your addictive parts have been working hard to keep you from tapping into feelings that you aren't ready to touch.
In Internal Family Systems (IFS) therapy, these parts are called the "firefighters." They are protector parts, and I describe them in my latest book, Happy Days. On page 148, I write:
Our addictive behavior doesn't make us horrible people; instead, addictive protector parts can be seen as doing their best to keep us safe. Getting high on an intensely emotional relationship; numbing out with sex, drugs, food, or alcohol; or using work to avoid feelings are among some of the tactics for anesthetizing the exiled parts. Becoming abstinent from addictive patterns is only one step toward recovery. The true resolution begins with accepting that protectors were doing the best they could. Healing for these parts and their addictions comes through devotional therapeutic support, possibly 12-step recovery, and IFS therapy to gently address the exiles and the extreme protector roles.

I recognize as a recovering addict that living in an addictive state was destructive to me and to others, but today I can forgive myself for the past by acknowledging the important role my addiction played in keeping me safe when I had no other resources to rely on. When addiction can be respected as a form of protection, we can forgive ourselves for the past—and that will clear space for healing in the present.

— Happy Days, Chapter 7, Page 148
allow yourself to feel gratitude
As hard as it may seem, I welcome you to feel some gratitude for the parts of you that have been keeping you stuck in addiction. These parts served an important role—but it's time for them to step aside.
You may even want to say this prayer as you thank your addictive parts and tell them that you are safe without them:
Thank you, addiction, for teaching me what I still need to heal. I am now ready to begin the process of facing my fears, and I have the spiritual tools I need to carry me through. With great tenderness and respect, I invite you to step aside so that I can continue my healing journey. Thank you for the work you've done. The Universe has my back from here.
my message to you
The reason we're addicted to anything is that we're running from feelings. But feel me making this promise to you right now:
You don't have to run. You can befriend those feelings. You can care for those feelings. You can show up for those feelings. And when you show up for them, there's nothing left to run from.
Thank you for listening to this deeply personal episode of Dear Gabby. I hope it serves you.
get more gabby
The following are helpful resources and books I mention in the episode.
I can be your coach—anytime, anywhere!
My NEW gabby coaching app makes personal growth easy to access. Get weekly lessons, guided meditations and proven manifesting methods to enhance every area of your life—on your own terms, at your own pace, all in one place.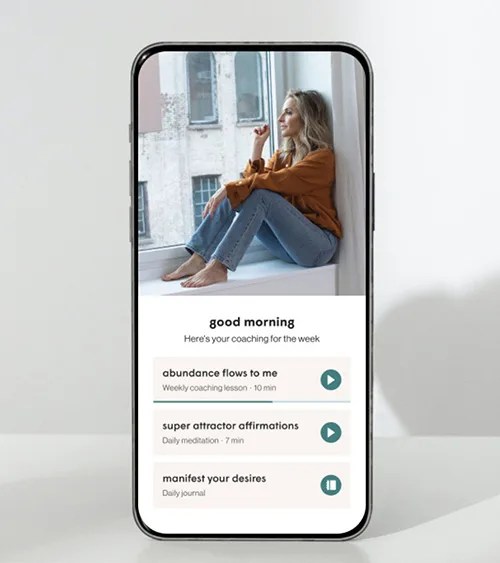 Transform your life in just 10 minutes a day with:
Weekly coaching with practical tools that will instantly improve your life
Quick access to 200+ meditations, affirmations, prompts, lessons and more
️️Quarterly challenges to release old patterns and jumpstart new habits
On-demand access to my best motivational talks
I'll be your coach to help you manifest your desires and live with an unshakeable sense of inner peace.
disclaimer
This podcast is intended to educate, inspire, and support you on your personal journey towards inner peace. I am not a psychologist or a medical doctor and do not offer any professional health or medical advice. If you are suffering from any psychological or medical conditions, please seek help from a qualified health professional.