"There's tightness and defensiveness in my stomach. My jaw is tight. She wants to get out."
Yep, I went there. I had a live, on-air therapy session with Dr. Richard (Dick) Schwartz, founder of Internal Family Systems therapy. And you get to listen in.
This took a lot of vulnerability, even for me, who's written 9 books pouring my heart out to you.
Dick is a friend, but more than that, he's my hero. No exaggeration. His therapeutic model, Internal Family Systems, transformed my life, and I'm so grateful for him. We had an amazing conversation on my Dear Gabby Big Talk, but there was SO much to cover that we just kept talking, as we often do.
what is internal family systems therapy?
I recognize that Internal Family Systems can be a little tricky to understand when you encounter it for the first time, and we decided the best way to help people get more comfortable with it was to do a demonstration.
I'm calling it a demo, but this wasn't staged at all; it was incredibly real. I identified one of my protector parts, or a part of me that feels troubled and burdened. Dick took me through an Internal Family Systems therapy session, and it was as profound as these sessions always are for me.
in this bonus episode I'll share:
An authentic example of an Internal Family Systems therapy session
How Dick and I determined what that exiled part of me needed to heal
The moment that made me cry
what does it feel like to do internal family systems therapy?
During our on-air session, I was really intentional about sharing exactly what I felt in the moment.
"There's tightness and defensiveness in my stomach."
"My jaw is tight."
"She wants to get out."
(Yeah, that last part sounds terrifying if you don't have the context. Trust me, it wasn't scary at all; it was powerful and healing!)
By the end, I was in tears.
Not tears of fear or exhaustion, but of relief and gratitude. My jaw relaxed. I literally yawned. I felt free, and more specifically, the former protector part of me felt free. I was filled with compassion and connection.
Can you really feel a difference after one session of Internal Family Systems therapy?
In a word, yes. To be clear, the full therapeutic process is ongoing. Dick says he continues to do work on himself to get and stay in alignment, unblending himself from his exiled parts and helping him step into his Self (the calm, connected, conscious, compassionate version of him).
And I definitely continue to do work with Internal Family Systems therapy for the same reason. But you don't have to wait for weeks or months or years to feel a difference. You can make a major impact on a protector part of yourself in a single session, as I did during this bonus episode.
I started by saying, "I have a part that feels a little hopeless about wanting to feel seen and heard."
I finished by saying:
These are my boundaries. Take it or leave it.

gabby
"OMG, that feels really good." (That's a direct quote.)
You do not want to miss this episode!
I practice Internal Family Systems therapy to take care of myself, but I did it on-air to take care of you. This is for you, and I want you to hear it so much. I hope it inspires you to take the steps you need to heal. You deserve it.
get more gabby
Richard C. Schwartz, PhD, is the creator of Internal Family Systems therapy, a highly effective, evidence-based therapeutic model that de-pathologizes the multi-part personality. His IFS Institute offers training for professionals and the general public. He is currently on the faculty of Harvard Medical School, and has published five books, including No Bad Parts: Healing Trauma and Restoring Wholeness with the Internal Family Systems Model. Dick lives with his wife, Jeanne, near Chicago, close to his three daughters and his growing number of grandchildren.
Get my most impactful meditation to release stress and calm anxiety:
• Soothing Anxiety Guided Meditation
This 17-minute meditation will help you calm your mind, release tension and cultivate a sense of inner peace and stillness. Listen now to quiet your thoughts and connect with the present moment.
Click here to get your free anxiety meditation.
I talk a lot about Internal Family Systems therapy in my book Happy Days. Check it out for more on the practice, including my own experience with it and the impact it has had on my life.
Listen to my other podcast episodes about Internal Family Systems therapy: The Therapy that Changed My Life, my first Big Talk with Dick Schwartz, IFS Parts Work, and IFS Meditation.
I can be your coach—anytime, anywhere!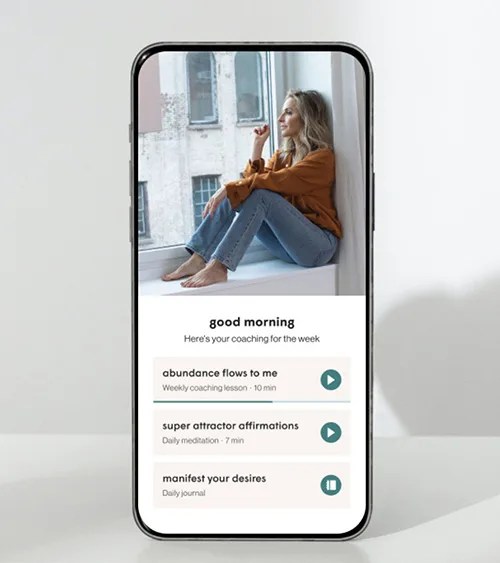 Want even more support? My NEW gabby coaching app makes personal growth easy to access. Get weekly lessons, guided meditations and proven manifesting methods to enhance every area of your life—on your own terms, at your own pace, all in one place. I'll be your coach to help you manifest your desires and live with an unshakeable sense of inner peace.
disclaimer
This podcast is intended to educate, inspire, and support you on your personal journey towards inner peace. I am not a psychologist or a medical doctor and do not offer any professional health or medical advice. If you are suffering from any psychological or medical conditions, please seek help from a qualified health professional.