We all need to remember how to be kind. Yep, even self-help author Gabby Bernstein needs a reminder from time to time!
Hours before I gave this live talk about connection and love, I gave major attitude to the concierge at my London hotel!

But thanks to my spiritual practice, I realigned with love fast. And in this awesome talk from 2017, I'll teach you how to do the same.
spread the love
This talk will inspire you to get more connected to others and be a positive influence in the world.
This may sound like a lofty goal.
But it's actually quite simple!
I have relied on 4 practical steps to create a ripple effect of love in this world, and you can use them too!
But first, I want to tell you about a super cool new offering I have, because doors are closing soon …
My NEW Relationship Challenge starts on October 1!
relationship challenge
This challenge is for anyone who wants to release insecurity, set healthy boundaries and open their heart to deeper connection in ALL RELATIONSHIPS.
In this 14-day challenge you will get:
Healing meditations to release insecurity and judgment in relationships
Spiritual exercises to honor your feelings and improve communication
Proven techniques to create healthy boundaries and protect your energy
Gentle methods to ease anxiety and develop deeper levels of trust and acceptance
You can find more connection in your life … and I'll coach you every step of the way inside the Relationship Challenge!
The Relationship Challenge is available exclusively through my new Gabby coaching app. See below for more info!
4 methods for bringing peace with you wherever you go
You can feel more connected to others starting today. In this Dear Gabby I share my 4-step method for feeling connection in a disconnected world.
Step 1
practice the holy instant
This lesson from A Course in Miracles will teach you how to see through the lens of love rather than the lens of fear. Lean on it to turn an ancient hatred into a holy love.
Step 2
recognize that the other person is you
By practicing this principle, you'll learn how to dissolve boundaries with love, and feel genuine oneness with others … even with people who trigger you the most
Step 3
see someone for the first time
The experience of seeing someone for the first time is one of deep relief. In this talk, I share how I used this principle to dramatically transform my relationship with my father.
Step 4
remember that kindness created you kind
The fact is, we don't have to learn how to be kind. We just have to remember. I'll teach you how to realign with your true love nature any time you fall out of alignment.
You may be thinking, "This all sounds nice, Gabby. But how can I be kind all the time? What if someone's rude to me? Should I just sit there and take it?"
Well, here's my answer: When you learn how to be kind consistently, you'll realize that kindness is love … self-love! That's right—you can practice kindness for purely selfish reasons!

The second you start practicing the principles I share in this talk, you'll start to feel really good. I've seen this happen in my own life.
an example of how to be kind
I was once on Martha's Vineyard with my family. We had ordered oysters at a touristy restaurant, and were waiting for our food on the front porch.
My nephew and I were playing around with Snapchat filters when suddenly we heard a woman bark:
"No phones on the porch!"
I turned around to look at the woman, who appeared to be the owner. My first impulse was to snap back at her!
Who the hell was she to tell us what to do? Why did she interrupt my bonding time with my nephew?
I chose differently. Rooting back into my true love nature, I looked her in the eye and said, "Thank you!"
I could see her soften.
"What a good idea!" I continued. "We live in such a digital age. We're all on our phones all the time. Why do we need our phones on the beach?"
Well, this formerly pissed-off woman ended up fist-bumping me!
a holy moment
This was a holy moment!
By practicing kindness, I had dissolved all boundaries between the oyster-shack owner and me.
I'd even given my nephew a beautiful lesson in how to be kind.
This incident on Martha's Vineyard may sound small, or even insignificant. But here's the truth: A small moment of kindness can change your life.
When you change the patterns of how you treat others, you start to align with the truth of who you are.

gabby
When you realign with that truth, you are in the absence of resistance. And in the absence of resistance, you become a magnet for everything you desire!
I hope this episode of Dear Gabby creates a ripple effect of love in your life.
get more gabby
The following are helpful resources and books I mention in the episode.
In my book Judgment Detox, you'll learn how to release the beliefs that hold you back from living a better life.
I can be your coach—anytime, anywhere!
My NEW gabby coaching app makes personal growth easy to access. Get weekly lessons, guided meditations and proven manifesting methods to enhance every area of your life—on your own terms, at your own pace, all in one place.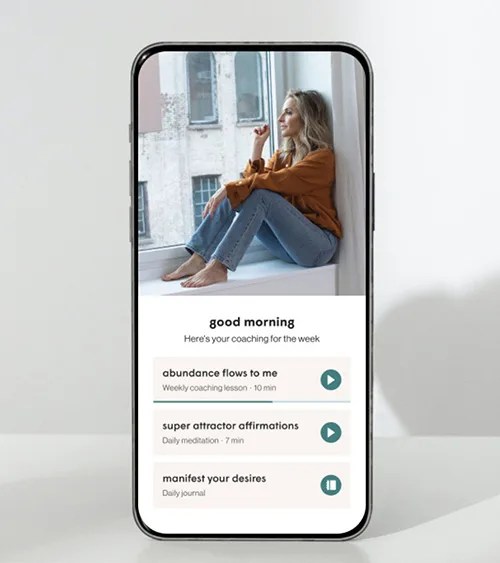 Transform your life in just 10 minutes a day with:
Weekly coaching with practical tools that will instantly improve your life
Quick access to 200+ meditations, affirmations, prompts, lessons and more
️️Quarterly challenges to release old patterns and jumpstart new habits
On-demand access to my best motivational talks
I'll be your coach to help you manifest your desires and live with an unshakeable sense of inner peace.
disclaimer
This podcast is intended to educate, inspire, and support you on your personal journey towards inner peace. I am not a psychologist or a medical doctor and do not offer any professional health or medical advice. If you are suffering from any psychological or medical conditions, please seek help from a qualified health professional.