my review of the institute for integrative nutrition (IIN) health coach certification program
Are you interested in becoming a health coach? In this blog post, I share my review of the Institute for Integrative Nutrition (IIN)'s Health Coach Certification Program. I believe in this program and I've seen many of my friends build thriving careers as health coaches after graduating from IIN. Read on for my review…
my introduction to IIN
In 2005 I began my career in spirituality and personal growth. I led talks throughout NYC on topics like manifesting, wellness and meditation. At the time the wellness conversation wasn't a trend. No one was drinking green juice or eating gluten-free, and meditation was something you might do once in a while in a yoga class.
As the years passed I started to notice a new zeitgeist. My coaching workshops grew larger and my lectures were standing-room-only. There was clearly a deep desire for self-care and personal growth.
Alongside the spiritual trend, I started to notice a lot of my audience members leaving their jobs to become health coaches. They were getting super passionate about their own health and well-being, as health consciousness was on the rise. These women were finding that through their own journey of healing they were being guided to heal others and make it their profession.
And there was one place they all studied: The Institute for Integrative Nutrition (IIN).
Now IIN is opening up the entire first module of the Health Coach Training Program to give you a taste of what it's all about!
I was blown away by the confident, health-conscious, business-savvy women who were graduating from this program.
Since so many of my audience members, readers and students were graduates of IIN I knew it was time for me to check out the program for myself. I met the IIN team and founder and fell in love with their program. I even agreed to be a guest teacher for one of their courses.
Here's a shot of me teaching my Mindful Publicity workshop in the IIN curriculum.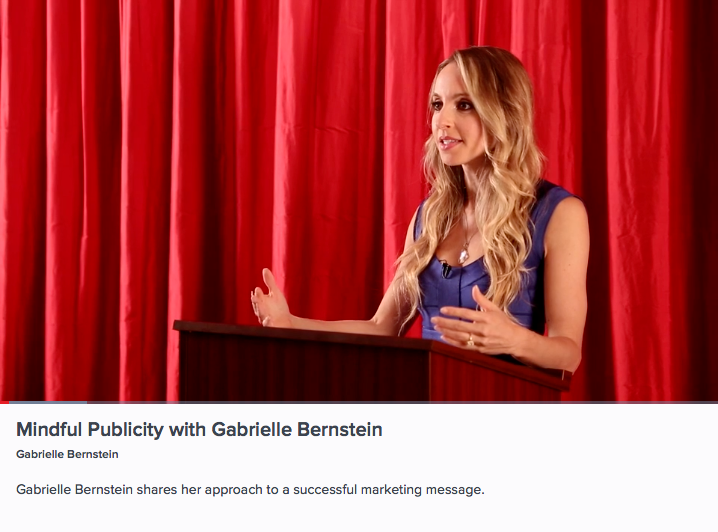 IIN helps you make health and wellness a career
What I loved most about this program was that it was giving people an opportunity to turn their passion for health and wellness into their profession.
My friend Jenny Sansouci took the IIN training and shortly after she left her job to become a full-time health coach and wellness blogger at age 28.
Jenny has been self-employed ever since. She's built an awesome business and lifestyle brand that allows her to travel all over the world reporting on new health trends!
My other spiritual sister Robyn Youkilis took the IIN training and left her full-time career at age 29 to start her own health coaching business.
Today Robyn has written two awesome books on gut health, Go with Your Gut and Thin from Within. And she has a thriving health coaching business.
Robyn is a rock star in the wellness world and owes all of this to her training at IIN.
YetAnd another amazing example of a trailblazing IIN grad is my friend Arielle Haspel aka @BeWellWithArielle.
Arielle turned her Institute for Integrative Nutrition degree into a super-successful wellness business.
Arielle landed her own cooking show on Glamour.com, built a successful super-savvy brand online and she opened a healthy Chinese restaurant in 2019 called Lucky Lee's!
is IIN for you?
There are a few common qualities that all of these women had before they signed up for IIN:
They're passionate about health and wellness.
Their health journey healed them and inspired them to heal others.
They wanted to leave the corporate grind and have their own wellness-based business.
They wanted to be of service to others in the wellness industry.
They wanted to create a fulfilling new career doing something they love.
They longed for career flexibility.
Do you get really nerdy about the latest superfood trend or the easiest way to get more greens into your diet? And would you love to make your passion for wellness your career?
If you're thinking about a career in wellness, then check this out…
IIN is opening up the entire first module of the Health Coach Training Program to give you a taste of what it's all about!
why IIN?
If you're thinking, "Okay, Gab, this sounds pretty cool … but why IIN?" Just read on…
why I love IIN
It covers more than 100 dietary theories. You'll study everything from macrobiotics to veganism. You'll also be your first client and discover what works best for you so that you can help others find their best fit.
World-renowned health experts teach at IIN (including me). More than 100 of the best teachers in the world lead classes at IIN, including my dear friend Deepak Chopra, Andrew Weil and Mark Hyman, plus inspiring doctors and researchers who are leading the global shift toward wholesome health. They will help you explore what it means to live a holistic life!
You learn essential coaching & business skills. No other nutrition school on the planet will help you actually launch a business! You'll learn how to define your target audience, attract clients, market your brand, sell your awesome services and create an authentic business model.
You can learn anytime, anywhere. You can access the Learning Center from your smartphone, tablet or laptop.
Incredible support & encouragement. When you attend IIN you can connect and engage with an amazing community that will help you stay motivated.
And most of all I've seen IIN give my best friends the greatest gift of all: the freedom to do what they love, serve others and be abundant! Check out Robyn teaching at Wanderlust in L.A.!!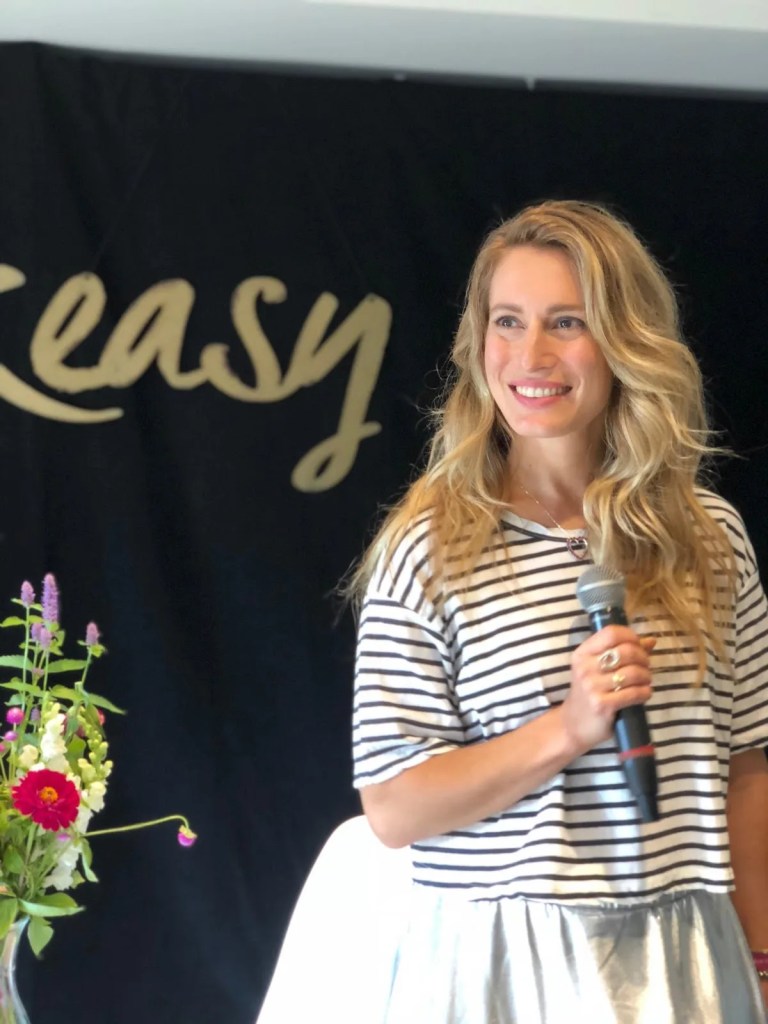 Another awesome IIN alumni example is a woman named Mary Jo, who's from Buffalo, New York. She says:
I enrolled at the Institute for Integrative Nutrition with no money to pay for school and no family support. I struggled with food and weight issues for 23 years and was scared to even try this new approach to nutrition and life. But from the day that I enrolled, I received support, guidance and encouragement like I've never experienced before in my life. Within four months of attending the school I had several clients and was learning and earning. And within one year of graduation I now earn in one hour what I made in an entire day's work at my traditional full-time day job. I loved the school experience and truly believe that if you have any sort of unfulfilled dream that is waiting to be realized, the Institute can help you to make it a reality!
IIN is the real deal
The school has trained more than 100,000 people from all over the world to become Health Coaches through its online Health Coach Training Program, which takes only one year. One of my favorite things about the program, aside from all the incredible nutrition theories you learn, is how flexible it is.
IIN's Learning Center is totally digital, so whether you're on your way to work, jogging at the gym, or in between clients, the program easily fits into your life.
I'm proud to be one of the guest teachers in the training, and countless Super Attractors Spirit Junkies have graduated from its program.
If you're ready to take your personal health and happiness to the next level, start a career in the wellness field, or strengthen your current career in wellness, this is THE program for you!
And since I'm a good friend of IIN, you can experience a FREE CLASS to learn what the program is all about!
have questions about IIN? i have answers!
There are plenty of programs to certify people as health coaches. Why IIN?
I clearly love IIN, but you might be wondering if it's the best fit for you.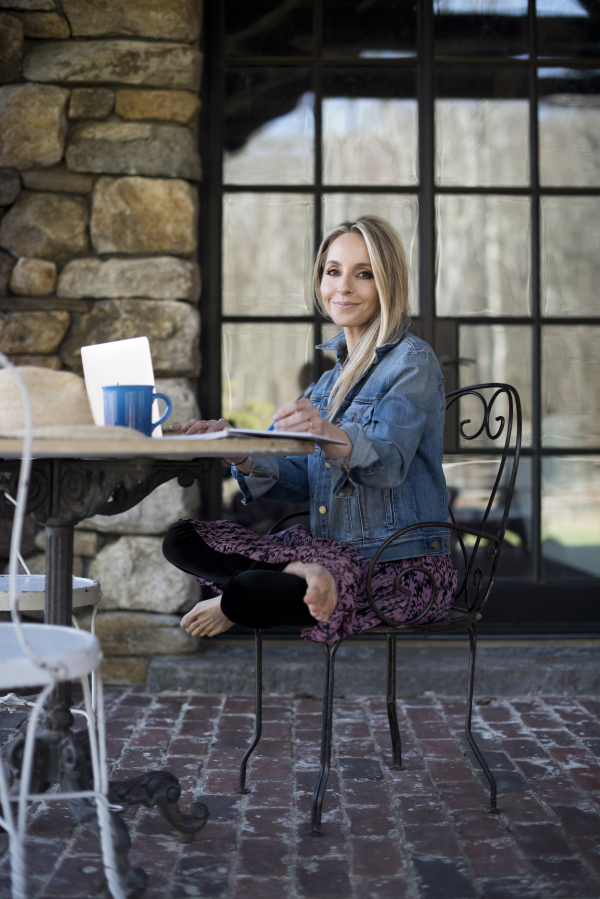 So, I'm going to be completely honest and transparent with you about why I think their program truly is the best, and why I recommend their program over others.
First and foremost, they've been doing this for more than 25 years. Almost 60% of the curriculum is taught by leading experts in the field of nutrition. They are the pioneers for new ideas, theories and direction in nutrition today.
Are there other programs out there teaching great stuff? Of course! But none are as comprehensive and in-depth as IIN.
IIN includes business training!
One element I really love about IIN is that business training is included. They call it "your business in a box." Even if you don't think of yourself as an entrepreneur at all yet, this program can help you to develop a successful business.
As an IIN student, you'll get all the marketing tools, business tools and support to help you build a practice — including a free website, business cards, forms and contracts. PLUS, most students earn their tuition back from seeing paying clients before they even graduate. Amazing, right?
I believe IIN is one of a kind. No other program has been around for 25 years and has more than 100 visiting teachers in health, wellness, business and marketing.
But one of the absolute best things is the friendships I've seen created during and after the program. There are 100,000+ students and graduates in 150 countries around the world, and it's through this community that you can really find your niche and calling.
One other thing that I have to mention is their work in Washington. IIN is working tirelessly for the rights of Health Coaches and citizens of our country to ensure everyone has a right to good health.
what does IIN cost?
Tuition for the Health Coach Training program is $6,795 and includes everything needed for the course.
And here's something cool: Mention my name when you enroll and you'll get up to $2,350 off tuition!
IIN also offers personalized payment plans to help you balance your finances as you pursue your dream of becoming a Health Coach.
what is included in the cost of tuition? Is there are additional cost for materials?
All of your materials are included in the cost of tuition and are all online in digital form. IIN provides Part of what IIN does is provide you everything you need in order to make your year with IIN as successful as possible.
You get:
Access to the Online Learning Center
Your own personalized website
Marketing material templates (like brochures and business cards) that you can customize for your business
Client materials to help you start your practice (like handouts and session outlines)
5 online Fundamental Classes (they start right when you enroll)
Pre-course group calls and monthly course check-in calls. These calls are different from coaching circle calls and not mandatory or part of the graduation requirements. All calls are recorded and saved in the connect section of the Learning Center.
24-hour access to the Learning Center and a discussion forum where you can stay connected to the school and your peers
Group coaching circles with your own personal health coach
Access to your class Facebook group
The dietary theory spectrum
Exclusive community-building webinars
is IIN accredited?
IIN is recognized by the New York State Department of Education and its course has been evaluated by the National College Credit Recommendation Service for up to 40 college credit equivalencies. IIN's program can be used for credits toward a bachelor's degree at many schools across the country or toward a master's degree at some schools as well.
IIN also has a special relationship with the IAHC, the International Association for Health Coaches, so after you graduate you can receive an additional certificate to formalize your credentials.
what will I be able to do at the end of the health coach training program?
What can't you do!? As a graduate you will be able to:
Recruit clients to your coaching practice
Determine life and health goals
Design action plans to achieve life and health goals
Assess progress in achieving life and health goals
Create practical applications of integrative health concepts
Teach IIN key concepts including primary food, secondary food, crowding out, self-care, mind-body connection, life balance and bio-individuality
Facilitate improvement in quality of life
Check out some of IIN's successful graduates and what they're doing as Integrative Nutrition Health Coaches!
They do everything:
One-on-one coaching
Group coaching
Write books
Launch online businesses
Appear on TV, radio and magazines
Host podcasts
Work as chefs
Work alongside functional medicine doctors, chiropractors and massage therapists
Start healthy food products
what are the graduation requirements?
Complete 6 Health Histories
Pass 2 out of 4 tests
Attend 4 of 6 Coaching Circle sessions with your own Integrative Nutrition Health Coach and small group of classmates
how much time do I need to dedicate to the course?
The majority of IIN students are busy balancing work and family, so the curriculum is designed to fit into a busy schedule. New course information, broken into weekly modules, is released every week, totaling 40 modules. After every 10 modules, there will be a test with a two-week window to complete, and during this time no new module will be released. New modules aren't released during major holidays. Students spend between 5 and 8 hours per week on the course.
The Health Coach Training Program was built for busy people! You can access the program on a smartphone, desktop or tablet so you can learn anytime, anywhere!
what if I miss a week or have a vacation planned?
That's okay! Modules will remain open and you can catch up if you need to take a week or two off.
what elements are covered in the business portion of IIN's curriculum?
Effective time management and goal setting
Determining your target market
Business basics and entrepreneurship
Your elevator speech
Attracting ideal clients
Turning potential clients into paying clients
Marketing materials: business cards, newsletters, websites, press kits, testimonials
Teleclasses and online programs
Networking
Public speaking and workshops
Social media
Managing your finances
Corporate coaching and group programs
Referral building
Health coaching career options
6-month program and session logistics
Branding
Balancing your home life and work life
what topics are covered in the coaching portion of IIN's program?
You will learn HOW to coach — how to conduct initial Health History consultations and lead clients through a life-changing 6-month program.
Topics of the Coaching Skills Program include:
Ask key, high-mileage questions
Practice the art of beginner's mind, active listening and mirroring
Set effective goals for yourself and your clients
Learn to hold your clients accountable for their progress
Meet clients where they are, not where you want them to be
Coaching groups
Use online tools to build a virtual coaching practice
Communicate about diet, nutrition and a healthy lifestyle
how will I find clients?
You will learn how to develop a private practice during your year at IIN. When you finish the Health Coach Training Program you will be able to apply core skills in business, marketing, integrative health, holistic nutrition, coaching and personal development to establish, operate, market and sustain a health coaching practice.
Each course activity is an action step in the direction of developing your practice while transforming your own personal health.
does IIN cover environmental issues and sustainability?
Beyond personal health, IIN teaches how food choices impact the sustainability of the world. IIN sheds light on issues such as the use of pesticides and bioengineering, global warming, deforestation, water and air pollution, and animal welfare.
I'm not sure if I'm ready to enroll-what's a good next step?
Set up a call with an Admissions Representative by calling 877-733-1520 or email [email protected] and let them know Gabby sent you! Even if you're not ready to commit, they can discuss your goals in studying health and wellness.
why i'm behind the institute for integrative nutrition
You know I'm passionate about helping people manifest their big visions and live authentic and fulfilling lives.
That's why I'm so behind The Institute for Integrative Nutrition.
IIN's mission is to make the world a happier, healthier place by training people to become hHealth cCoaches. I've seen the incredible impact through my own friends' successes!
IIN was talking about meditation, kale and kombucha long before they became trendy. My friends at IIN have known for a long time that food changes everything, from your relationships to your career, and that nourishing yourself is key.
For more than 25 years, the school has been training Health Coaches to transform their minds, bodies and souls while helping others do the same.
Check out this free sample class to get all the essential info about the Health Coach Training Program!
IIN graduates learn not only 100+ nutrition theories, but proven business and marketing strategies, too. They apply their knowledge in tons of ways, like one-on-one health coaching, public speaking/webinars/workshops, corporate wellness and more.
If you're ready to become a health coach, give me a shout-out in the comments! When we publicly claim our desire we put a lot of energy and momentum behind it!
Claim your commitment now by sharing your wellness journey in the comments. This simple step will bring you so much closer to serving the world.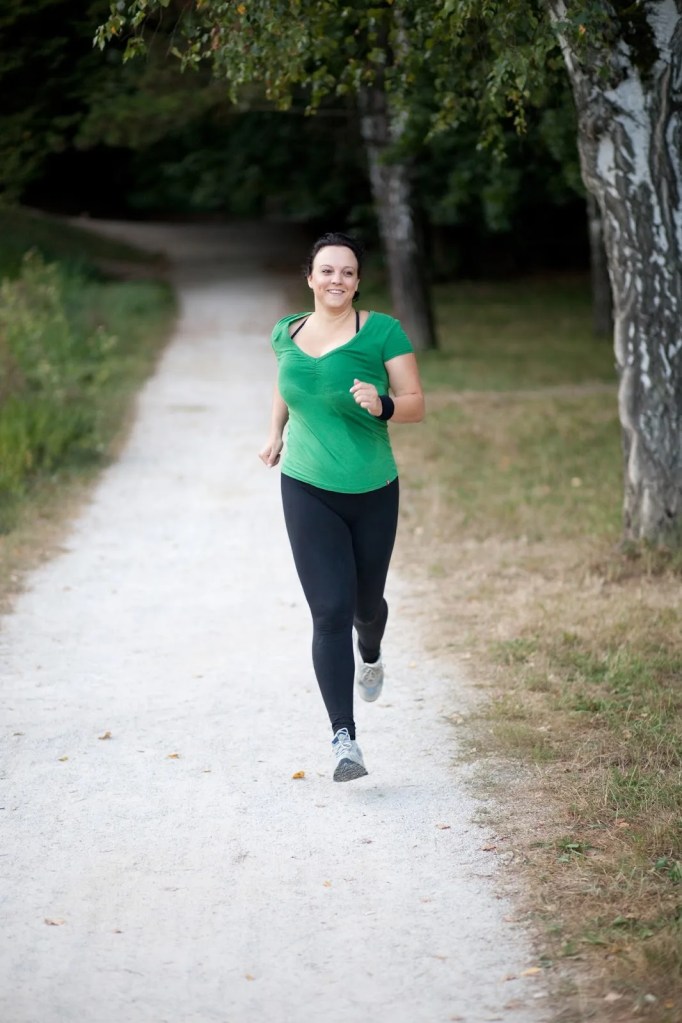 the world needs health coaches
Take a look at these stats and you'll understand why the world needs more health coaches!
Less than ⅛ of physician visits include any nutrition counseling
1 in 3 American adults have high blood pressure
Only 3% of our healthcare dollars are spent on preventing diseases
You can make the world a better place.
why i believe IIN is the best health coach certification
The training teaches you how to launch your new career within a year.
They have some of the best health teachers in the world featured in their nutrition program.
In addition to becoming an educated health coach you'll also learn coaching AND business skills — so you'll actually know how to make money helping people.
You can learn/access anytime, anywhere because the course is totally digital!
Reviews: 9.1 TrustScore on Trustpilot.
The training offers incredible support, encouragement, & a network of like-minded people.
Take advantage of IIN's free training. Register now for a free sample class to find out what the IIN is all about.
When you call 877-733-1520, they'll talk you through your interest in health and wellness, your goals, and whether the Health Coach Training Program is right for you. Or you can fill out an application here.
I followed my calling and today I live a life beyond my wildest dreams. When we say YES to our dream, we send a powerful energetic message. The Universe responds by hooking us up with everything we need for success, abundance and happiness!
I believe in IIN's mission and program. I believe the world needs passionate, educated Health Coaches who feel called to serve others.
If you're ready to start your Health Coaching journey (or just learn more about IIN's program), fill out the application or call 877-733-1520.
Don't forget to drop a comment below! Share your own health journey and declare your readiness to turn your passion for health and wellness into an abundant career!
I can be your coach—anytime, anywhere!
My NEW gabby coaching app makes personal growth easy to access. Get weekly lessons, guided meditations and proven manifesting methods to enhance every area of your life—on your own terms, at your own pace, all in one place.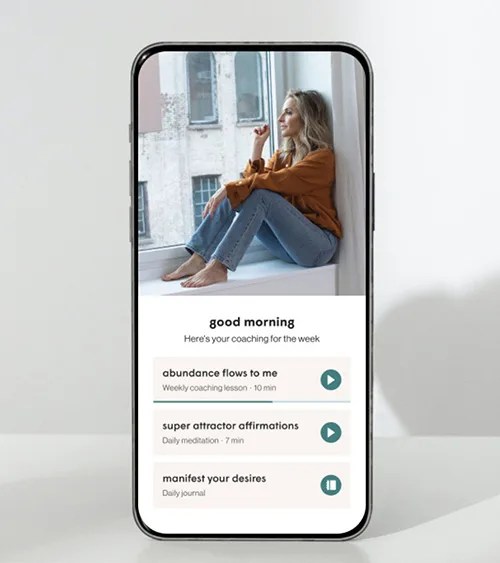 Transform your life in just 10 minutes a day with:
Weekly coaching with practical tools that will instantly improve your life
Quick access to 200+ meditations, affirmations, prompts, lessons and more
️️Quarterly challenges to release old patterns and jumpstart new habits
On-demand access to my best motivational talks
I'll be your coach to help you manifest your desires and live with an unshakeable sense of inner peace.