taking supplements is a form of self-care
Somewhere along the line, "self-care" became synonymous with spa days. And while I love a good spa day, I believe self-care extends to any action we take to honor our mental, physical and spiritual well-being—including how well we nourish our bodies.
For 20 years I struggled with food addiction, binge eating and body image issues. Thanks to my spiritual practice, today I'm free. I now make positive, mindful food choices and feel at peace.
One of those choices is to continually educate myself about nutrition. That's what led me to eat more protein, and specifically, to take an amino acid supplement.
the building blocks of our body
I've dug into the science and talked with nutrition experts, and here's what I've learned: Our bodies use amino acids, which are derived from protein, to rebuild various organs, such as our heart, liver and kidneys. If we don't consume enough quality protein, it can affect not just our physical fitness, but also our mental state, immune system functioning and longevity. It's more important than I realized.
Protein aids in natural metabolic turnover, allowing our bodies to be refreshed regularly. It's kind of miraculous, actually.
how protein can help you age better
Aging is a beautiful thing, if you have your health. One easy way to support health and longevity is to increase your protein intake. And starting at age 40, your protein requirement increases with every decade. Also, it's crucial to consume not just enough protein, but quality protein—this is a non-negotiable for me.
High-quality protein helps us build and maintain lean muscle mass, which is critical. Think about how important muscle strength is—it allows us to be functional and independent. As we age, we want to be able to lift our own grocery bags and walk without assistance for as long as possible. Protein helps with that.
commit to your consumption
Just as with a spiritual practice or learning a new skill, doing it regularly is a major driver of success. In this case, consuming a good quality amino acid supplement consistently can benefit health—and adding it to, say, a smoothie each day is one simple way to remember to do it daily.
while you're making that morning smoothie, express gratitude for all your body does to carry you through the day
In this episode, you'll learn:
So whether you're sipping on a high-protein smoothie or soaking your feet, I hope you do something kind for yourself—a form of self-care, whatever way you define it—while you listen to this episode.
weekly card reading
When I'm grateful for what I have, I can feel good along the way to what I desire.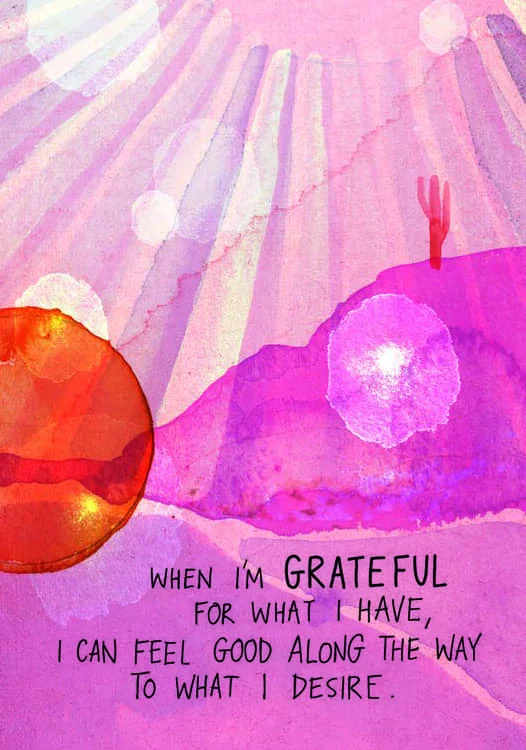 In a world overflowing with endless options, it's easy to forget what we already possess. When I'm in the energy of appreciation, I perceive challenges as pathways to growth. Feeling good and being content are not just the result of our circumstances, they are the byproducts of the conscious choices we make each and every day.
get more gabby
disclaimer
This podcast is intended to educate, inspire, and support you on your personal journey towards inner peace. I am not a psychologist or a medical doctor and do not offer any professional health or medical advice. If you are suffering from any psychological or medical conditions, please seek help from a qualified health professional.