I'm so excited to share my Big Talk with Melissa Wood-Teppeberg! Get ready for profound lessons on overcoming imposter syndrome and achieving massive success … from one of my most inspiring students EVER!
That's right, Melissa Wood is my student! (Excuse me for the mini-brag, but I am so pumped up by her success.) Over the years, Melissa has used my lessons to manifest a life beyond her wildest dreams.
Here's a snapshot of Melissa's life today: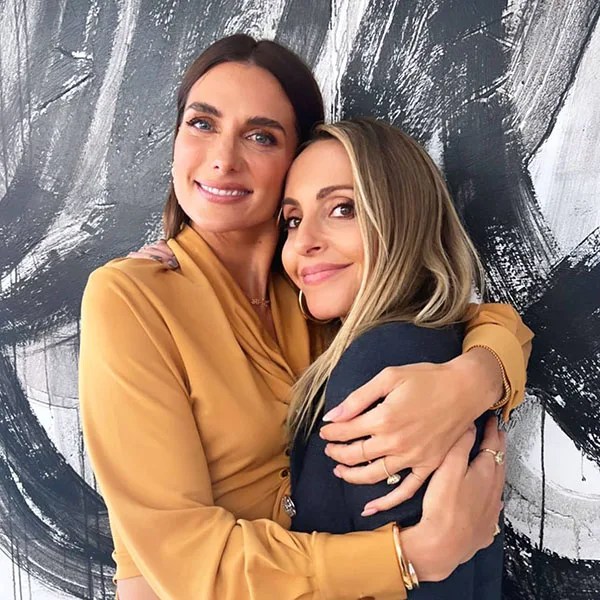 And Melissa has done tremendous inner work to soothe her anxiety, heal her wounded parts and become a role model for others struggling with their mental health.
You might be wondering, Gabby, what does that glowing wellness goddess know about overcoming imposter syndrome? It turns out, quite a bit.
As you'll hear through Melissa's brave telling of her story on today's Dear Gabby, things aren't always as they appear…
overcoming imposter syndrome
About eight years ago, Melissa bought a ticket to my live Spirit Junkie Masterclass. I remember the day well.
I often say that live speaking is my art. When I am on stage delivering spiritual messages, I feel lit from within. I can't help but dance … and sometimes I even sing! This is me at the Masterclass: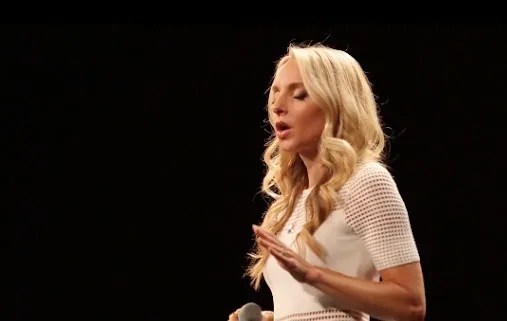 As I spoke, I felt as though angelic forces were working through me. I was in deep spiritual alignment.
As Melissa sat in the audience, she recalls thinking, "I wonder how it feels to feel that good about your body—to feel that good about yourself."
At the time, Melissa says she was not even scratching the surface of her potential. She wasn't close to feeling as good as she wanted to feel in her own skin.
And as she looked around the room, Melissa felt like a total imposter. "I was so hung up on the girls in wellness who were there who had bigger followings than me," she says in today's Dear Gabby.
"I thought, 'Why am I going to do this work? They're already doing it—and they're doing it successfully. Where is there space for me?' That was my mentality. That was how I lived my life."
a quantum shift
But then, Melissa experienced a quantum shift.
Of everything that I taught during that supercharged Spirit Junkie weekend, Melissa says one thing helped to kickstart her radical transformation. 
As Melissa listened to my talk, she says, "It helped me identify the thing that was standing in my way: The comparison mode."
This was a transitional moment for Melissa, and it helped her begin her wildly successful journey toward overcoming imposter syndrome.
I want to acknowledge that what Melissa felt and saw that day was merely a reflection of her. By experiencing the light in me, she remembered who she truly was … and a world of infinite possibilities opened up to her.
a playbook for wild success
Sitting down with Melissa for this conversation was truly a full-circle moment in which the student became the teacher!
manifest your own quantum shift
I hope Melissa's incredible manifesting success story inspires you. And I want you to know this and BELIEVE it with every cell: Melissa's story can be yours.
Whether you're on your own journey toward overcoming imposter syndrome, want to feel better in your body and soul, or have a big dream that seems unattainable right now, you can use the exact same tools Melissa used to transform her destiny and step into her purpose in a powerful way.
And just like Melissa, you can have me as your coach!
 For the first 21 days of the new year I'll teach you my most impactful methods for manifesting—and you can practice them all in just 10 minutes a day. The Manifesting Challenge is best experienced through my new Gabby Coaching app! Check out the details here.
Melissa's manifesting journey was made up of one small right action at a time. Manifesting a life beyond your wildest dreams doesn't have to be overwhelming, It doesn't have to take hard work and hustling. Manifesting can be simple, fun and far more effective than you've ever dreamed … and I can help you, every step of the way!
get more gabby
I can be your coach—anytime, anywhere!
My NEW gabby coaching membership makes personal growth easy to access. Get weekly lessons, guided meditations and proven manifesting methods to enhance every area of your life—all inside the exclusive member's app.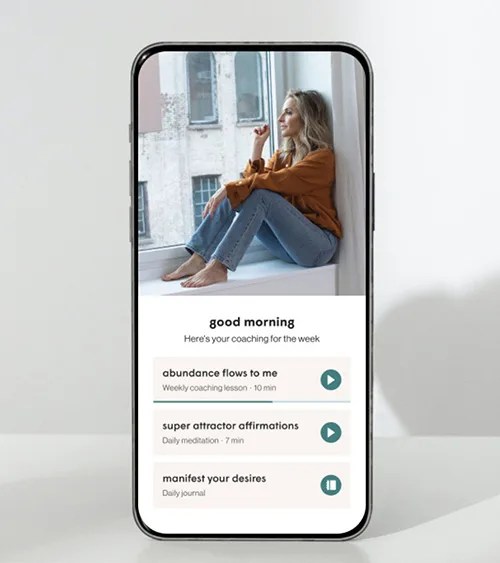 Transform your life in just 10 minutes a day with:
Weekly coaching with practical tools that will instantly improve your life
Quick access to 200+ meditations, affirmations, prompts, lessons and more
️️Quarterly challenges to release old patterns and jumpstart new habits
On-demand access to my best motivational talks
I'll be your coach to help you manifest your desires and live with an unshakeable sense of inner peace.
disclaimer
This podcast is intended to educate, inspire, and support you on your personal journey towards inner peace. I am not a psychologist or a medical doctor and do not offer any professional health or medical advice. If you are suffering from any psychological or medical conditions, please seek help from a qualified health professional.