Imagine what your life would be like if you let go of control. How different would you be if you knew that you were being guided? Well, my friend, guidance is available to you now. Here on Dear Gabby you no longer have to figure everything out. Spiritual and personal growth support is right here waiting for you to say YES to it.
This is your place to be inspired to do deeper therapeutic work.
This is your place to be empowered to take action on your personal growth and your well-being.
This is your place to start to show up for what's up, stop resisting and start allowing.
This is your place to be reminded that you're not alone.
In this first episode of Dear Gabby I share my spiritual journey of becoming free from addiction, trauma, anxiety and depression. I share how I transformed my fear into faith and how you can do the same.
How to see obstacles as opportunities
How to awaken your own spiritual connection
The exact steps you can take to navigate difficult times with confidence and faith
The way to seek solutions rather than problems
How to truly relax and know that the Universe has your back
I created this podcast to offer you clear guidance and easy-to-practice methods for increasing happiness—and most importantly, to help you know that you are not alone. You'll recognize yourself in every guest who comes on this show. You'll recognize yourself in the answers and the solutions I offer. You'll recognize that you are in a community of like-minded people. Even if you can't see them, you will feel their energy every Monday when you tune in.
I'm here to tell you right now that without a shadow of a doubt, you were guided here.
My intention for this show is that it becomes your spiritual home base—the place you come to for guidance, for direction, for wisdom, for love, for support, and to know that you are not alone.
get more gabby
I can be your coach—anytime, anywhere!
My NEW gabby coaching app makes personal growth easy to access. Get weekly lessons, guided meditations and proven manifesting methods to enhance every area of your life—on your own terms, at your own pace, all in one place.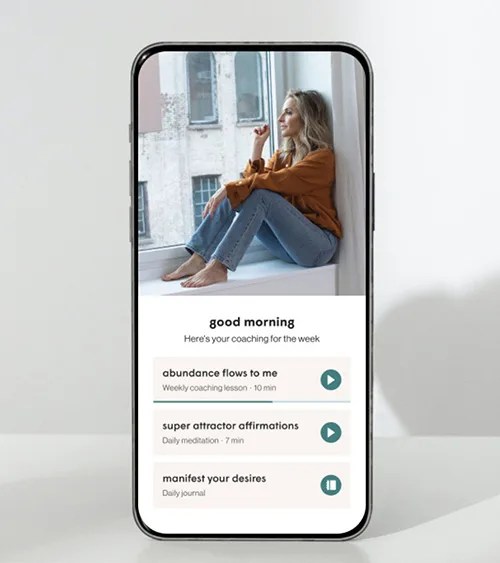 Transform your life in just 10 minutes a day with:
Weekly coaching with practical tools that will instantly improve your life
Quick access to 200+ meditations, affirmations, prompts, lessons and more
️️Quarterly challenges to release old patterns and jumpstart new habits
On-demand access to my best motivational talks
I'll be your coach to help you manifest your desires and live with an unshakeable sense of inner peace.
disclaimer
This podcast is intended to educate, inspire, and support you on your personal journey towards inner peace. I am not a psychologist or a medical doctor and do not offer any professional health or medical advice. If you are suffering from any psychological or medical conditions, please seek help from a qualified health professional.