I wish I could have a slumber party and stay up all night talking to her! That's how captivating my conversation felt with actress, dancer and Spirit Junkie Jenna Dewan on today's episode of Dear Gabby.
Jenna is an amazing mom of two, a talented actress, an accomplished dancer … and now add author to her list of achievements! In her new book, Gracefully You, Jenna offers guidance on how to find your true voice, connect to your deeper self and cultivate happiness in every area of your life.
There's no doubt why Jenna topped my list of people I'd LOVE to have come on the show and riff about her spiritual practices. During the loneliest days of the pandemic, connecting with Jenna through our DMs became a real support system for me.
We share so much in common. Jenna is a new mom like me and she's a self-proclaimed Spirit Junkie. Jenna explains in today's episode, "Being a Spirit Junkie is about having an insane amount of trust in a presence … and that trust just sort of guides me."
There's no small talk on this episode of BIG TALK. Find out why learning how to be comfortable with being uncomfortable was a huge lesson for Jenna this past year.
How to speak to your children to avoid codependent relationships
The importance of not making your feelings your children's problem
The struggles of finding balance as a working parent
How dance kept Jenna embodied and healed her trauma
Ways to gain confidence in your body through movement and sexuality
Methods to physically process and move shame through you
Why it's essential to help our daughters feel confident in their bodies
The secret to shame-free parenting
I love our conversation! Talking to Jenna feels like catching up with a close friend.
We riff on so many important topics, from setting boundaries when you're empathetic to how to improve your relationship with your child. When Jenna tells me, "I feel for every working parent out there, because it is a real balancing act," she knows because she lives it.
And we dive deep in our discussion about empowering practices for gaining body confidence and processing trauma through physical movement. Listen now to hear what I share with Jenna as my method for getting into your body to feel sensual and sexy.
This BIG TALK will move your body and soul! Press play now and enjoy.
If you enjoyed this Big Talk conversation with Jenna Dewan, I welcome you to leave a review. Let me know what part of our conversation inspired miracles in you!
get more gabby
I can be your coach—anytime, anywhere!
My NEW gabby coaching membership makes personal growth easy to access. Get weekly lessons, guided meditations and proven manifesting methods to enhance every area of your life—all inside the exclusive member's app.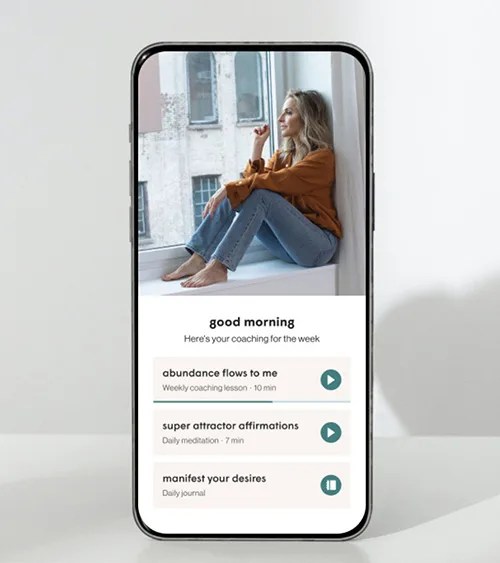 Transform your life in just 10 minutes a day with:
Weekly coaching with practical tools that will instantly improve your life
Quick access to 200+ meditations, affirmations, prompts, lessons and more
️️Quarterly challenges to release old patterns and jumpstart new habits
On-demand access to my best motivational talks
I'll be your coach to help you manifest your desires and live with an unshakeable sense of inner peace.
disclaimer
This podcast is intended to educate, inspire, and support you on your personal journey towards inner peace. I am not a psychologist or a medical doctor and do not offer any professional health or medical advice. If you are suffering from any psychological or medical conditions, please seek help from a qualified health professional.