I hit "send" on the email. With a whoosh, the entire manuscript for Super Attractor was in my publisher's inbox.
Smiling, I said a silent prayer of gratitude to the Universe. 209 pages of my best methods for manifesting a life beyond your wildest dreams were now out in the world!
Then I stood up …
And my water broke. "Good timing, kid," I thought, patting the baby bump that would become my son Oliver.
And just like that, my husband and I were off to the hospital.
answer your creative calling
A lot of people think that big creative projects — writing a book, creating a painting, composing a song — have to be done in a cabin in the woods. They think that they'd need to take a month off of work to finally write that poetry … or rent out a beachside shack in Bali to finish their memoir.
But here's the thing: Creative inspiration isn't just found on the beach or on sabbatical. Your art doesn't live there — it lives in you.
Each of us has a channel of creative inspiration that we can tap into at any time.

gabby
We can tap into our creative inspiration at a coffee shop, or on our lunch break between bites of a sandwich. And if you're anything like me, you can have a huge surge of inspiration seconds before you go into labor.
So if you have a big creative project in you that you need to get out, trust me when I say this: Creating doesn't mean you have to stop living. Creativity can be a part of your day-to-day life, flowing all the time … and you can take it from me!
turn obstacles into opportunities
In February, I released Happy Days: The Guided Path from Trauma to Profound Freedom and Inner Peace. This is the ninth book I've written in 11 years, and it went straight to the New York Times bestseller list!
When I was writing Happy Days, it was 2020. The world was in the throes of the pandemic. I was hosting a weekly podcast, leading my team at work and caring for a toddler with zero supplemental childcare. I was witnessing life as we know it turn upside-down. But I didn't let that hold me back.
The world needed a book like Happy Days, just at the time that it was released. And I needed Happy Days! If I had waited for a less chaotic time to write this handbook for healing … I would still be waiting! The book's profound methods, and my candid journey to recovery, would have stayed frozen in my head. And how the heck can I help anyone that way!? I'm so glad I responded to my creative calling.
get creatively unstuck
So if you're feeling at all creatively stuck, I can help you bust through your blocks! That's where this episode of the Dear Gabby podcast comes in.
In today's Dear Gabby, I'm breaking down my entire creative process. This is how I wrote 9 books in 11 years, and how you can take inspired action to put your own art out into the world.
How to keep your creativity flowing … even if you're under pressure to create (all my books have deadlines, and I stay inspired from intro to epilogue — I've got you!)
The one thing I need to do so that every time I write, I feel like I'm doing a cosmic dance with the Universe (this may sound cheesy, but it WORKS … and it feels awesome)
How to gain the confidence to unapologetically share your work with the world (everyone has some fear of judgment at first — but you can overcome it!)
How to prevent burnout when you're working on a big creative project (this is KEY — burnout leads to sloppy work!)
My best advice for finding your true calling when you have TONS of creative aspirations
bestseller masterclass
And I have more secrets where that comes from! Registration is now open for my Bestseller Masterclass! In this six-module course, I'll give you the Gabby playbook for writing and marketing your bestselling book.
If I can write multiple bestsellers, so can you! I hope you'll let me show you how. Register here!
discover your creative calling
It is such an honor for me to help others step into their creative power. As a mom, I want to instill in my son what my mom instilled in me. "You can create anything, you can be anything, you can do anything," she would say. And my mom has done it all! On this episode of Dear Gabby, I share all about my mom's amazing talents … including her knack for real-estate, her thriving bead business (yes, beads!) … and her entrepreneurial eye for CBD.
My mom truly believes that every day is an opportunity to practice your art, whatever that art may be. And her passion for creating has had a ripple effect in our family!
As I was recording this episode, I got a text message from my husband. He'd sent through a piece of beautiful rainbow art that our 3-year-old son Oliver had created. "FRAME THIS!" I texted back.
Become a prism for beautiful rainbows to shine through!
become a prism for beautiful rainbows to shine through
May we all learn to let our guards down, tap into our inspiration, and create like 3-year olds.
Vibrant, whimsical, and full of life, Ollie's art was a testament to what we can do when we create without boundaries! Kids create without fear of rejection, without comparing themselves to others, without wanting to get attention. They just open their hearts, tap into their creative channel, annnnd …
I hope this episode of Dear Gabby inspires you to tap into the joy of creation, lower your inhibitions and unleash the masterpiece that's within you — whether a rainbow, a TikTok or a bestselling book needs to come through.
get more gabby
The following are helpful resources and books I mention within the episode.
Want to learn my secrets for writing and marketing your bestselling book? Registration is now open for my Bestseller Masterclass! Sign up here.
My latest book Happy Days is my most important spiritual work to date. In the book, I share intimate details of my journey through trauma recovery, and I reveal the spiritual and therapeutic tools that I used to find profound freedom and inner peace. This book has the potential to serve you in many ways, and it can help you find the confidence and courage you need to express yourself authentically.
For more on following your creative calling, check out this video …
I can be your coach—anytime, anywhere!
My NEW gabby coaching app makes personal growth easy to access. Get weekly lessons, guided meditations and proven manifesting methods to enhance every area of your life—on your own terms, at your own pace, all in one place.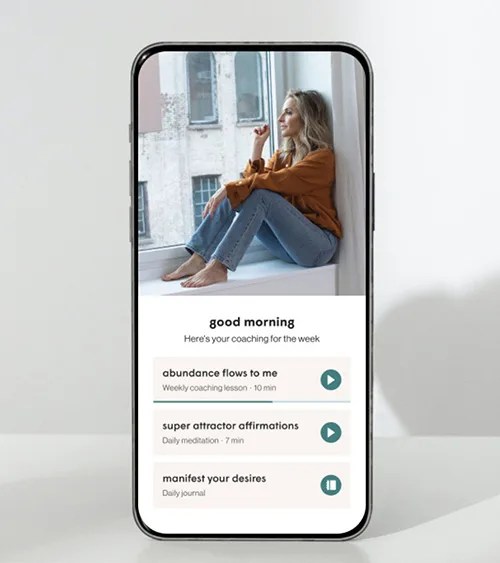 Transform your life in just 10 minutes a day with:
Weekly coaching with practical tools that will instantly improve your life
Quick access to 200+ meditations, affirmations, prompts, lessons and more
️️Quarterly challenges to release old patterns and jumpstart new habits
On-demand access to my best motivational talks
I'll be your coach to help you manifest your desires and live with an unshakeable sense of inner peace.
disclaimer
This podcast is intended to educate, inspire, and support you on your personal journey towards inner peace. I am not a psychologist or a medical doctor and do not offer any professional health or medical advice. If you are suffering from any psychological or medical conditions, please seek help from a qualified health professional.