create more abundance in your life in just five minutes per day
There's never enough time.

There's never enough money.

I'm not good enough.

I'm not beautiful enough.

I'm not smart enough.

I'll pursue my dreams when things change.
Any of this sound familiar? It does for me. I grew up with a scarcity mindset.
I'm sure a lot of you did, too.
There was never enough. For all the good things in our lives, we focused on what we lacked. It was partly because we lived in a wealthy area and my family struggled financially. I'm sure a scarcity mindset is how my parents were raised, and their parents, and so on.
I can say with complete confidence that I never, ever would have achieved a fraction of what my life looks like now if I had stayed in that mindset.
How to start creating abundance immediately, no matter where you are in your life or what you're facing.
How just five minutes a day (seriously!) can make a HUGE difference.
How to break through blocks and make a shift, even when people are holding you back.
The full story of the listener update that blew my mind.
the moment that changed everything
When I was 19, I was just starting to work as a party promoter in New York City. (If there's any place that will highlight your scarcity mindset and tendency toward comparison, it's my beloved NYC!)
One night, there was a party where I got a percentage of the night's bar revenue for every person at the door who said "Gabby" upon entrance. That night, I left the bar and entered the streets of New York City with a thousand dollars in my purse.
That was a game-changing moment for me. "I just found a way to make money," I thought. Suddenly, instead of focusing on what I didn't have, I shifted my mindset to how I could provide for myself. What options do I have? What skills can I leverage?
I wanted more of what I had that night. Not just the cash, but the feeling of abundance, derived from my own creativity.
It was magical.
what are you focused on?
That night did far more for me than help pay my rent.
I could have left the party thinking, "I better enjoy this because it'll never happen again."
I could have left thinking, "I hope this money doesn't get stolen."
I could have left thinking, "I should have earned more."
Instead, I left with a deep sense of empowerment and gratitude for what I'd achieved.
It truly transformed my whole energy flow. And once I shifted that energy flow, everything changed. I started focusing on all the amazing things I had in my life. Little things, like a pretty leaf or a quarter on the sidewalk, plus bigger things, like having a roof over my head and an ability to create income.
do you know how much better life gets when you focus on the good stuff?
I know, I know. That's easier said than done. You might be facing seemingly insurmountable obstacles—poverty, devastating illness, family crisis—and I'm not minimizing any of that. That sh*t is REAL. But even within those scenarios, there is space for joy and abundance.
Maybe it's the sheets you wake up on.
Maybe it's the free podcast content and meditations and resources at your disposal. (Wink, wink.)
Maybe it's the coffee that you might have had to microwave three times but at least you get to drink it.
For one caller this week, I recommended that her space for joy and abundance stem simply from the fact that she is focusing her energy on creating joy and abundance. She's making an effort to create a more aligned, more abundant life, and that in itself is a huge victory.
Plus, when I was just about to close out the show, my producer told me I should take one more call. I'm SO glad I did, and I have to share this story.
the power of your energy
This last-minute caller is named Courtney. Courtney and I talked one year ago, when she was just about to start radiation treatment for cancer. Back then, she was "a hot mess," as she put it. She was going to have to do two treatments per day, at a center an hour from home. Rightfully so, she was worried about everything—work, her health, and the treatments themselves.
During that first conversation, I asked Courtney if she could bring moments of joy, even tiny ones, to the experience. Could she make friends with nurses or fellow patients? Could she find a way to make the commute more pleasant? Could she shift her mindset away from the terrifying thing she was experiencing, and toward tiny pockets of gratitude?
When she called me this week, I nearly lost it. She didn't have a question for me. She just wanted to let me know that she had really internalized my advice and used it. And I can't even believe these words, but this is a direct quote from her—she said radiation was "ridiculously easy."
I mean, come on. WHAT?!
She connected with the nurses and fellow patients. She listened to Miracle Members content during her commute (she says, "I think I've listened to every piece of content on there"). She carved out pockets of joy and gratitude. And instead of expecting it to be horrible, she expected it to NOT be horrible. And it. Was. Not. Horrible. "I breezed through it," she said. And now, when she goes back for maintenance treatment, she is paying it forward by trying to bring moments of joy to other patients.
I am SO inspired by Courtney. I am honored to have been a tiny piece of her story, but really, I can give all the advice in the world and it doesn't mean anything if you don't USE it. Courtney used it. Today she says she's doing great, her job is thriving, and she had an appointment with her oncologist just before our call and she's "cancer-free."
Wow. Wow. Wow.
I told her:
This is the most divine example of the power of your energy.

gabby
And it is. I know some of you are going to think about Courtney the next time you or a loved one are going through something big. I know I am, too!
Abundance. Joy. Healing. This episode was SO full of good stuff. I'm excited for you to hear it.
weekly card reading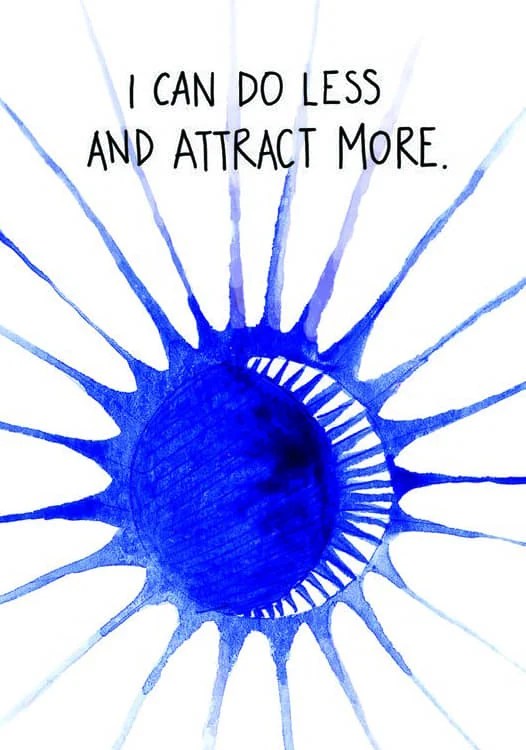 Speaking of divine power, I know that's what made this card come up this week. I literally said on the episode that nothing that I've achieved or attracted has happened because of sheer force or effort. So many people think that if they're not receiving what they want, they're just not trying hard enough.
I see you, beautiful people who are literally clenching every muscle in your body and grimacing as you attempt to repeat a mantra or manifest something.
Attraction isn't about brute force. Force has a tightening effect; narrowing; clenching. Attraction is the opposite; it's about creating space for energy to flow. It's about opening up.
Instead of trying to force something, next time, try stillness, ease, listening, and openness. See what comes up.
I want abundance for you. And I know for sure that you can have more of it. I can't wait for you to hear this episode.
get more gabby
Want to learn more about cultivating a life full of abundance? Check out my book Super Attractor: Methods for Manifesting a Life Beyond Your Wildest Dreams. In this book, you'll learn how to:
• Do less and attract more
• Relax and trust that what you desire is on the way
• Know that spiritual guidance is available to you at all times
• Feel a sense of awe each day as you witness miracles unfold
Get 2 of my most impactful meditations to attract your desires:
• vision-making meditation
This 6-minute meditation will help you visualize your dreams and shift your energy into a receptive state that attracts miracles.
• manifesting meditation
This 15-minute meditation will amplify your attracting power and get you aligned with the loving energy of the Universe.

Click here to get your free manifesting meditations
I can be your coach—anytime, anywhere!
My NEW gabby coaching app makes personal growth easy to access. Get weekly lessons, guided meditations and proven manifesting methods to enhance every area of your life—on your own terms, at your own pace, all in one place.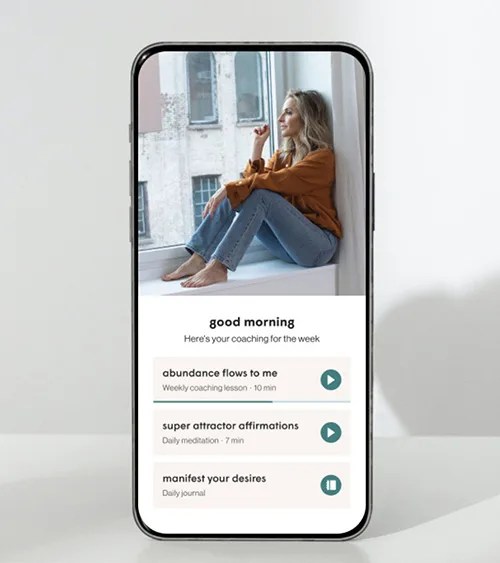 Transform your life in just 10 minutes a day with:
Weekly coaching with practical tools that will instantly improve your life
Quick access to 200+ meditations, affirmations, prompts, lessons and more
️️Quarterly challenges to release old patterns and jumpstart new habits
On-demand access to my best motivational talks
I'll be your coach to help you manifest your desires and live with an unshakeable sense of inner peace.
disclaimer
This podcast is intended to educate, inspire, and support you on your personal journey towards inner peace. I am not a psychologist or a medical doctor and do not offer any professional health or medical advice. If you are suffering from any psychological or medical conditions, please seek help from a qualified health professional.