For years I jumped from one detox program to the next.
I tried every juice cleanse and detox diet, but nothing felt like it was truly working. As soon as I would finish the cleanse or diet, I'd feel immediately assaulted by the toxins all around me, whether from the atmosphere in New York City or the food I ate when I didn't cook it at home.
I knew I needed a way to detox that I could use regularly, so I started looking for new, healthy ways to do so. Intuitively I knew I needed to sweat. Sweating is one of the body's healthiest and most effective ways to eliminate toxins. It's a crucial part of detoxification.
After doing a lot of research online I learned that a great way to get rid of toxins was through infrared saunas.
why i love infrared saunas
Unlike traditional saunas, which you have to heat to very high temperatures, infrared saunas heat your body while the air stays cooler. This is a big bonus if you are sensitive to heat — infrared saunas are definitely more comfortable than traditional saunas. Plus, infrared energy can go deeper into your skin, helping you sweat even more and helping your cells eliminate toxins better.
The more I learned, the more obsessed I became with getting an infrared sauna! The sauna I decided on is the Sunlighten.
Sweating in my sauna has become part of my spiritual and self-care practice. Using my infrared sauna regularly I've experienced a lot of incredible benefits, ranging from relaxation to healthy-looking skin.
You don't have to own a sauna to get your sweat on! These days there are tons of places where you can access a sauna.
In NYC I recommend checking out Gravity. Their infrared sauna sessions are super affordable.
In L.A. you can check out Pause Studio for an innovative way to sweat.
If you're looking for a very affordable option, there are some super cool portable saunas.
the benefits of using an infrared sauna
There are lots of benefits to using infrared saunas, and you may experience benefits beyond what I list below. Research shows saunas can help with a lot of chronic conditions like arthritis, fibromyalgia and chronic fatigue syndrome. They can even help people kick nasty addictions
It's important to use your infrared sauna responsibly, starting with short sessions, drinking plenty of water before and after your session, and generally paying attention to the cues your body gives you. When you do this, your sauna can offer major health benefits. I've experienced many benefits of an infrared sauna and love that I can detox safely and regularly. (Note that you should not use a sauna while pregnant.)
Here are some of the benefits I noticed right away when I began using my infrared sauna.
my circulation improved
The first time I experienced the infrared sauna I felt a feeling I'd never known before. I felt alive in a whole new way. I was energized, clear headed and vibrant! This was because of my increased circulation. Infrared saunas stimulate blood flow and decrease inflammation. You feel the improvement in your circulation immediately!
I finally got my sweat on!
I could never really sweat. No matter how much cardio I'd do I'd barely break a sweat. And I longed for it! I knew that sweating was going to be the best way to detox and purify.
sweating is one of our body's fastest and most powerful ways to eliminate toxins
Infrared saunas help you detox about 7 times faster than traditional saunas. Infrared light penetrates deeper into the body, helping you sweat out more toxins instead of simply water with a bit of salt.
One thing that's really important to note … while you're sweating, don't forget to hydrate. It's essential for your body—you'll sleep better, feel happier and it'll keep your organs working properly. So right after I sauna, I'll drink a glass of water with LMNT electrolytes mixed in to replenish all that sweat I lost.
If you're interested in trying LMNT, we are going to hook you up! Stay hydrated with a special offer from LMNT, you can get a free LMNT Sample Pack with any purchase (limit one per customer). Check it out here!
I got my Zen on
My infrared sauna has become my favorite place to meditate. I head into my sauna three or four days a week and meditate for 40 minutes while I detox! Some of my deepest meditations have happened in my Sunlighten sauna. Plus, the sauna has an awesome sound system so I can listen to mantras and chant while I sweat.
my muscles relaxed
I tend to work out hard. Doing a hardcore workout by Tracy Anderson or Kayla Itsines is awesome, but it always leaves me with super-sore muscles. My infrared sauna fixed this! A few sauna sessions a week have really helped alleviate some of the soreness. The heat helps tight muscles relax and it increases circulation, which reduces inflammation. The heat also helps release endorphins, aka the body's natural feel-good chemicals.
I glow!
The best part of using my infrared sauna is that my skin glows! Whenever I come out of the sauna I feel like I've had a facial. My skin is purified, smooth and lit from within.
check out sunlighten
If you want to start experiencing the benefits of infrared saunas, check out Sunlighten! I am in love with my sauna and recommend this brand big-time. You can explore all their saunas at Sunlighten.com. (The team there is super knowledgeable and helpful, too.)
The information contained in this blog is intended to educate, inspire and entertain you on your personal journey toward health and happiness. It is not intended to replace care best provided by qualified professionals and is not a substitute for medical advice, diagnosis or treatment.
I only recommend products and brands I passionately believe in. I want you to know that when I make a recommendation, I may receive a referral fee.
I can be your coach—anytime, anywhere!
My NEW gabby coaching app makes personal growth easy to access. Get weekly lessons, guided meditations and proven manifesting methods to enhance every area of your life—on your own terms, at your own pace, all in one place.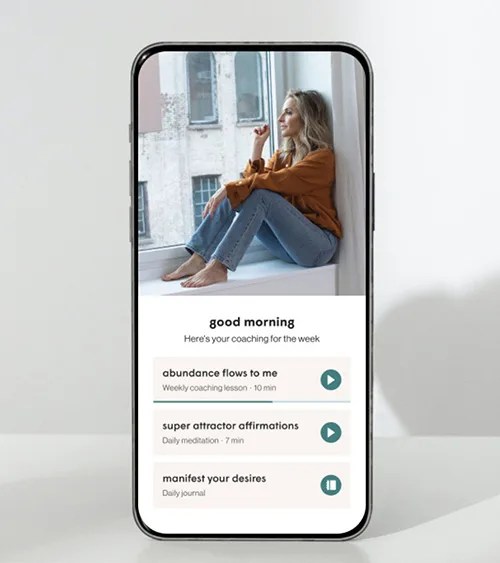 Transform your life in just 10 minutes a day with:
Weekly coaching with practical tools that will instantly improve your life
Quick access to 200+ meditations, affirmations, prompts, lessons and more
️️Quarterly challenges to release old patterns and jumpstart new habits
On-demand access to my best motivational talks
I'll be your coach to help you manifest your desires and live with an unshakeable sense of inner peace.