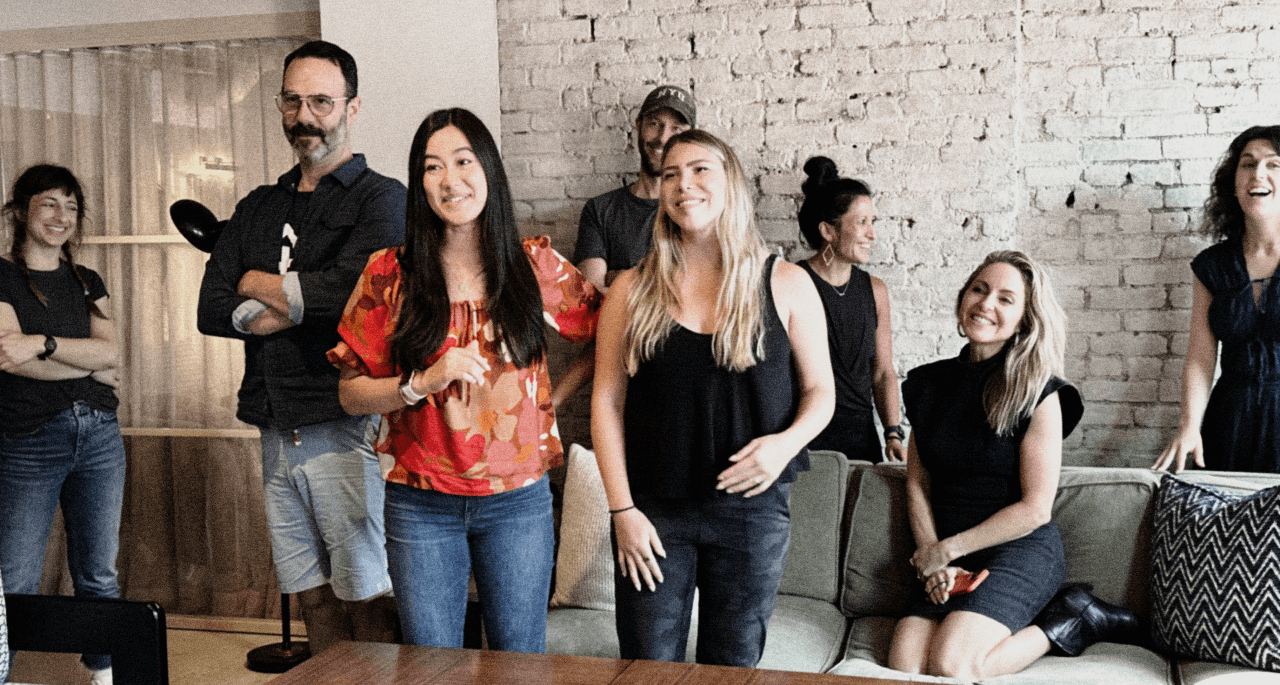 we're on a mission…
To have a lot of fun and help a lot of people!
For nearly two decades, Gabby Bernstein has been transforming lives for the better as a renowned spiritual teacher, #1 New York Times bestselling author, and host of the Dear Gabby podcast. Her down-to-earth spiritual advice has helped millions manifest a life beyond their wildest dreams. She has been hailed as a "thought leader" by Oprah Winfrey and as a "role model" by the New York Times.
The mission of Dear Gabby Inc. is to amplify Gabby's compassionate, trustworthy, actionable advice for self-growth to as broad an audience as possible. With the launch of the Gabby coaching app, we're entering an exciting new phase of growth and change. Our goal is to ensure every team member is aligned with their true purpose—in other words, your highest and best. We work hard to bring that out and let you shine.
Would you like to come on a journey with us? Keep reading to find out more…
open roles
right now
product manager/senior product manager
(depending on experience)
location
Fully remote, US.
(We're unable to sponsor visas, so we can only accept applications from people who have the right to live & work in the US.)
reporting to
Eileen Butler, Director of Product
direct reports
N/A
working hours
8 hours per day. (We ask all team members to be available during our core hours [10-4pm ET], with flexibility outside of that!)
salary range
$120k – $160k depending on experience.
the role
We're looking for a curious, highly-organized and technically-minded Product Manager / Senior Product Manager to take ownership of our website and internal tools (CMS, reporting, tech stack).
We recently launched an updated website and the gabby coaching app on iOS and Android, so we're doubling the size of our Product team…from 1 person to 2! Eileen Butler, our Director of Product, will continue to lead the charge on the app, while this new hire will own the website and tech stack.
You'll be responsible for the integration of new platforms into our tech stack, rolling out new features on our website (especially within the onboarding flow), troubleshooting and resolving issues, user research, developing internal documentation, leading QA testing and A/B testing. There will also be a strong project management component to the role.
This is an exciting opportunity for someone who doesn't want to just work on a page or a button, like in a big tech company – you'll own the whole website and CMS; the user journey and how the website connects with the app.
key responsibilities
Drive feature development for end-to-end web development, CMS, and tech stack (including reporting). Be the key point of contact for our developers and lead on weekly calls to stay aligned on priorities and OKRs.
Collaborate with cross-functional teams to identify technical needs and research potential solutions. Develop product briefs and create project plans with clear objectives, timelines, and estimates for successful delivery.
Maintain focus on the user, whether that's a subscriber or internal user. Conduct user research, communicate findings across the team, and incorporate findings into the roadmap.
Monitor analytics and develop insights to feed the product strategy, including building reports and updates to event tracking requirements.
Develop deep knowledge of project architecture and deployment practices. Lead our team through testing; continuously review and recommend improvements to our tech stack and leverage new technologies for business improvement.
experience & qualifications we're looking for
Essential

A minimum of 5 years' relevant experience in product management would be ideal for someone to be successful in this role.
Robust understanding of modern tech stacks for digital businesses, including cloud computing, APIs, databases, and web development frameworks; you're very comfortable and experienced in liaising with technical teams.
Solid project management experience.

Strong problem-solving and analytical skills, with the ability to identify and solve complex technical problems. Ability to flip between detail-oriented work and high level strategy.
Experience wearing 'multiple hats'.
Experience working within with small businesses / startups.
You've worked fully remotely before and enjoyed it.

Desirable – not required, but would be a bonus

Bachelor's degree or other qualification in Computer Science, Software Engineering, or a related technical field.
Experience with the following: Asana, Figma, Notion, Iterable, Stripe, Rudderstack, Mixpanel, RevenueCat, Digioh, Metorik, Looker, WordPress, AppsFlyer.
Experience in a founder-led, mission driven company.
this role will be a great fit for someone who is…
A highly-organized 'flow chart thinker': you can plan things out clearly, map out the dependencies, go into the detail.
Curious: someone who asks all the 'weird' questions and is always looking to learn.
A natural cross-functional operator who enjoys liaising across multiple teams.
our organization will be a great fit for someone who is…
A proactive, completer-finisher: you spot opportunities for improvement and lead on executing them with limited oversight.
Adaptable & resilient: enjoys working in fast-changing environments, changing roles / wearing multiple hats.
A 'first principles thinker': comfortable operating in an ambiguous environment to figure out what questions to ask, what tasks to be picked up and what problems need to be solved.
A clear, concise communicator.
Emotionally mature and level-headed.
Self-aware and coachable, with a growth mindset.
Collaborative and transparent: committed to information sharing across roles and functions.
Humble & supportive.
Respectful & kind.
hiring process
15-20 minute initial discussion with Kelsey McQueen, People + Talent Lead
Short assignment
30-45 minute interview with Eileen Butler, Director of Product
30 minute Interview with Kari Harris, Director of Customer Happiness
30-45 minute interview with Zach Rocklin, CEO
If you have a medical condition or an individual need for an adjustment to our process, and you believe this may affect your ability to be at your best – please let us know so we can talk about how we can best support you and make any adjustments that may be needed.
We are accepting rolling applications for this role, with no fixed closing date.
hear what our team
has to say about working at gabby
so lucky

Everyone is supportive, professional, accountable and always lifting one another up to do our highest and best work. Every day I feel so lucky to work for this company knowing that the work we do is changing lives for the better. I feel my voice is heard and considered in decision making and I truly feel appreciated as part of the team.

Carrie Brown

Director of Marketing Operations
grateful

So grateful to work on bringing a higher level of consciousness to the world while being able to juggle my other job as a mom of 6.

Kari Harris

Director of Customer Happiness
sense of purpose

I love being part of a company that has such a deep sense of purpose. I feel so inspired to start work every day, knowing that I'm collaborating with a brilliant team of people, and that our collective efforts are serving the world in a big way— and I get to do it all from the comfort of my own home! No stressful commute, no distractions- just lots of inspired teamwork!

Alissa Florio

Senior Content Producer & UX Researcher
benefits to keep you happy and healthy
Comprehensive health, vision, dental, disability and life insurance
Retirement plan
US federal holidays plus annual Paid Time Off (PTO) which starts at 10 days annually and increases over time
Fully paid wellbeing resources, such as TalkSpace Therapy and One Medical for primary care
Free access to all of Gabby's products
Work from anywhere (as long as you have the right to live & work in the US)
Flexible working hours, provided you can be available during our core hours (10-4pm ET)
Opportunity to make a meaningful impact on people's lives
apply now