Have you ever found yourself asking, "Who am I?"
"Who am I when I'm not in this relationship?"
"Who am I when I'm not holding a specific job title?"
"Who am I when I'm not triggered by a traumatized part of me?"
Stop fearing who you should be and allow yourself to dwell in who you really are.

gabby
When you don't know who you are, you lose your sense of safety and security. You become overwhelmed by fearful thoughts.
So if you're asking, "Who am I?" This is your answer …
you are a spirit among spirits and the presence of love
This may sound heady, but hear me out.
Your mission is to align with the energy of love and express that love in your own unique ways. Use your tools to bring the light wherever you go and be a Lightworker in whatever you choose to do.
That's what all of my books are about. That's what this Dear Gabby podcast is really about. And that's what I'll teach you in today's episode: connecting your energy with the energy of love.
Of course, you may be wondering, "How can I do that, Gabby?"
trust your intuition
We all have that inner voice of spiritual connection to love within us, to truth within us, to the confidence within us that's begging to come through.
It's a guiding force of light … and you don't have to search for it. It's not outside of you. It's already there.
You only have to get more comfortable listening to it, trusting it, relying on it!
When you learn to rely on your own inner voice, which is your intuition, you can open up your consciousness to the support that's within you and all around you. You can stop controlling and start allowing. You can trust everything that's unfolding around you.
The more you lean into that presence of love within yourself, the more you connect with your spiritual source, the easier it is to allow yourself to be led by the voice of wisdom inside you rather than the voice of fear.
Stay open to your intuition, stay in alignment with that energy of love, and let it be the guiding force within you!
when spirit became my boyfriend
One of the beautiful souls who joined us on today's episode was heartbroken from a recent and sudden breakup. She was asking, "Without this relationship, who am I?"
This caller took me back to a decade ago when I wrote my book Spirit Junkie.
While a lot of Spirit Junkie is about my recovery from addiction, much of it is also about my recovery from the codependent behavior of trying to find myself in men and my need to feel safety in somebody else's arms.
When you listen to this episode, you'll hear how I had to stop, reach for my copy of Spirit Junkie, and find the chapter in the book called, "When Spirit Became My Boyfriend."
I had chills as I read this section aloud.
Each day spent in prayer and meditation deepened my relationship with my spirit. This relationship was fulfilling, nurturing, inspiring, loving, honest, and faithful. This was the relationship I'd been searching for all my life.

I soon realized that all the love and support I'd been lusting after in a man was inside me all along. The classic line, 'all the love you need is inside you' was true for years. I secretly wanted to believe in that philosophy, but I couldn't fully comprehend it until I lived it.

My dedication to spirit led me inward to a true source of love and safety. I was no longer looking for love. I was living in love.
That chapter is all about the things we want from a romantic partner, and how we can have it all with a spiritual connection.
That doesn't mean your future self won't attract many partners or the one partner for you. It does mean when you attract a new relationship, you won't show up as a part of yourself—you'll show up as all of you.
When you accept spirit as your boyfriend, you become whole!
And there's more …
Tools to bring peace with you wherever you go
How to trust your intuition
How to awaken a presence of love within yourself
My method to show up for spiritual assignments
The #1 way to dwell in who you really are and stop fearing who you should be
Why you should take the word "challenge" off the table and replace it with the word "opportunity"
We're all a presence of love. Never question it. Never deny it. And you'll live a life beyond your wildest dreams!
Press play now and start allowing yourself to dwell in who you really are—LOVE!
get more gabby
Check out the video below to learn more about ways to trust your intuition:
I can be your coach—anytime, anywhere!
My NEW gabby coaching membership makes personal growth easy to access. Get weekly lessons, guided meditations and proven manifesting methods to enhance every area of your life—all inside the exclusive member's app.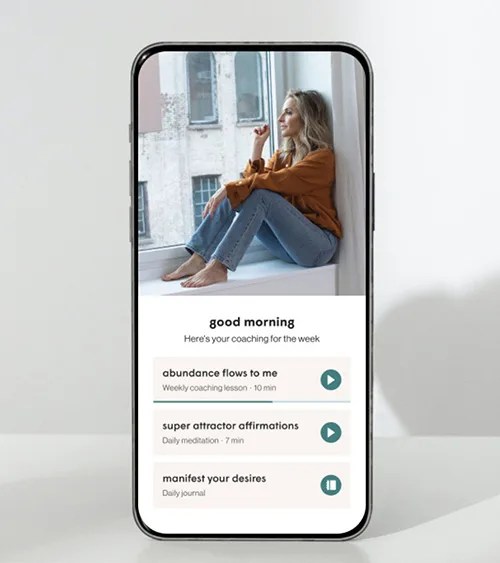 Transform your life in just 10 minutes a day with:
Weekly coaching with practical tools that will instantly improve your life
Quick access to 200+ meditations, affirmations, prompts, lessons and more
️️Quarterly challenges to release old patterns and jumpstart new habits
On-demand access to my best motivational talks
I'll be your coach to help you manifest your desires and live with an unshakeable sense of inner peace.
disclaimer
This podcast is intended to educate, inspire, and support you on your personal journey towards inner peace. I am not a psychologist or a medical doctor and do not offer any professional health or medical advice. If you are suffering from any psychological or medical conditions, please seek help from a qualified health professional.